Apple Is Getting Swamped in These Smart Mobile Stats
Is Apple (NASDAQ:AAPL) being drowned in a deluge of Android-powered Samsung  (SSNLF.PK) smart mobile devices? New data from market research firm Canalys reveals that Google's (NASDAQ:GOOG) Android platform is powering 59.5 percent of the total 308.7 million "smart mobile devices" that were shipped in the first quarter of 2013. Canalys includes notebooks, tablets, and smartphones in its smart mobile device category.
Apple's operating system was a distant second place with 19.3 percent of the smart mobile device OS market share. By categorizing notebooks as a smart mobile device, Microsoft (NASDAQ:MSFT) was able to secure an 18.1 percent share of the overall OS market.
In overall smart mobile device shipments, Samsung led with shipments totaling 82.2 million devices and a 26.6 percent market share. Thanks to its dominance in the tablet market; Apple was able to seize a 19.3 percent share with 59.6 million total smart mobile device shipments. Lenovo, Sony (NYSE:SNE), and Huawei each took 5 percent or less of the total smart mobile device market.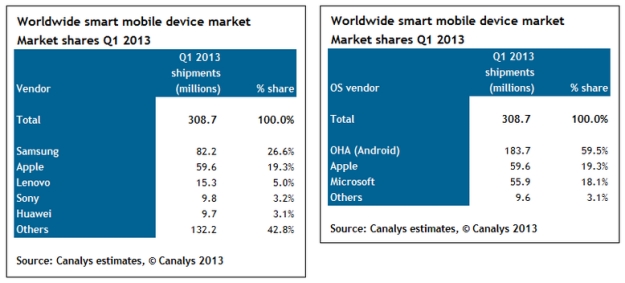 Although the overall smart mobile device market grew 37.4 percent over last year, the greatest growth was seen in the tablet category. Tablet shipments grew to 41.9 million units in the first quarter, a 106.1 percent increase from the same quarter last year.
Smartphones shipments increased 47.9 percent over last year to hit 216.3 million units. Just over 75 percent of these phones were Android-powered devices and Samsung led the smartphone vendors in with a 64.3 percent shipment increase from last year, giving the South Korea-based company a total smartphone market share of over 32 percent.  Apple's smartphone share grew 6.7 percent from last year which is the iPhone maker's slowest rate of growth since the debut of the iPhone in 2007.
Regarding Apple's declining smartphone market share growth, Canalys Principal Analyst Pete Cunningham noted via a Canalys press release that "despite its slowing growth, Apple still shipped over 37 million iPhones." However, the analyst also foresees trouble in Apple's future if it does not adjust its strategy.
"HTC and Samsung have raised the bar with their latest handsets and Apple needs to respond with its next iPhone. The iPhone user interface is now six years old and badly in need of a refresh. Hardware-wise, the biggest dilemma that Apple faces is what it does with the size of the display on the next iPhone. It cannot afford to ignore the trend for larger displays in premium smartphones. We expect an increase on the iPhone 5's 4 inch display but are not anticipating a 'Phablet'-style iPhone," wrote Cunningham.
Don't Miss: Will Record Labels Kill The Apple iRadio Goose?