Apple Leads Mobile for Global Enterprise
Apple's (NASDAQ:AAPL) iOS is the leading mobile platform of choice for enterprise according to a new report from Citrix (NASDAQ:CTXS), a software company that provides desktop virtualization, cloud computing technologies, and other services for enterprise mobile users.
Citrix's data provides an interesting glimpse of how Apple's iOS platform has come to dominate mobile device enrollment in the enterprise arena, even though Citrix's own user base clearly uses more Windows-based programs for their desktops and data management. As Apple Insider reports, Citrix's highest-selling app was the Citirix Receiver, which is a mobile enterprise app that "provides secure access to Windows desktops, apps and data."
Despite the customers' slant towards using Microsoft (NASDAQ:MSFT) products for their other business needs, according to Citrix's Q4 2012 Enterprise Mobility Report, iOS still dominates enterprise mobility usage with 58 percent of global devices utilizing iOS.
Windows' own mobile platform only holds a paltry 7 percent of the mobile device market for enterprise according to Citrix's data. According to Apple Insider, "just four years ago, Microsoft surpassed Apple in every country." Now it appears that the rate of enrollment for Windows-based mobile devices has stagnated.
Apple, on the other hand, is experiencing unprecedented growth in its device enrollment. According to Citrix's data, Apple holds 62 percent of the North America market, 43 percent of the Europe-Middle East-Africa market, and 75 percent of the Asia Pacific-Japan market. The Europe-Middle East-Africa market was the only region where Apple shrank market share, losing 13 percentage points. Microsoft actually grew its share by two points in the Europe-Middle East-Africa market.
In the overall global enterprise market examined by Citrix, devices utilizing Google's (NASDAQ:GOOG) Android platform lost 2 percentage points over the year, while Apple device usage increased by 2 percentage points. According to Citrix's enrollment figures, Microsoft's share of the global mobile device market remained flat.
Besides examining the overall enrollment rates for various platforms on mobile devices, Citrix also provided some metrics of platform usage based on different industries. Apple was the most popular mobile platform for "vertical industries in which mobile users engage customers one-on-one, such as in retail or restaurants," states Citrix in its report.
Android-based devices were most widely used in the communications, healthcare, transportation, and non-profit industries. Interestingly, the only industry that was dominated by Windows-based mobile devices was the oil and gas industry.
Apple closed down 2.08 percent at $442.66 on Thursday. Citrix closed up 1.05 percent at $72.15.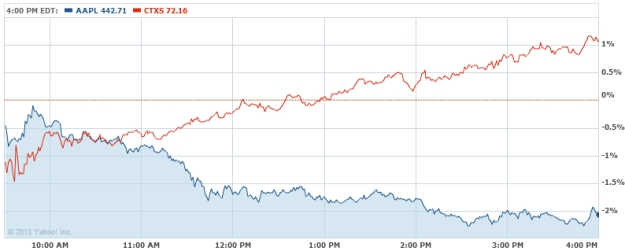 Don't Miss: Is This the iPhone 6?