Apple May Be Cornered By Samsung on its Home Turf
Samsung's Galaxy S IV may be the biggest worry on the horizon for Apple (NASDAQ:AAPL) and could further boost Samsung ahead of the iPhone-maker in the global smartphone market.
The smartphone market has been growing and growing since the first iPhone came out, and new markets for the intelligent little devices have been popping up all around the world, but when Samsung joined in on all the fun, Apple quickly found itself faced with a strong competitor.
Is Apple now a once-in-a-decade buying opportunity? Click here to get your 24-page Ultimate Cheat Sheet to Apple's Stock now!
Recently, Samsung has even been overtaking Apple. Samsung is outselling Apple in China, which is the world's largest smartphone market, and globally Samsung comes out on top with more than double the sales of Apple in the fourth quarter of 2012 and 2011, which comes in at third, according to Gartner…
When Samsung launched the Galaxy S III in May of last year, the device became the best-selling smartphone in the world for the third quarter, topping the iPhone 4S, which had been released several months before. The Galaxy S III may have succeeded in part from a lack of new iPhone models during the period after its release.
Markets are at 5-year highs! Discover the best stocks to own. Click here for our fresh Feature Stock Pick now!
When the iPhone 5 was released in September of last year, it took the cake for the fourth quarter, but Apple is currently in another product vacuum where no new iPhones are set to come out imminently. Meanwhile Samsung has prepared the new Galaxy S IV, which will premiere March 14, and could launch shortly after.
Given Samsung's growing influence, the new Galaxy S IV could outperform its predecessor, and may even give an iPhone 5S a run for its money. The premiere is set to take place in the U.S., where Apple still dominates in market share, so it could be a turning point as Samsung pushes hard on Apple's home turf.
Here's how Apple (NASDAQ:AAPL) traded on Tuesday: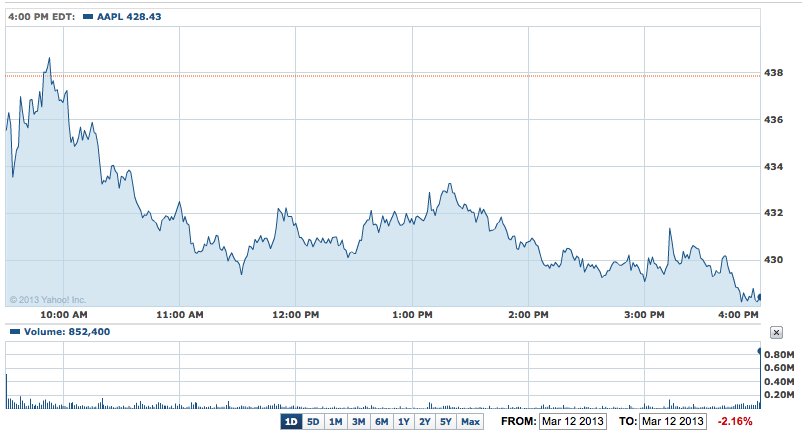 Don't Miss: Gunderson on Apple: Good Stocks Don't Fall Forever.