Apple Patent Trial Docs Prove Samsung Fudged Tablet Sales Numbers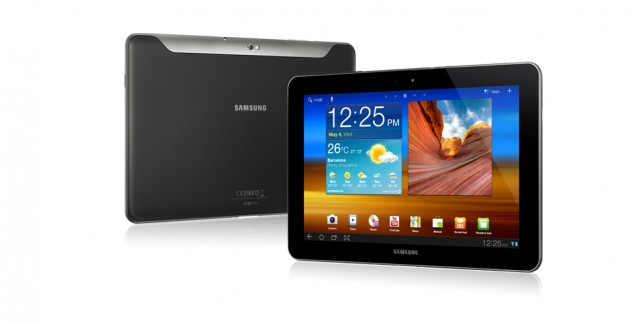 Previously unseen Samsung (SSNLF.PK) internal documents recently entered into evidence in the ongoing patent-infringement trial against Apple (NASDAQ:AAPL) revealed that the Korea-based company misrepresented its 2010 tablet sales data. According to an internal Samsung document obtained by Apple Insider, Samsung knew that it sold approximately 1 million Galaxy Tabs for the year. However, as noted by Apple Insider, several prominent market research firms reported that Samsung had sold 2 million tablets, based on a misleading comment made by a company executive during an earnings call.
In early 2011, market research firm IDC reported that "Samsung's Galaxy Tab was the primary competitor in the holiday season, beating other players to market and capturing more than 17% share" and dropping Apple's share of the worldwide tablet market from 93 percent in the third quarter of 2010 to 73 percent in the fourth quarter. Similarly, Strategy Analytics reported that Android-based tablets had captured 22 percent of the worldwide market in the fourth quarter of 2010, according to Bloomberg. Per Strategy Analytics, Samsung's sudden tablet sales boost supposedly lowered Apple's share of the market from 95 percent to 75 percent.
As noted by Apple Insider, the market research firms' tablet sales data was based on Samsung's "sell-in" tablet inventory that was delivered to retailers, rather than actual units sold to consumers. However, Samsung executive Lee Young-hee's comments during an earnings call made it difficult for investors to distinguish the difference. "As you heard, our sell-in was quite aggressive and this first quarterly result was quite, you know, fourth-quarter unit [figure] was around two million," said Lee during the earnings call, according to The Wall Street Journal. "Then, in terms of sell-out, we also believe it was quite smooth."  Lee's "quite smooth" comment led several analysts to conclude that Samsung had sold 2 million tablets to consumers during 2010. The internal Samsung documents obtained by Apple Insider make it quite clear that the company had only sold about half that amount.
On the other hand, Samsung's true sales numbers align more closely with Web traffic data reported by online ad network company Chitika. For example, according to Chitika's data, 81 percent of all Web traffic from tablets in the U.S. and Canada was generated by Apple's iPads between September 15 and September 21, 2013.
The discrepancy between tablet sales data reported by some market research firms and the usage data reported by online ad networks was noted by Apple CEO Tim Cook during the company's fiscal third quarter earnings conference call last year. "If there are lots of other tablets selling I don't know what they are being used for because that's a pretty, the basic function is web browser," Cook said, according to a transcript provided by Seeking Alpha. The ongoing Apple-Samsung trial continues in federal court in California today.
More From Wall St. Cheat Sheet:
Follow Nathanael on Twitter (@ArnoldEtan_WSCS)