Apple Plans to Boost Retail Presence in China With Six New Stores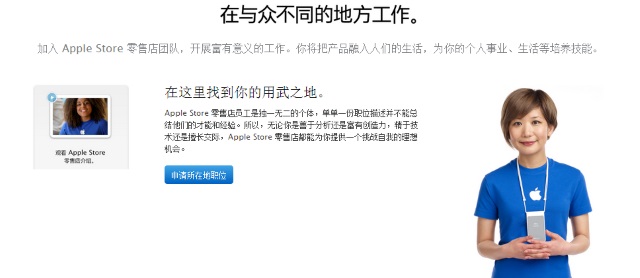 It's no secret that China is figuring into Apple's (NASDAQ:AAPL) future plans. The iPhone maker reported an all time quarterly revenue record of almost $10 billion in Greater China during the March quarter, and CEO Tim Cook noted that it was the company's fastest growing region. "[W]e literally did well in every single area in China," said Cook, according to a second-quarter of fiscal 2014 earnings call transcript provided by Seeking Alpha. "So, we're looking at this data and deciding to continue investing in a big way. We plan to triple the number of Apple Retail Stores over the next two years," he added.
Now it appears that Cook is implementing the first phase of his retail expansion plans for Greater China. According to job postings first spotted by Bloomberg on Apple's China website, the company is seeking new Apple Store managers for six Chinese cities. As noted by Bloomberg, none of the cities listed currently have Apple Stores. The cities include Tianjin, Chongqing, Wuxi, Zhengzhou, Shenyang, and Hangzhou. However, the job postings did not reveal when the new store locations will open.
Apple currently has thirteen Apple Store locations in the Greater China region. Ten stores are located in major urban centers on the Chinese mainland, including Beijing, Chengdu, Shanghai, and Shenzhen. The other three are located in the semiautonomous city-state of Hong Kong. Last year, for the first time, China was included in Apple's initial iPhone 5S and iPhone 5C launch event after years of getting the latest iPhone models weeks after most other markets.
One reason behind Apple's recent growth in China is the Cupertino-based company's distribution deal with China Mobile (NYSE:CHL). China Mobile is the world's largest carrier with over 780 million total subscribers on its network, according to its website. Apple officially launched its iPhone on China Mobile's network in January of this year and the company's latest iPhone 5S and iPhone 5C models feature the homegrown TD-LTE 4G standard and TD-SCDMA 3G standard used by China Mobile. While the majority of China Mobile's subscribers are still on the carrier's 2G, 2.5G, and 3G networks, the company is currently rolling out a 4G network. It is widely expected that Apple's growth in the Greater China region will gain momentum as China Mobile continues to expand its nascent 4G network.
Many industry watchers are also anticipating a boost in Apple's iPhone sales in China when the next-generation models are launched this fall. According to supply chain sources cited by multiple media outlets, Apple's so-called iPhone 6 is expected to be released in two larger screen sizes of 4.7 inches and 5.5 inches. Phablets — devices with screens five inches or larger — are known to be especially popular in the Greater China region. According to data from market research firm Canalys, phablet-sized devices accounted for 39 percent of total smartphone shipments in the Greater China region in the first-quarter of 2014.
Apple's increased retail presence may also help it better compete against local rivals like Xiaomi. The China-based company has surpassed Apple to become the third largest smartphone vendor in China and the sixth largest vendor in the overall worldwide market, according to the latest data from Canalys. Xiaomi's success is largely due to its strategy of foregoing brick-and-mortar retail stores and only offering its low-cost devices over the Internet. While Apple cannot compete with Xiaomi on its prices, it may be able to convince more Chinese customers to pay a premium for the iPhone if it emphasizes the customer service that is available through its Apple Stores.
Follow Nathanael on Twitter (@ArnoldEtan_WSCS)
More From Wall St. Cheat Sheet: