Apple Recap: Big Investors, iPhone 5S, and David Tepper
The share prices of oft compared tech giants — Apple (NASDAQ:APPL) and Google (NASDAQ:GOOG) — have greatly diverged since their stock trajectories crossed paths last year. After climbing to a peak of $463.84 last week, Apple's stock is once again on a downward slide, and it has fallen over 19 percent this year alone. On the other hand, Google stock has risen about 28 percent this year and recently broke the $900 mark. In fact, shares of Google closed up 3.25 percent at $915.89, while shares of Apple closed down 3.38 percent at $428.85. Here's a cheat sheet to today's top Apple stories:
13F Filing Countdown: Big Investors Reveal Positions on Apple
Has Apple become the new favorite stock for big investors to buy this year or has it become the latest pariah tech stock everyone's trying to ditch? Apple watchers will have their answers by tonight, when major investors such as George Soros and Warren Buffett must file their 13F-HR reports. These reports will disclose what stocks these equity managers bought and sold during the three-month period that ended March 31 of this year.
Although many hedge fund managers already revealed their perspectives at the Skybridge Alternatives Conference, or SALT, last week, the upcoming 13F filings will give investors some definitive answers on what these major financial players have been up to when it comes to the Cupertino-based company's shares… (Read more.)
What's Apple's Big iPhone 5S Change?
Has Apple finally solved its physical home button problems on the next generation of iPhone? Since it is pressed every time the device is used, the iPhone's home button is one of the most repaired parts of Apple's flagship smartphone. Although Apple Stores can already easily replace any broken physical home buttons on the current iPhone, this new type of home button will eliminate even that minor in-house repair inconvenience.
An unconfirmed report from Taiwan's TechNews website via Cult of Mac states that Apple is planning on replacing the iPhone's physical home button with a sapphire crystal capacitive touch button that will also function as a fingerprint sensor… (Read more.)
David Tepper Sours On Apple
A recent filing reveals that David Tepper — the billionaire manager of the Appaloosa Management hedge fund — cut his stake in Apple by 41 percent in the first quarter of this year. During the 3-month period that ended March 31, Appaloosa unloaded 372,661 Apple shares, leaving the hedge fund with a total of 540,000 Apple shares worth approximately $239 million. Appaloosa manages a fund worth $17.9 billion.
At the end of 2012, Appaloosa held 912,661 shares of the Cupertino-based company's stock, but it began to reduce its Apple exposure when the stock fell 17 percent in the first few months of this year…(Read more.)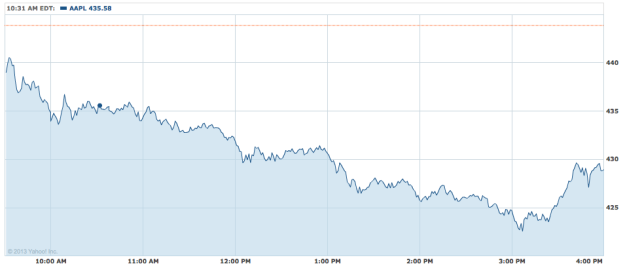 You can follow Meghan on Twitter (@MFoley_WSCS) for the latest industry news.
Don't Miss: David Tepper Sours On Apple.