Apple Recap: Cramer Angst, Share Buyback, and Cook's Regret
Apple (NASDAQ:APPL) released fiscal-second quarter earnings on Tuesday, and the dust from the tornado the results caused is still settling. Apple reported earnings per share of $10.09 and revenue of $43.6 billion, compared to average expectations for earnings of $10.00 per share on revenue of $42.33 billion. While these results were better than anticipated, investors and analysts are still not quite confident in Chief Executive Officer Tim Cook's ability to guide the company to greater growth. After all, Apple did post its first quarter-over-quarter earnings decline in a decade. While the stock posting some gains in after-hours trading Tuesday afternoon, shares of the iPhone maker closed down $0.67, or 0.16 percent, at $405.46 on Wednesday. Here's a cheat sheet to today's top Apple stories:
Why is Cramer Ranting Against Apple's Management?
CNBC's Jim Cramer said on "Squawk on the Street" Wednesday morning that analysts are revolting against Apple Chief Executive Officer Tim Cook as the company's "graphically painful" conference call made clear. While he noted that "given the fact that tech stocks have bottomed at a certain yield, it is possible that they could put in a floor soon," he added that Apple's management is "now despised." In his opinion, the conference call was a revolt against management because the current situation is one in which management is in complete denial. "What people wanted was some growth, what people wanted was new products and what people wanted was a change of discourse."
As Cramer's rant suggested, the language used by management during the earnings call did not match the company's current reality, at least the reality seen by Apple analysts… (Read more.)
Here's Your Cheat Sheet to Apple's Buyback Program
On Tuesday evening, Apple announced the largest single share repurchase authorization in history. The company increased the size of its share repurchase program from $10 billion to $60 billion, brushing aside the previous record buyback of $40 billion by Microsoft (NASDAQ:MSFT). Below that, previous buyback heavy-hitters include Proctor & Gamble (NYSE:PG) with a $30 billion authorization in 2007, and Time Warner (NYSE:TWC) with a $20 billion authorization in 2006.
On top of the revamped share repurchase program, Apple announced that it will increase its quarterly dividend by 15 percent. Alongside the earnings release, the company announced a dividend of $3.05 payable May 16 to shareholders of date on May 13… (Read more.)
Apple CEO Tim Cook Has Some iRegrets
The PC industry may be on a steep decline, but like all those old Mac advertisements — namely the "I'm a Mac, You're a PC" campaign — tried to make it clear, Apple's computers aren't any old PC, and the company plans to keep making them. Apple's earnings call Tuesday evening had a lot of news for investors — from the increasing dividends and share buybacks to the delay of new product releases until autumn and 2014. But one surprise came from the mouth of Chief Executive Officer Tim Cook in the form of a regret.
Late last year, Apple launched the iPhone 5, iPad Mini, and the latest model of its iMac all-in-one computer. After those launches, Apple hasn't released any hot products, which may have contributed to a large portion of the negativity bobbing around Apple lately… (Read more.)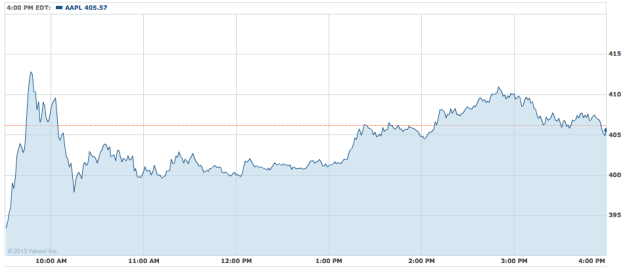 Don't Miss: How Could Apple Hurt Its Suppliers?