Apple Recap: Dividend, Earnings Predictions, and Money Madness
Apple (NASDAQ:AAPL) shares went on a roller coaster of a ride Monday, producing the sort of dips that cause a feeling of weightlessness and an uncomfortable sensation in the stomach of those on board. Shares began the day just above $425.50, rose as high as $427.02, and sunk as low as $422.58. In the absence of a major catalysts, the rises and falls that have became Apple's typical trading pattern can be attributed to the nearness of Apple's next quarterly report, which will come on after the markets close on April 23. Speculation about the company's performance is already rampant, but Apple's stock closed out the day up $3.01, or 0.71 percent, at $426.21. Here's a cheat sheet to today's top Apple stories:
Analyst: Here's How Many iPhones Apple Sold Last Quarter
Apple's earnings are just over two weeks away. On average, analysts are looking for earnings to contract about 17.5 percent to $10.13 per share, and revenue to increase 9 percent to $42.70 billion. Apple, for its part, guided revenue in a range between $41 and $43 billion.
Against this backdrop, an analyst at Canaccord Genuity — with a Buy rating and a $600 price target on the stock — increased his iPhone sales estimates for the second and third quarter, and reduced his average price estimate. Citing reduced pricing for the older models, the analyst raised his sales estimate from 34.5 million to 37 million in the second quarter, and from 25 million to 27 million in the third quarter. The average price estimate was reduced from $651 in the December quarter to $601 in the March quarter… (Read more.)
Will Apple Use a Dividend Hike To Placate Shareholders?
All in all, sentiment about the upcoming earnings appears to be mixed but biased toward pessimism. Recently, it seems like the only thing that has been able to drive up Apple's stock is speculation over a dividend hike. Since there has been no announcements so far, observers have suggested that the company could be waiting to use a dividend increase as a band-aid for poor financial results.
While often vehemently divided over the company, analysts and investors have both rallied behind the idea that Apple needs to do something with its $137 billion cash-and-investment war chest. Most proposals have been shot down so far — iPrefs, awkward acquisitions, bailing out Cyprus — and the consensus expectation is that if the company does not tip its hat to shareholders soon, it could face harsh selling pressure… (Read more.)
Can BlackBerry Play David to Apple's Goliath?
"BlackBerry Crushed Apple," read a surprising headline from CNBC on Monday.
The struggling smartphone manufacturer — working hard to stay afloat and be relevant in a market that Apple, Samsung (SSNLF.PK), and Google (NASDAQ:GOOG) are dividing amongst themselves — is angling to be David to Apple's Goliath. With a market capitalization of just $7 billion compared to Apple's $400 billion, for BlackBerry's (NASDAQ:BBRY), making that story a reality will be no easy task. But winning the "Squawk Box Money Madness" stock tournament by beating Apple has enabled the manufacturer to begin representing itself as a David-like character… (Read more.)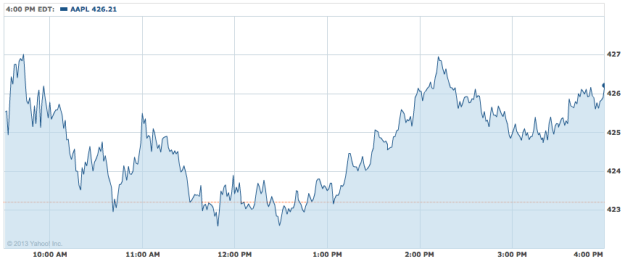 Don't Miss: Will Apple Use a Dividend Hike To Placate Shareholders?