Apple Recap: Fitch's Rating, Customer Satisfaction, and Muscle Memory
Investors' concerns over Apple's (NASDAQ:AAPL) slowing sales growth and questions regarding the iPhone maker's future profitability have caused a significant sell-off; since hitting its all-time high in September of last year, the company's stock has lost close to 40 percent of its value. After dropping below the psychologically significant level of $400-per-share the week before reporting quarterly earnings, the company's shares hit a new 52-week low. While fiscal second-quarter results did little to assuage investors fears, shares have been trading slightly higher in the intervening week. The stock ended the day in the green on Tuesday, closing up $12.66, 2.94 percent, at $442.78. Here's a cheat sheet to today's top Apple stories:
Fitch Thinks Apple Is Riskier Business Than Microsoft
Even though the international credit rating agency Fitch does not have a formal credit rating on Apple, the iPhone maker's decision to borrow money to fund its share buyback program and increase of its quarterly dividend prompted the firm make a few comments about its credit worthiness.
In a report published Monday, Fitch analysts — led by James Rizzo — wrote that if the ratings firm were to release a public grade for Apple, "inherent business risk that overshadows a significant liquidity cushion" means that such ranking would likely fall "at the highest end" of the single-A category. This tier is at least three levels lower than the Aa1 rating held by Moody's and the equivalent AA+ grade assigned by Standard & Poor's… (Read more.)
Why Is Apple a Master of Satisfaction?
Apple is proving to be the master of satisfaction this week; two surveys in as many days have hoisted Apple to the first place spot.
On Monday, J.D. Power and Associates released the results of its survey on customer satisfaction with tablet manufacturers. In that competition, Apple took the cake with 836 points out of 1,000 possible. Amazon (NASDAQ:AMZN) came in second with a score of 829 for its tablets. All other brands, including Samsung (SSNLF.PK), fell below the 828-point industry average. Apple alone received a rating of "among the best" from the firm… (Read more.)
Analyst: Apple Love Is Like Muscle Memory
"If you think about the basics for Apple, it's build the best hardware platform on the planet, build the best software and ecosystem on the planet," Brian Marshall, an analyst at ISI, said on CNBC's "Squawk on the Street" on Monday.
That may sound like one part tall order and one part happy talk, but it's also basically true. For nearly a decade, with different hardware at different times, Apple did exactly that. The iPod proved to be a best-in-class music player, the iPhone revolutionized smart devices, and the iPad pretty much defined the product category. Macs may not have the same relative market dominance, but they are still a top-tier device… (Read more.)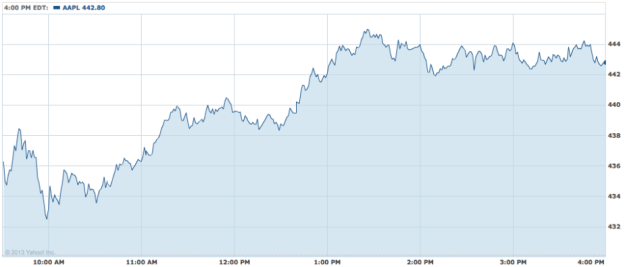 Don't Miss: Why Is Apple a Master of Satisfaction?