Apple Recap: Jobs' Legacy, Investors Patience, and Einhorn's Investment
Criticism that Apple (NASDAQ:AAPL) has lost its innovative touch is still a widely circulated sentiment. While it has long been seen as a company capable of creating one category-defining product after another — and in fact, Apple build its reputation on that type of creativity — analysts have put forward the thesis that founder Steve Jobs' absence can be seen in the company's product pipeline, which, according to their assessments, is populated by nothing but product refreshes. Because no new products due out until the fall, investors and analysts have been left to mull over this critique again and again. Despite the absence of any real news, or perhaps because of it, investors bid down shares of the iPhone maker from Monday's gains. The stock closed down $2.02, or 0.44 percent, at $458.69 on Tuesday. Here's a cheat sheet to today's top Apple stories:
Does This Steve Jobs Legacy Hold Apple's Answer?
There has been much speculation recently about whether the death of Apple co-founder Steve Jobs not only marked the demise of the company's creative genius, but also its ability to innovate. Because competitors are slowly catching up to Apple's ability to continually satisfy in mobile commuting, the company is in need of innovation if it wants to maintain its vicious competitive edge.
According to Barron's, UBS hardware analyst Steve Milunovich explained Apple's problem like this: "The [Google (NASDAQ:GOOG)] Android vendors have caught up or surpassed Apple in hardware, are in the same ballpark in software, and are closing the gap in apps. Going forward, Apple needs to either (1) shift the curve so user desires outpace competitors' features or (2) succeed as the game moves to higher layers, especially in services."… (Read more.)
Stay Patient, Apple Investors
Apple stock has climbed just over 10 percent since it released earnings on April 24, and has once again broken above its 50-day moving average. At a glance, the results came in ahead of expectations, came paired with a record-setting capital return program, and still failed to convert some skeptics.
One of the negative highlights of the report is a 9.9 percentage point drop in gross margin compared to the year-ago period. The decline was cited by BMO Capital Markets analyst Keith Bachman when he downgraded the stock from Outperform to Market Perform, and lowered his price target from $440 to $435, about 5.4 percent below the stock's closing price on Monday… (Read more.)
Is David Einhorn Head-Over-Heels for Apple Again?
Greenlight Capital's (NASDAQ:GLRE) David Einhorn has been a big pusher when it comes to Apple, arguing extensively for the company to return a large portion of its multibillion-dollar cash pile to investors. Now, he might be tying more of his firm's fate to Apple.
David Einhorn is the president of the Greenlight Capital hedge fund and was pivotal in getting Apple to increase the value for investors by issuing what became one of the biggest dividends in the whole tech industry. In a conference call Tuesday, Einhorn said, "We've added to our Apple position. Now we just wait for the release of Apple's next blockbuster product… (Read more.)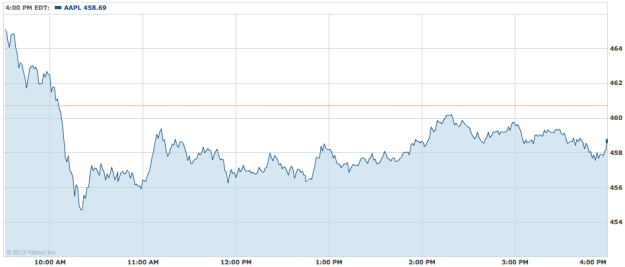 Don't Miss: Apple's iOS Easily Trumps Android on This Metric.