Apple Recap: Lonely Battle, Investor Gifts, the Power of Cash
Apple (NASDAQ:AAPL) rose 1.44 percent on Friday to end at $474.98 and register a total 4-percent gain since announcing on Thursday afternoon that it was considering increasing its dividend and stock buyback funds. While most news on Friday centered around various reactions to Apple's statement, there was also an important legal development for the company. Here are the top stories for Apple on the day:
Apple's Lonely Battle
Apple is now the only one left fighting with the U.S. Justice Department in the e-book antitrust case after publisher Macmillan reached a settlement with the agency on Friday. Macmillan was the last of five major publishers to settle the suit filed by the Justice Department last April, leaving the iPhone maker as the only remaining defendant in the case scheduled to start hearing in June.
The DoJ has alleged that five publishers and Apple colluded to raise e-book prices from Amazon.com's (NASDAQ:AMZN) standard $9.99 price. According to the allegations, prices of bestsellers rose to $12.99 and $14.99 after Apple stepped in, thus hurting consumer interests. The publishers and Apple have denied the allegations. According to Friday's settlement, Macmillan will have to allow e-book retailers to discount its titles within three business days of agreeing to the settlement, even if it has not made new contracts.
Macmillan chief executive John Sargent said in a statement that his company was forced to settle "because the potential penalties became too high to risk" and that the settlement did not include an admission of guilt… (Read more)
Gifts On Way?
Shareholders can look forward to getting some cash presents from Apple in the coming days, according to Barclays Capital analyst Ben Reitzes. Reitzes wrote in a note to investors on Friday that with investor pressure having gone up on the company in the recent days, and peaking with David Einhorn's statement on Thursday, the company was ready to open its safe. In addition, with the stock moving downward over the last few months, Apple had been spurred into additional urgency.
According to the analyst, Apple was likely to increase its cash-return program — started last year at $45 billion to be paid over three years — by between 30 percent and 40 percent. The announcement could be made around or on Apple's annual shareholder meeting takes scheduled for February 27, Reitzes added… (Read more)
Domestic Cash Power
While bringing its large amounts of overseas cash back to the U.S. in order to return more money to shareholders will be costly, Apple has enough in the bank at home to increase dividend, according to RBC Capital Markets' Amit Daryanani. According to the analyst, about 70 percent of Apple's cash balance was held overseas, which meant that at a corporate repatriation rate of 35 percent, the company stood to lose about $33 billion.
While such a scenario was possibly unacceptable for Apple, he pointed out that the iPhone maker also had $43 billion in cash domestically. In addition, the company was expected to generate another $45 billion in free cash flow this year, giving it enough room to return additional cash to investors… (Read more)
Here's how Apple (NASDAQ:AAPL) rounded our the trading week: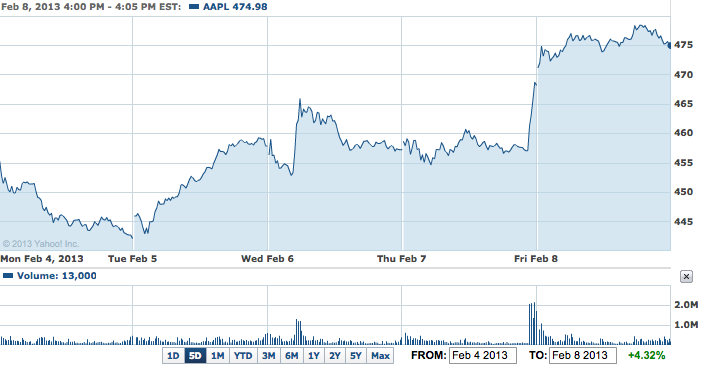 Don't Miss: Can Apple Make Its Investors Happy?