Apple Recap: Market Loss, Labor Errors, and Tax Questions

While shares of Apple's (NASDAQ:AAPL) top tech competitor Google (NASDAQ:GOOG) have stuck above $900 for the past several days, the iPhone maker has remained mired in concerns for its innovative capabilities. According to a recent survey commissioned by Bloomberg, 71 percent of respondents believe that the Cupertino-based technology company has lost its position as the lead industry innovator. Although 43 percent of respondents believe Apple will eventually regain its lead position, 28 percent believe Apple has permanently surrendered its innovation crown.
Ending a tough week, shares of Apple ended the week down 4.35 percent. The stock closed in the red on Friday as well, dropping down $1.32, or 0.30 percent, to $433.26. Here's a cheat sheet to today's top Apple stories:
Is Apple Losing This Huge Market to BlackBerry and Samsung?
Is the Indian market slipping through Apple's fingers? According to analyst Trip Chowdhry of Global Equities Research, Apple is indeed losing the hearts and minds of India's consumers due to a combination of several factors. One of the major reasons that Apple is failing in the Indian market is because of a lack of Apple stores. India has laws that prohibit the Cupertino-based company from opening a retail store without also establishing a manufacturing… (Read more.)
This Apple Supplier Is Still Messing Up Labor Practices
Longtime Apple supplier Foxconn is being squeezed between a rock and a hard place as the Taipei-based company tries to reduce workers' hours while simultaneously keeping up with production orders. The maker of Apple's iPad and iPhone products has been the target of scrutiny by the Washington-based Fair Labor Association ever since Apple became a member of the organization after a rash of Foxconn employee suicides in 2010.
Although the FLA says Foxconn has resolved almost all of its factory safety and worker condition problems, the Chinese manufacturer is still having difficulty meeting the July deadline for reducing workers' hours. So far Foxconn has reduced the maximum amount of weekly hours to 60. However, the company originally promised to reduce the number of weekly work hours to 40 with nine hours of overtime by July of 2013…(Read more.)
Apple CEO Wants Drastic Changes in Tax Laws
With less than a week to prepare for his appearance at a Senate hearing that is looking into Apple's offshore tax practices, CEO Tim Cook has announced that he plans to ask for a corporate tax law overhaul while he is in Washington. According to the Washington Post, Cook is seeking a "dramatic simplification" of the current corporate tax laws and will offer up several specific changes he believes will encourage more companies to repatriate overseas earnings. Apple currently keeps approximately $100 billion of its cash reserves overseas and out of the reach of America's tax collectors. Apple could face a corporate tax rate of 35 percent under current U.S. tax laws if it tries to bring its cash into the U.S… (Read more.)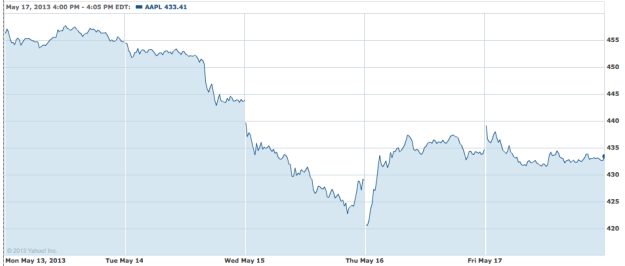 Don't Miss: Will the iPad Mini 2 Hit By Summer's End?