Apple Recap: Nokia's Ad, Money Borrowing, and iPhone Rumors
Research firm Strategy Analytics reported last week that Apple's (NASDAQ:AAPL) share of the global smartphone market fell from 22.8 percent in the year-ago quarter to 17.9 percent in the first quarter, signaling further problems for the iPhone maker and its flagship device. Bernstein Research analyst Toni Sacconaghi took the company's third-quarter guidance as an indication that Apple's market share will continue to drop in the next several quarters. Yet, despite ongoing concerns, shares of Apple ended the day in the green — closing up $12.92, or 3.10 percent, at $430.12. Here's a cheat sheet to today's top Apple stories:
Apple-Samsung Fanboys, Microsoft Is Laughing At You
Despite Nokia's (NYSE:NOK) Lumia 920 being named the Smartphone of the Year by Endgadget readers, Nokia has had difficulties selling its Microsoft (NASDAQ:MSFT) Windows Phone 8 powered smartphone; in the first three months of 2013, Windows Phone accounted for just 5.6 percent of all global smartphone sales. While this figure represented an increase from the 3.7 percent share the operating system commanded in the year-ago quarter, the company is still finding it hard to convince buyers that there are more than two operating systems in the world: Apple's iOS and Google's (NASDAQ:GOOG) Android.  A recent advertisement created to showcase the Lumia 920 made fun of this way of thinking… (Read more.)
 Is Apple Borrowing Money a Sign of the Changing Market?
Historically, the vagaries of the technology market have bested any company too slow to change with the wind. Though its sheer size suggests that it could stay the course for a number of years regardless of headwinds, Apple announced last week that it would shift course, hike its dividend, and placate shareholders hungry for yield.
Previously, Apple was able to maintain investor demand in its stock by launching new products, increasing sales, and reaping massive products. But the company's rapid-growth phase is winding down and the company is ripening. Apple is expected to slowly transition away from a product-cycle-driven, hardware-focused computer company to more of a software and services company.This means flatter quarterly revenues and steadier earnings — this means appealing to shareholders not through share price growth but through dividends — as announced in the last earnings report… (Read more.)
Will the iPhone 5S Be Here Sooner Than Expected?
"We've got a lot more surprises in the works," Apple Chief Executive Officer Tim Cook said Tuesday in the company's second-quarter earnings call. "Our teams are hard at work on some amazing new hardware, software, and services that we can't wait to introduce in the fall and into 2014." While this statement has left analysts running rampant in their predictions for what those surprises might be — including the much-rumored smart watch — most seem sure that the so-called iPhone 5S will be among the products released this fall.
However, the surprise may be that the still as-yet-unannounced, next-generation iPhone may be coming sooner than expected… (Read more.)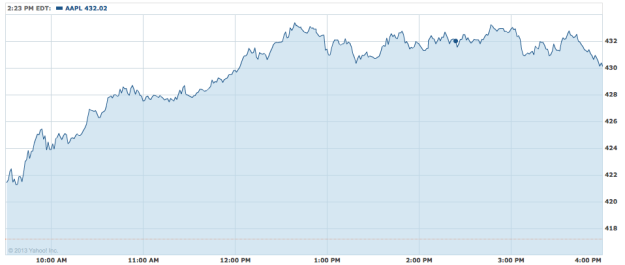 Don't Miss: Does This Patent Application Foretell a New Product from Apple?