Apple Recap: Overwhelming Competition, Questions for Cook, and EU Probe
Analyst Ashraf Eassa at Seeking Alpha has argued that while Apple (NASDAQ:AAPL) literally invented the smartphone and tablet markets, he still believes the days when Apple investors could reliably count on the high profits of these two product lines are coming to an end. And that problem is evident in the company's share price. With new products still in the rumor-phase, investors remain uneasy. After posting a gain for last five-day trading period, shares ended Monday in the red, declining $3.71, or 0.83 percent, to $441.44. Here's a cheat sheet to today's top Apple stories:
Analyst: Android Smartphones Will Undercut Apple iPhone Sales
Will Apple soon be overwhelmed in the smartphone market by an overseas flood of cheap Android devices?  Nomura Equity Research analyst Stuart Jeffrey shared his vision of a future worldwide smartphone market that is dominated by low-cost Android devices via Barron's. Jeffrey recently revised his 2013 smartphone sales numbers from 844 million to 954 million based on the increasing popularity of low-cost smartphones that utilize Google's (NASDAQ:GOOG) Android platform… (Read more.)
One Apple Analyst, 4 Penetrating Questions
Apple CEO Tim Cook will be attending the eleventh annual AllThingsD conference that kicks off this Tuesday, May 28. The Wall Street Journal's D: All Things Digital conference has long been a venue for the movers and shakers of the media and tech industries to openly discuss and debate the latest trends in digital technology. Although renowned Apple analyst Horace Dediu will not be in attendance at this prestigious gathering, he recently posted several questions that he would like to ask Tim Cook about Apple's current business practices and the future direction of the company.
Horace Dediu, who has a reputation as one of the most prescient and thoughtful Apple analysts working today, raises some interesting points that Cook may want to think about answering during his appearance at D11… (Read more.)
Are Apple's Sales Muscles Worrying Europe?
European Union antitrust regulators want to know whether Apple's iPhone distribution deals with mobile carriers are designed to shut out rival smartphone manufacturers. Depending on the information they uncover, a formal investigation into Apple's sales tactics could follow, because such behavior may breach EU antitrust rules, according to a nine-page questionnaire sent to mobile telecom companies last Friday… (Read more.)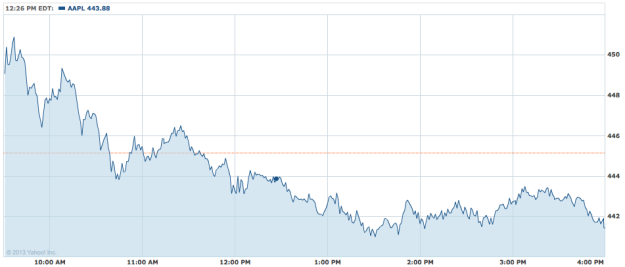 Follow Meghan on Twitter @MFoley_WSCS
Don't Miss: Are Apple's Sales Muscles Worrying Europe?