Apple Recap: Stock Falls, Google Begs, and Samsung's Under Suspicion
Apple (NASDAQ:AAPL) surprised everyone initially on Wednesday when shares dipped below the $400-dollar-per-share mark.But when the news was digested, not many people were that shocked the stock hit new lows given its recent downward course. Yet the drop was still dramatic, and Apples fall sent ripples throughout the market; all three major U.S. indices — the Dow Jones, the S&P 500, and the Nasdaq — ended the day in the red. Despite posting gains on Tuesday, shares of the iPhone maker began a steep trek downward almost as soon as the market opened on Wednesday, hitting a new 52-week low of $398.11 just before 1 p.m. eastern time. While shares recovered to some degree, the stock still ended the day in the red, down $23.44, or 5.50 percent, at $402.80. Heres a cheat sheet to today's top Apple stories:
Apple Breaks Below $400 on More Demand Concerns
Apple shares have been stuck in a downward trend since peaking at $705 last year, and took another stumble below a key psychological level on Wednesday. The wave of negative sentiment around the tech giant intensified as Cirrus Logic (NASDAQ:CRUS), which is widely believed to make analog and audio chips for the iPhone and iPad, announced a weaker-than-expected forecast. For the first fiscal quarter, the company expects revenue of $150 million to $170 million. Wall Street was expecting revenue above $190 million.
As the chart below shows, Mr. Market did not react well to the news. Shares of Apple broke below $400 for the first time since December 2011. (Read more.)
Taiwan Teams Up With Apple To Take On Samsung
Samsung (SSNLF.PK) is reportedly under investigation by a Taiwanese regulator on suspicion that it broke fair trade laws. Apparently, the South Korean technology company had been paying for people to post positive reviews of its products online, while at the same time posting negative reviews of products made by competitors such as Taiwan-based HTC Corp.
The campaign is both morally and legally suspect. Paying for biased reviews violates the principle of honest communication with customers that is a cornerstone of any sophisticated market. In a statement released on Tuesday, Samsung said that the situation "occurred due to insufficient understanding of these fundamental principles" and that it has "ceased all marketing activities that involve the posting of anonymous comments." Commissioners are investigating whether the campaign violates any of the articles of fair trade regulations that relate to false advertising… (Read more.)
Google: We Want Apple Back!
Just because users have stopped bemoaning Apple Maps in droves and the companys mapping fiasco has stopped grabbing headlines for misidentifying cities, using incorrect icons, and even failing to display certain locations, does not mean the issue has been put to rest.
Google (NASDAQ:GOOG) Chairman Eric Schmidt wants Apple to reinstate Google Maps — which was thrown out in the companys latest operating system upgrade — as the default mapping application on iOS devices. "We would still really like them to use our maps," said Schmidt, according to CNET. "It would be easy for them to take the app in the store and put it as their basic one." … (Read more.)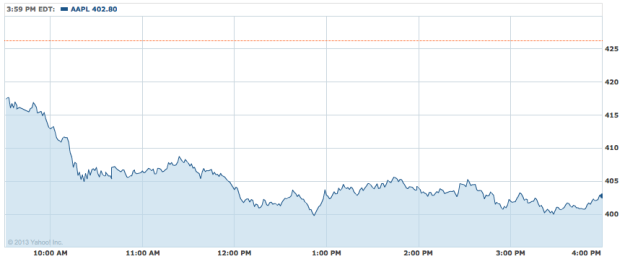 Don't Miss: Apple Breaks Below $400 on More Demand Concerns.