Apple Recap: Target Cut, Kevin Lynch, and an iSurprise
Despite ending the day in the red, the major stock indices notched strong gains for the week. Shares of Apple (NASDAQ:AAPL) etched out a similar trajectory. But its gains for the week cannot be described as strong. The stock ended three days in the red this week, limiting the 5-day period to $6.60, or 1.56 percent, increase. While much of the company's news of Friday was dominated by updates on product refreshes, the price cut from RBC Capital did not help, and shares ended the day down $4.53, or 1.04 percent, at $429.80. Here's a cheat sheet to today's top Apple stories:
What is Lynch Doing on Apple's Mystery Team?
Is a former Apple gadfly now in charge of one of the Cupertino-based company's infamous secret projects? As reported by Bloomberg, Apple controversially hired Adobe (NASDAQ:ADBE) Chief Technology Officer Kevin Lynch as a vice president for technology last month. Lynch gained notoriety among Apple followers for his criticism of Apple's refusal to use Adobe's Flash video program for its devices.
However, the former Apple critic is now rumored to be heading up a team that may be working on Apple's next big product… (Read more.)
Analyst: Apple Has Two iSurprises for Consumers This Summer
An Apple analyst who recently attended an industry trade show in China this week believes that Apple will couple a July launch of the iPhone 5S with a low-cost iPhone alternative. According to Topeka Capital Markets' Brian White via AppleInsider, Apple will announce the release of a cheaper version of the iPhone in June, in anticipation of a July launch date. White is basing his prediction on information that he gleaned from Apple vendors and suppliers at a trade show in China earlier this week.
White offered several clues about the appearance of the cheaper version of the iPhone. According to White, the low-price iPhone will be slightly thicker than the current iPhone 5 and feature a rounded back made of plastic instead of the usual glass or metal casing… (Read more.)
Here's Another Price Target Cut for Apple
Heading into second quarter results, RBC Capital analyst Amit Daryanani has lowered his price target on Apple shares from $600 to $550 reports Benzinga. Although Daryanani has reiterated his Outperform rating on Apple stock, he believes that possible "weaker demand" in the March quarter justifies the price target adjustment according to MarketWatch. Apple's March quarter results will be announced on April 23.
Via MarketWatch, Daryanani states that "We believe Apple could see product momentum return in [the second half of the year] as the company unleashes a number of catalysts." Potential catalysts include iOS 7, a new iPhone launch, and iPad upgrades… (Read more.)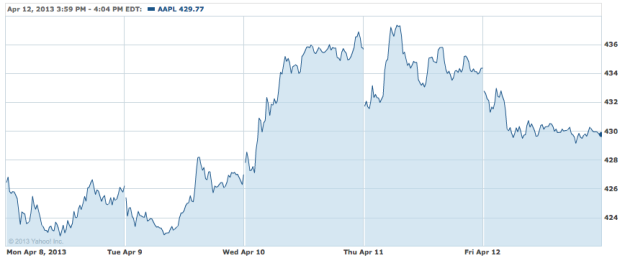 Don't Miss: T-Mobile Hitches its Fortunes to the iPhone 5.