Apple Recap: The Apple Era, Expectations, and Bullish Analysts
While analysts are continuing to mull over Apple's (NASDAQ:AAPL) product refresh cycle, how many iPhones the company will sell in the next quarter, and whether it has lost its innovative edge, the company is pushing forward into new territory, India to be specific. With analyst commentary turning slightly negative once more — Oppenheimer analyst Ittai Kidron lowered his price target for shares of Apple on Tuesday from $600 to $550 — shares ended the day down $2.50, or 0.54 percent, at $461.08. Here's a cheat sheet to today's top Apple stories:
Bob Herbold: The Apple Era Is Over, Probably
Former chief operating officer of Microsoft (NASDAQ:MSFT), Bob Herbold, said in an article Monday that he doesn't believe Apple has the vision and leadership that it once had and the "Apple era may be on its way out."
Herbold said that Steve Jobs had what it took to lead the company in the right direction. In fact, "lead" might have been one of Herbold's most important words, as he said a company's success depends on "visionary leadership that will lead to a continuing flow of leading edge products and services." And, further gains for  company's shares depends on a belief that the leadership exists.
He noted three key ingredients to having a successful business: "a visionary leader, not an administrator;" "deep personal involvement;" and "the guts to lead."… (Read more.)
Analyst: We're All Expecting Too Much From Apple
"We believe the risk reward to owning shares of AAPL is favorable given the back half of the year will likely have several product announcements that should reaccelerate earnings growth from a negative 14 percent in the first half of 2013 to a positive 15 percent in the back half," wrote Piper Jaffray analyst Gene Munster on Tuesday.
The sentiment is right in line with commentary from other Apple analysts who are expecting a relatively weak second quarter for the company. Munster continues, "While we believe that current Street numbers are too high for March and June, we view the risk around the quarter and guide as small as the March report and June guide will likely mark the turning point as investors look to the back half opportunity with new product launches. We reiterate our Overweight and $767 price target."… (Read more.)
Why Is This Apple Bull Bucking the Trend?
Co-portfolio manager Channing Smith, of the Capital Advisors Growth Fund, says that Apple's stock will hit $600 by the end of the year, and offered some explanations that seem to have eluded many analysts who have been putting down their estimates for the company.
On CNBC's "Squawk On The Street," Smith predicted that Apple is expected to have a weak quarter, the results of which have already been priced into the stock, which will put the focus on the second half of the year when Apple launches new products and puts some of its $140 billion of excess cash to work. Smith has recently increased his position in Apple… (Read more.)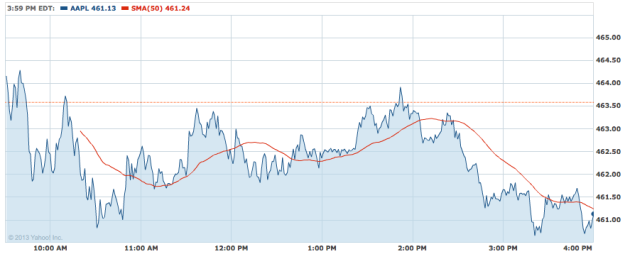 Don't Miss: IDC: Apple's Closing on Samsung.