Apple Removes Rival Music-Streaming Service From iAd Network
Apple (NASDAQ:AAPL) has banned Bloom.fm — a potential iTunes Radio rival — from advertising on its iAd mobile advertising network, reports The Guardian. Bloom.fm is a London-based music-streaming service that is available on both iOS and Android-based mobile devices. The streaming music start up announced the ban via its Twitter account. "Apple just banned our ads because we're 'a competitive service to iTunes Radio and it is against Apple policy' We must be big time now ;)," tweeted Bloom.fm.
Although Apple supposedly characterized Bloom.fm as a "competitive service," it should be noted that iTunes Radio is not yet available in the UK. However, the removal of Bloom.fm's advertisements from Apple's iAd network suggests that the launch of iTunes Radio in the UK is imminent.
"They stopped us advertising a few weeks ago and we were unclear why," Bloom.fm marketing director Jon Clark told The Guardian. "Then we received an email from our marketing agency saying that it was against their policy to advertise competing services. We're amused by this rather than frustrated. It's just pretty funny really. We're a tiny app, so we're surprised they even noticed what we were doing."
Apple launched iTunes Radio in the U.S. last September and rolled it out in Australia earlier this year. Now it appears that the UK will likely be the third market to get Apple's native music streaming service. Since Apple must reach licensing deals with the record labels in each market, the company was unable to immediately launch the service worldwide.
Eddy Cue, Apple's senior vice president of Internet Software and Services, discussed the iPhone maker's long-term goals for iTunes Radio at the iTunes music festival in London last year. "One of our top priorities is to bring iTunes Radio obviously here in the UK, but everywhere in the world," Cue told The Associated Press.  "We certainly want to be in more than 100 countries."
Apple's advertising ban on Bloom.fm comes amid rumors that the Cupertino-based company is planning to overhaul the way that its iTunes Music Store and iTunes Radio operates due to a decline in digital download sales. Although Apple's ad-supported iTunes Radio service includes a "buy" option, only 1 to 2 percent of users opt to buy music through the music streaming service, according to unnamed label executives cited by Billboard.
The rumors that Apple is planning to revamp its music services were also recently bolstered by several new iTunes-related job listings spotted by 9to5Mac. Billboard's sources revealed several initiatives that Apple is considering, including securing more exclusive "windowed" content deals, launching an on-demand streaming service modeled after Spotify, and creating an official iTunes app for Android.
Here's how Apple closed out the trading week on Friday.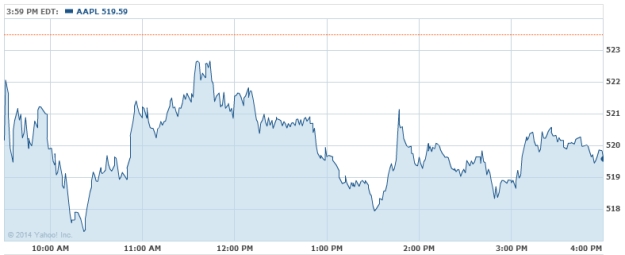 Follow Nathanael on Twitter (@ArnoldEtan_WSCS)
More From Wall St. Cheat Sheet: