Apple Reveals Future of Display Tech With Interactive 3-D Image Patent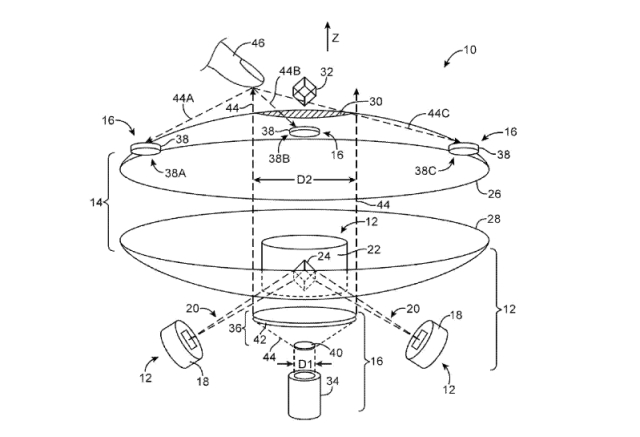 A recently published Apple (NASDAQ:AAPL) patent outlined an interactive 3-D display technology that could one day be used in the Cupertino-based company's devices, reports Apple Insider. In a patent titled "Interactive Three-Dimensional Display System," Apple described a technology that would allow users to control and manipulate a three-dimensional image that has been projected in mid-air above a display structure.
In the patent background information, Apple noted that unlike most other conventional of 3-D display systems, its system does not require "special viewing equipment such as glasses, goggles, helmets, or other viewing aids in order to view the 3D image." Apple pointed out that this viewing equipment tends to be "cumbersome and undesirable." While autostereoscopic display technologies can produce 3-D images that don't require special viewing equipment, these systems have other disadvantages. For example, parallax display systems only produce a 3-D image when viewed from a particular location and volumetric display systems have a tendency to produce distorted images that can strain users' eyes.
On the other hand, Apple's proposed 3-D display system would produce clear 3-D images that could be seen from various locations. Users would also be able to interact with the projected image through the use of "a visible light laser, an ultraviolet (UV) laser, an X-ray laser, or other suitable type of laser." When the laser strikes an external object such as the user's finger or hand, the system determines the location and movement of the object using light-based sensors. However, Apple also noted that the 3-D display system does not have to include the interactive feature.
As noted by Apple Insider, Apple's 3-D display system is similar to many other pseudo-hologram display systems in the sense that it relies on a series of mirrors to create a 3-D image. "The optical system may include an assembly of mirrors such as first and second curved mirrors," stated Apple in the patent summary. "The primary three-dimensional image may be formed within the assembly of mirrors. Light from the primary three-dimensional image may be reflected between the first and second curved mirrors until it ultimately exits through an opening in one of the mirrors to form the projected three-dimensional image in mid-air."
According to a recent report from The Wall Street Journal, Amazon (NASDAQ:AMZN) has developed a smartphone with a 3-D display technology that it will unveil in June. However, Apple's patent appears to be unrelated to Amazon's recent announcement, since the patent was originally filed in October of 2012. It is also not clear from the patent information if Apple's invention is intended for implementation in a smartphone.
As noted by Apple Insider, Apple's system appears to be similar to "Vermeer," an interactive tabletop 3-D display system developed by Microsoft (NASDAQ:MSFT) Research in 2012. Microsoft's display system can be seen in the video above. This similarity suggests that Apple's invention is intended for larger, non-mobile devices.
More From Wall St. Cheat Sheet:
Follow Nathanael on Twitter (@ArnoldEtan_WSCS)