Apple Sales Drop Squeezes This Supplier
Yet another electronic components manufacturer is feeling the pinch in its quarterly earnings results from Apple's (NASDAQ:AAPL) slowing iPhone sales. On Friday, London-based manufacturer Laird announced that the revenue from its largest customer had fallen by 17 percent and the prime suspect is Apple.  Many commentators and industry insiders assume that Apple is Laird's largest customer.
According to its official website, "Laird is a global technology company focused on providing components and solutions that protect electronic devices from electromagnetic interference and heat, and that enable connectivity through wireless applications and antennae systems."
The drop in orders from Laird's largest customer resulted in an overall 2 percent reduction in the company's revenue. Laird made just shy of a $190 million in the same quarter last year; this year it made $184.59 million.
Laird expects a decline in its June quarter revenue as well. However, it also predicts that revenue will grow in the latter half of the year. This would coincide with expected product launches from Apple in the fall and early 2014.
Laird is not the only supplier to see a reduction in orders from Apple. Longtime Apple supplier Foxconn has seen its first-quarter sales drop 20 percent, while its shares have declined 13.7 percent over the year to date.
Here's how Apple has traded so far this week: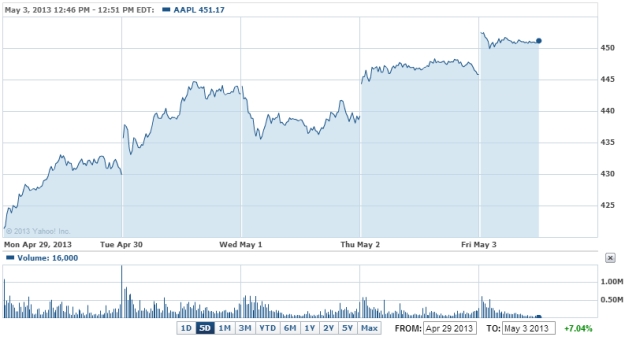 Don't Miss: Will Apple's iPad Be the Hottest Gift this Mother's Day?