Apple Secures Exclusive Rights for Super Strong Metal Alloy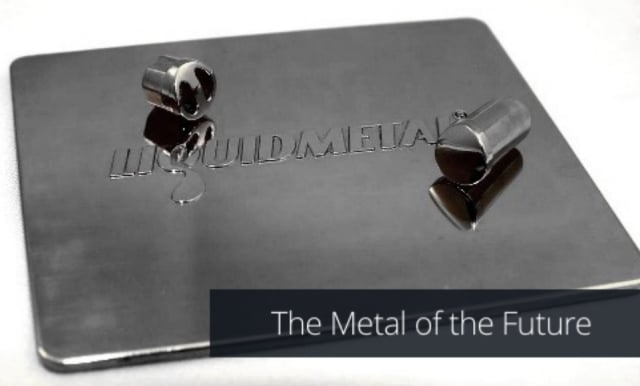 Apple (NASDAQ:AAPL) has extended a deal that gives it exclusive rights to manufacture consumer electronic products made from an incredibly strong alloy known as Liquidmetal, reports Apple Insider. As noted on the Liquidmetal Technologies website, this material "uniquely combines the strength of forging with intricate molding capabilities" with "twice the strength of titanium."
According to a recent filing made with the Securities and Exchange Commission, Apple's latest deal with Liquidmetal Technologies extends its licensing agreement until February 5, 2015. The iPhone maker originally entered into a "Master Transaction Agreement" with Liquidmetal Technologies in August of 2010. In that agreement, the Cupertino-based company gained access to all of Liquidmetal's "intellectual property assets," including its namesake "bulk metallic glasses" material. As noted in the agreement filed with the SEC, Apple secured its rights to manufacture consumer electronics products made of this material through a wholly owned subsidiary of Liquidmetal Technologies called Crucible Intellectual Property.
Although Apple has held the exclusive rights to use this material for consumer electronics products since 2010, the company has so far only used Liquidmetal to make a SIM card eject tool for the iPhone. One reason for Apple's limited use of Liquidmetal may be related to the difficulties associated with producing this material in large quantities. Atakan Peker, one of the inventors behind this revolutionary alloy, described the current production limitations of Liquidmetal in an exclusive interview with Business Insider in 2012.
"This is a technology that has yet to be matured and perfected both in manufacturing process and application development," Peker told Business Insider. "I should note that this is a completely new and different metal technology. Therefore, there is no suitable manufacturing infrastructure yet to take full advantage of this alloy technology."
However, Peker also noted that Apple could develop the manufacturing capability to mass produce this material if it invested enough time and money into the technology. "I estimate that Apple will likely spend on the order of $300 million to $500 million — and three to five years — to mature the technology before it can used in large scale," said Peker. Interestingly, Apple's latest licensing deal extends into 2015 — approximately three years after Peker's prediction.
Some industry watchers have speculated that Liquidmetal will be used to make the chassis for the next-generation iPhone or the long-rumored iWatch. While Apple holds the exclusive rights to Liquidmetal when it comes to consumer electronic products, it should be noted that this material has already been used for timepieces under a licensing agreement that Liquidmetal Technologies has with Swiss watchmaker giant The Swatch Group.
Although Liquidmetal has previously been used for timepieces and small electronic product components before, Peker predicted that Apple's use of this material will likely be a game changer for the consumer electronics industry. "I expect Apple to use this technology in a breakthrough product," Peker told Business Insider. "Such product will likely bring an innovative user interface and industrial design together, and will also be very difficult to copy or duplicate with other material technologies."
Follow Nathanael on Twitter (@ArnoldEtan_WSCS)
More From Wall St. Cheat Sheet: