Apple Stock Charts: Some Super Interesting Insights
Apple (NASDAQ:AAPL) is genius at milking the PR game. Last week, the world was obsessed with Apple's release of the iPad 3 — and unprecedented retina display on a tablet computer. This morning, Apple kept the hype alive by announcing new dividends and stock buybacks for shareholders.
Investing Insights: Will the iPad 3 Be the Next Catalyst for Apple's Stock?
Let's take a look at some of the most interesting Apple charts surfacing amidst all the hoopla …
First, Reuters has a sweet look at how Apple's stock has consistently gravitated toward the median analyst price targets: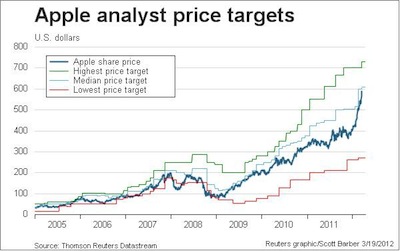 Two interesting things to note in this chart are the insanely large gap between the highest and lowest price targets as well as proof you should ignore the most bullish of Apple's analysts.
This next chart is possibly the most mind blowing look at Steve Jobs accomplishment:
Yes, this chart shows Apple's market cap rivaling the total market cap for the entire US retail sector (NYSEARCA:XRT). Whether we love or hate Apples gadgets, we are stuck answering Jobs perennial question, "How you like them apples?"
To contact the reporter on this story: Damien Hoffman at staff.writers@wallstcheatsheet.com
To contact the editor responsible for this story: Damien Hoffman at editors@wallstcheatsheet.com