Apple Sued by Yet Another Patent Troll
In yet another example of how the patent system can be abused by non-practicing entities, Apple (NASDAQ:AAPL) is being sued by a patent troll company. Wyncomm claims that Apple is infringing on its patent for "Side-channel communications in simultaneous voice and data transmission" reports MacNN. Although the patent was originally granted to AT&T (NYSE:T) in 1996, Wyncomm is the current holder of the patent. Wyncomm has filed its complaint in Delaware.
Since the patent mentions "the use of a side-channel in a simultaneous voice and data communications system," Wyncomm is claiming that all products using WiFi are in violation of its patent. However, the patent expires in November of this year, so it appears that Wyncomm is making a last minute effort to wring some money out of certain technology companies that actually make a product.
Per the filed papers provided by MacNN, Wyncomm states that "the Defendant has and continues to directly infringe one or more claims of the '866 Patent by making, using, selling, importing, and/or providing and causing to be used products that transmit information utilizing WiFi, including information representative of analog data such as voice or sound and including control data, in which the information representative of analog data is converted to voice or sound, which by way of example include handsets such as the iPhone (e.g., iPhone 5) and tablets such as the iPad (e.g.,iPad 1)."
Not surprisingly, Wyncomm is not seeking any product injunctions against the defendants, only a monetary award for "damages." Per the complaint via MacNN, Wyncomm demands "an award of damages to be paid by Defendant adequate to compensate Wyncomm for their past infringement of the '866 Patent, and any continuing or future infringement through the date such judgment is entered, including interest, costs, expenses and an accounting of all infringing acts including, but not limited to, those acts not presented at trial."
Wyncomm also appears to be taking the shotgun approach to its patent infringement litigation. Besides suing Apple, Wyncomm is also suing Acer, Asustek, Blu Products, Bonac Innovation, and Casio, reports MacNN.
Apple closed at $429.80 on Friday after shedding $4.53, or 1.04 percent, from its price at the opening bell.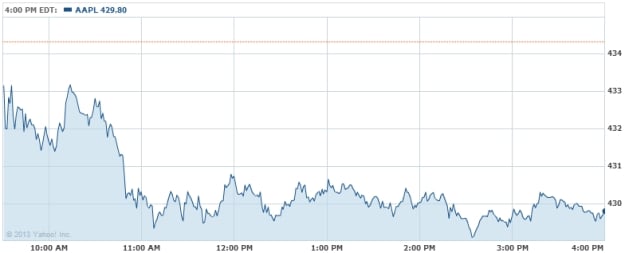 Don't Miss: Apple Pays for Warranty Mistakes.