Apple Suppliers Learn Not to Keep All Eggs in One Basket
As Apple (NASDAQ:AAPL) continues to lose global smartphone market share to competitors, some of its suppliers are discovering the benefits of keeping a diverse clientele. According to Sarah Mishkin's beyondbrics blog at the Financial Times, one of those Apple suppliers is Largan Precision. Largan Precision is a Taiwan-based manufacturer of high-quality lenses that many analysts predicted would see a quarter on quarter sales decline.
However, Largan actually reported first quarter profits that were 110 percent over last year's profits in the same quarter. Besides posting a larger than expected first-quarter profits of $60.9 million, Largan also beat analysts' earnings per share estimates by 13 percent. Although Largan does not disclose its customer's names, it is widely believed that Apple is responsible for approximately 50 percent of its total sales. However, despite Apple's falling demand, Largan is expanding its production capacity.
Via the Financial Times, Anne Lee at Nomura credited the company's growth to "very strong order growth from other smartphone vendors (especially from China) and Largan holds a 50 percent plus market share in the China smartphone market."
Mishkin reports that new phone launches from BlackBerry (NASDAQ:BBRY), Samsung (SSNLF.PK), and HTC are also helping to drive growth of Largan's high-end lens-making business. Many companies that are doing well in China's expanding market are driving growth. Unfortunately for Apple, China's smartphone market is mostly driven by low to mid-range price devices. Many analysts have argued that Apple must soon release a low-price version of its popular iPhone in order to compete with cheaper phones from other companies, especially in emerging markets like China.
Mishkin notes that companies that are mostly reliant on Apple are seeing market share values fall along with decreasing orders from Apple. Longtime Apple supplier Foxconn has seen first-quarter sales drop 20 percent, while its shares have declined 13.7 percent over the year to date.
While some of Apple's suppliers reap the benefits of keeping "eggs" in different "baskets," Apple may soon have to decide if it needs to move more of its own "eggs" into emerging markets with a cheaper version of the iPhone.
Here's how Apple has traded so far throughout this week.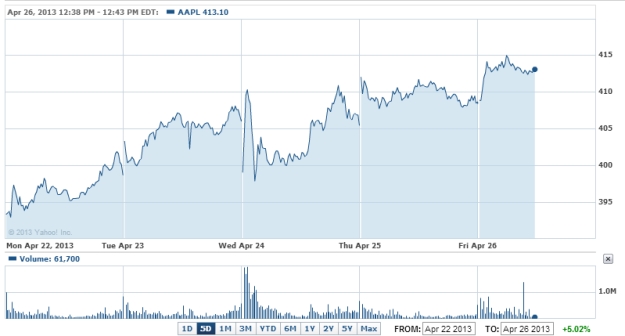 Don't Miss: Apple's Overseas Cash: Shady Game or Good Business?