Apple Tells Investors: We Need You!
In a move divergent from its previous positions vis-à-vis shareholder responsibility, Apple (NASDAQ:AAPL) has enlisted pension fund CalPERS to help carry through investor voting rights reforms at its annual general meeting later this month. CalPERS, or the California Public Employees' Retirement System, is known as the largest public pension fund in the country and own a 0.25 percent stake in Apple for a total worth of $1.1 billion.
However, the fund has been a fairly fierce critic of Apple's corporate governance policies, while the iPhone maker has opposed requests of greater shareholder responsibility from it, Financial Times said.
But Apple is now hoping to use the fund's sway to lobby other big shareholders on the vote to change the way its board directors are elected. Under the current system, Apple shareholders can only withhold votes from a director, rather than actively vote against a nominee. As the Financial Times explained, if the nominee is unopposed, only a single vote in favor is required to retain the post.
The $247 billion CalPERS had been proposing the change for the past two years, but kept getting shot down by Apple. But last year, after shareholders voted 80 percent in favor of the proposal, Apple agreed to bring about the change starting this year. The company wants the fund to help ensure that more than half of its shareholder base votes in favor of the reform during the February 27 meeting.
"It was clear from the preliminary voting shareholders wanted Apple to adopt majority voting" and the company's board of directors agreed, Apple spokesman Steve Dowling had said after the 2012 meeting.
The latest annual meeting comes at a time when Apple's stock has fallen almost 35 percent over four months, and times look turbulent for the iPhone maker.
Here's how Apple has traded over the past 5 market sessions: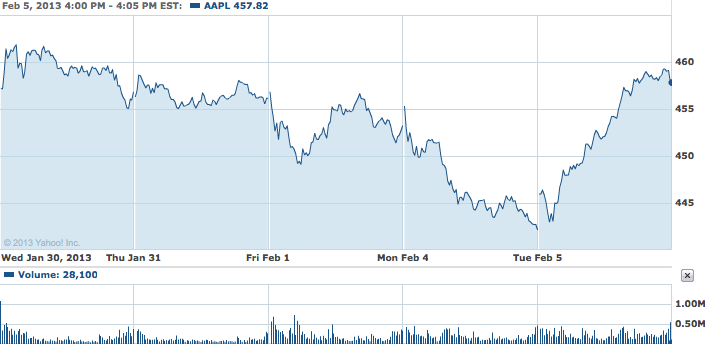 Don't Miss: Here's Apple's New Domain.