Apple Wants To Hear From Spaceship Campus Neighbors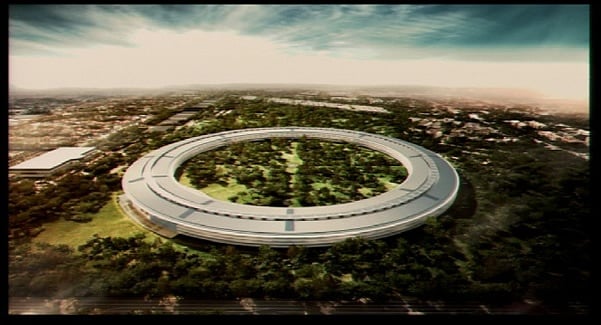 Apple's (NASDAQ:AAPL) future next-door neighbors in Cupertino, California have received a friendly invitation for feedback regarding Apple's upcoming Campus 2 building project. This latest mailer is signed by Apple's chief financial officer–Peter Oppenheimer–and it outlines Apple's plans to use green energy sources such as "photovoltaics and fuel cells" to provide power for the new campus. It also mentions that Apple plans on funding roadway improvements, bike lane expansions, and additional tree plantings.
In a nod to Apple's carefully designed, user-friendly products, Apple states in the mailer that "We have approached our new campus project with the same care and attention to detail that we give every Apple product, and we value your input." The mailer also contains a postage-paid envelope for community residents who want to offer feedback.
Apple's new campus gained the "spaceship" moniker due to the unusual circular design of its main office building. According to project description papers Apple has submitted to the city of Cupertino's website, the main spaceship-shaped building "accommodates up to 12,000 employees and comprises approximately 2.8 million square feet in four stories." Its futuristic appearance is fitting for a campus that Apple says "will become a model for the 21st century workplace–a fantastic place to work, to create, to collaborate, and to shape future technology."
The Apple Campus 2 project was originally announced in 2011 by Steve Jobs, who predicted it would be "the best office building in the world." Although the project was originally slated for completion in 2015, it is now planned to be finished in 2016. According to anonymous sources via Bloomberg Businessweek, "the budget for Apple's Campus 2 has ballooned from less than $3 billion to nearly $5 billion" since it was originally announced.
Apple closed up 2.16 percent, or $8.82, at $417.20 on Friday. The chart below shows Apple stock movement throughout the past week.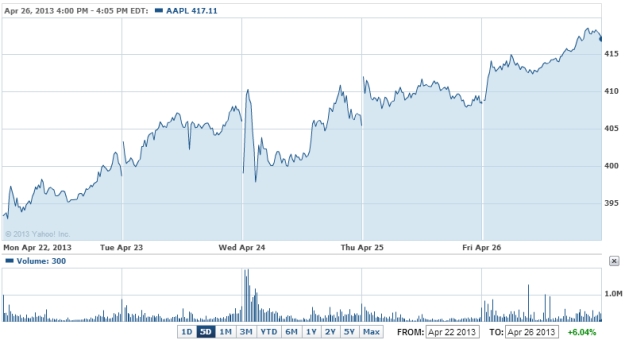 Don't Miss: Can One of These Top Tech CEOs Fill Steve Jobs' Shoes?