Apple Wins Key Battle in Samsung Patent War
International Trade Commission Judge Thomas Pender has ruled in Apple's (NASDAQ:AAPL) favor over a key patented technology feature that Samsung (SSNLF.PK) infringed on by including it in its smartphones and tablets. However, the judge's preliminary ruling regarding the patented text-selection feature must be reviewed and approved by a full ITC commission before the decision is enforceable, reports Reuters.
If this preliminary decision is upheld, the ITC can ban the importation of any devices that infringe on this patent. The original complaint was filed by Apple with the ITC in 2011 and a final decision is expected this August.
Although the judge found that Samsung had infringed on four of the patents listed in Apple's complaint, he also found that two of the listed patents were not violated, reports Reuters. One of the dismissed patent-infringement claims was over a technology that allows a device to detect when something is plugged into the microphone jack…
Apple moved down 1.47 percent at $421.45 in late afternoon trading on Friday.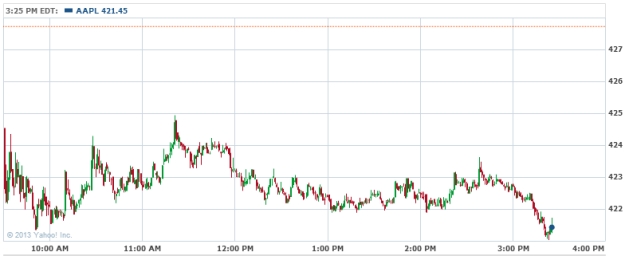 Don't Miss: Is Apple's iRadio Almost Dialed In?