10 Charts to Explain Apple's Massive Retail Success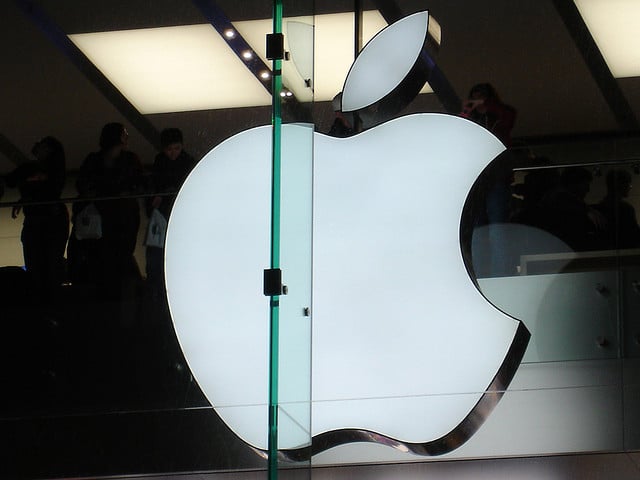 Although Apple's (NASDAQ:AAPL) third-quarter retail sales decreased slightly from the year-ago quarter, there is no question that the Cupertino-based company's brick-and-mortar retail operations are an incredibly successful venture. In fact, Apple Stores are the most successful retail stores in the U.S. based on sales per square foot. Apple Stores make an estimated $4,542 per square foot according to Customer Growth Partners' data cited by the Wall Street Journal.
Respected analyst Horace Dediu at Asymco has used the latest performance figures for the Apple Stores to create ten charts that illustrate why Apple's retail stores are such a massive success.
1. Apple Store Openings
Nothing demonstrates Apple's retail success like the growing number of Apple Stores around the world. In the third-quarter earnings call, Apple CFO Peter Oppenheimer noted that, "We opened six new stores across five countries during the quarter and end of the quarter with a total of 408 stores including a 156 outside of United States. We expect over nine new stores in the September quarter getting us to a total of 27 new store openings in fiscal 13. We also relocated four stores in the June quarter that had outgrown their former space and we expect to complete and total of 23 such relocations in fiscal '13."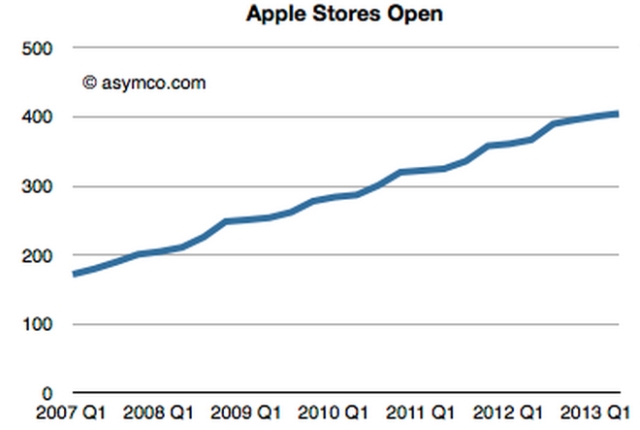 2. Lots of Apple Store Shoppers
After acknowledging the flat year-over-year growth in the third-quarter earnings call, Apple CFO Peter Oppenheimer pointed out that Apple Stores had a total of "84 million visitors" in just the last quarter.

3. Average Visitors Per Employee
Apple Stores employees have a reputation for delivering exceptional customer service.  One reason for this reputation is the good employee-to-customer ratio.

4. Average Visitors Per Store Per Quarter
It should be noted that visitor numbers tend to peak soon after new product releases. According to Oppenheimer, Apple's 84 million visitors last quarter "translates to 16,000 visitors per store per week."

5. Average Revenue Per Store
Oppenheimer noted that the "June average revenue per store was 10.1 million."

6. Retail Employees vs. Visitors
This graph demonstrates the relationship between the number of retail personnel and the number of Apple Store visitors.

7. Average Retail Profit/Employee and Visitor
Horace Dediu notes that, "Revenues, employment and visitors per store are all flat or slightly down when seen on a seasonally adjusted basis (trailing four period average)." However, he also points out that this is only to be expected since the overall sales of Apple products has also slowed down.

8. Employment at Apple Stores
Nothing demonstrates the success of a business like the hiring of new employees. Apple currently employs about 42,000 people in its retail stores.

9. Retail Store Revenues by Products
Per Dediu, "The following graph shows the relationship between iOS device sales and Retail revenues."

10. iOS Unit Sales vs. Retail Revenue
This graph clearly explicates the relationship between Apple's retail revenue and the sales of its various products.
Follow Nathanael on Twitter (@ArnoldEtan_WSCS)
Don't Miss: Munster on Moto X: iPhone Has Nothing to Worry About.