12 Hot Apple Putting Pressure on Shares This Week
Monday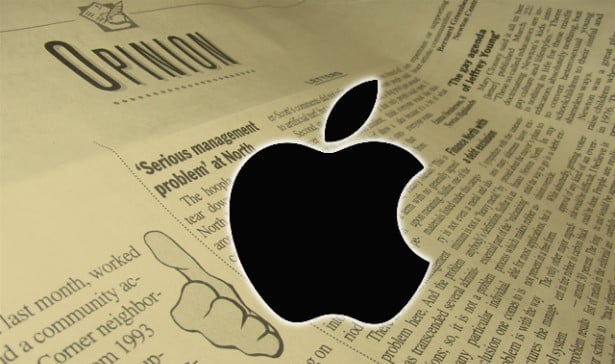 More than $1 billion was wiped off Samsung's (SSNLF.PK) market value on Monday, following President Barack Obama's veto of the International Trade Commission's import ban on some of the older models of the iPhone and iPad; shares closed down 0.9 percent at 1,274,000 won, or $1144.05. Comparatively, shares of Apple (NASDAQ:AAPL) continued last week's upward trajectory, closing down $6.9, or 1.49 percent, at $469.67. Here's a cheat sheet to Monday's top Apple stories:
IDC Confirmed It: Apple's Tablets Are Definitely Slipping
It now seems as though IDC is in agreement with Strategy Analytics on some aspects of the global tablet market, particularly on the rankings of the main players. However, there are some major discrepancies in the numbers when it comes to just how big each company's share of the market is.
The results may not be surprising. IDC reported that Google's (NASDAQ:GOOG) Android took the cake for market share in the second quarter, growing from 38 percent in the second quarter of 2012 to 62.6 percent a year later. This was made possible by a 162.9 percent increase in sales in that time frame… (Read more.)
What Does the Ban Victory Mean for Apple and Samsung?
Samsung's hopes of turning the tide against Apple  in the U.S. may be doomed to never come true. After the Obama administration ruled in favor of Apple by blocking a product ban on certain iPhones and iPads, there may only be one way for Samsung to compete with Apple.
The two companies have been fighting for a good while, and the smartphone market has been a particularly hot battleground, spotted with more than thirty lawsuits all around the world, Bloomberg reports. In terms of market share, Samsung has been taking the lead globally, but the U.S. has proven tricky for Samsung to overcome Apple, and that may not change. One case in California already went in Apple's favor, with a federal jury in San Jose charging Samsung with more than $1 billion in damages… (Read more.)
Is Apple Contributing to the
Clouding

of Chinese Waters?

Apple's supply chain is coming under intense scrutiny again after facing allegations last week that claimed employers for one of its main supply companies, Pegatron Corp., was violating workers' rights by overworking employees in poor working and living conditions without overtime pay.

But while that investigation is still ongoing, an additional problem has now cropped up for Apple: Chinese environmental activists are growing increasingly vocal about the large amounts of toxic chemicals that plants owned by suppliers of Apple are pumping into rivers as a part of their production… (Read more.)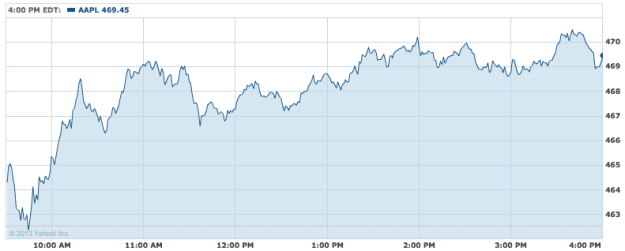 Don't Miss: What Does the Ban Victory Mean for Apple and Samsung?
Follow Meghan on Twitter @MFoley_WSCS
Tuesday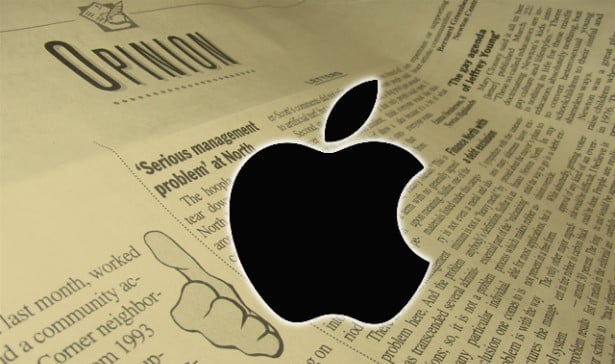 Despite ending the day in the red, shares of Apple (NASDAQ:AAPL) have increasedy 2.63 percent in the past 5-day trading period and 11.46 percent in the past month. Shares of the iPhone maker closed down $4.20, or 0.89 percent, at $465.16 on Tuesday. Here's a cheat sheet to Tuesday's top Apple stories:
Apple Gets Punked by Xiaomi and Pushed Down to No. 7 in China
Just when it looked like Tim Cook's frequent trips to China were finally paying off, reports from The Next Web illuminate that its tech rivals aren't ready to submit to Apple competition just yet.
In fact, the iPhone giant doesn't seem to be moving up the Chinese ladder but down, because new reports illuminate that an up-and-coming company named Xiaomi, often snubbed as an Apple clone, has even managed to surpass Apple in the China smartphone ranks, stealing its No. 6 spot. This likely makes for a frustrated Apple, as Xiaomi launched its first device in 2011, while Apple's history dates back much further, and the iPhone maker still has yet to realize its desired success in China… (Read more.)
How Can Apple Shape Up Overseas?
Though some markets might be quite happy to buy up a large share of Apple's smartphones over other vendors' devices, the iPhone is running out of luck in some of the fastest growing markets. China is showing its domestic brands a lot of favor — and India doesn't seem to care much for Apple.
Canalys, a research firm, reported on second quarter smartphone sales in various markets around the world. China and India had some interested statistics to note. For one, both countries were at the top of the rankings as far as growth of the smartphone market and neither had Apple at the top for increase in market share… (Read more.)
Is Meg Whitman Spilling Apple Secrets?
Hewlett-Packard (NYSE:HPQ) and Apple may be close to forming a friendship over servers. Though the two companies haven't always been close in the past, that may change. CRN reported that Meg Whitman, chief executive officer of HP, boasted about Apple being "very interested" in the company's Project Moonshot servers.
Project Moonshot servers are based on Intel's (NASDAQ:INTC) Atom processors, and thus consume minimal power compared to many modern servers, GigaOM noted. Each server takes a similar amount to power a 60-watt light bulb. Whitman also suggested that Facebook (NASDAQ:FB) and Baidu (NASDAQ:BIDU) are similarly interested in providing their services using the special servers… (Read more.)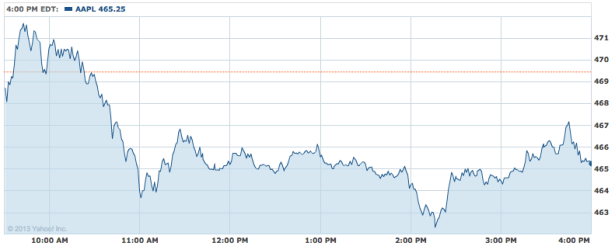 Don't Miss: Is Meg Whitman Spilling Apple Secrets?
Follow Meghan on Twitter @MFoley_WSCS
Wednesday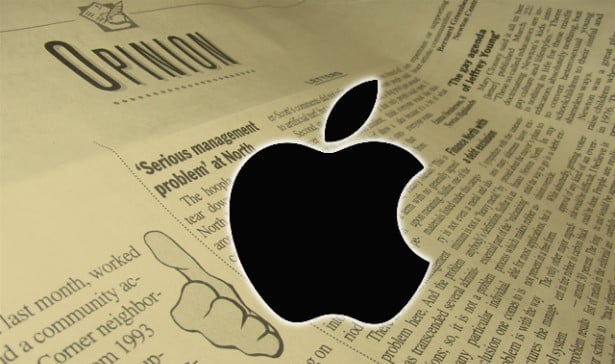 With investors receiving some mixed news about the company's tablet market share, Apple (NASDAQ:AAPL) shares ended Wednesday in the red — barely — closing down $0.73, or 0.16 percent, at $464.25. Here's a cheat sheet to Wednesday's top Apple stories:
Apple Grows U.S. Smartphone Platform Market Share, Android Stalls
According to the latest smartphone market data from comScore's MobiLens service, Apple has recently achieved slight gains in the U.S. smartphone platform market. Although Google's (NASDAQ:GOOG) Android operating system remains the number one smartphone platform in the U.S. with a 52 percent share of the market, it failed to grow its market share since the three-month period ending in March.
Many other aspects of the U.S. smartphone market have stayed the same between March and June of this year. Apple continues to dominate as the top smartphone maker with an almost 40 percent share of the OEM market. However, Apple has also slightly increased its share of the OEM market since March, growing from a 39 percent share to a 39.9 percent share in June… (Read more.)
The iPad Floats Apple to the Top of a Stagnant Worldwide PC Market 
Apple led the worldwide market in overall personal computer shipments in the second quarter of 2013 despite a lack of growth in the overall PC market according to the latest data from market research firm Canalys. Canalys includes desktops, notebooks, and tablets in its worldwide PC market calculations.
Despite a 42.9 percent increase in tablet shipments, the overall PC market experienced no growth in the second quarter due to declining desktop and notebook shipments. According to Canalys, desktop shipments fell by 7.4 percent and notebook shipments fell 13.9 percent… (Read more.)
Worried About the Safety of Your iPhone Charger? Exchange It at Apple
Apple is rolling out a new initiative called the USB Power Adapter Takeback Program that's meant to ensure customer safety and mitigate remaining concern over the third-party USB adapters that reportedly caused two electrocutions in China earlier this summer.
When iPhone users heard of the death of a Chinese woman who was allegedly electrocuted upon answering her charging iPhone 5, many had concerns over the safety of power adapters — especially after her sister blogged about the incident, warning others to be careful, Apple Insider reports. And when tragedy struck again later that week, sending a Chinese man into a coma after allegedly being electrocuted by his iPhone 4 and third-party adapter, the mounting anxiety over these electric devices only increased… (Read more.)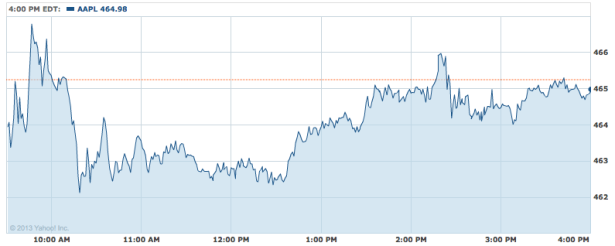 Follow Meghan on Twitter @MFoley_WSCS
Don't Miss: Apple Grows U.S. Smartphone Platform Market Share, Android Stalls.
Thursday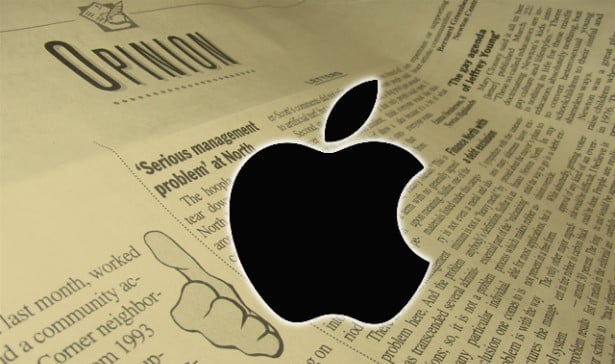 Apple (NASDAQ:AAPL) shares took a small dip on Thursday, closing down $0.92, or 0.20 percent, at $460.40. The iPhone maker's stock was trading very close to its 50-day and 100-day simple moving averages. As these statistics are indicative of future price movement, the fact that Apple is trading near this key averages signals neutral to bullish price action in the near-term.
Just How Lucrative was Apple's iTunes Last Quarter?
The iTunes Store has become a significant source of income for Apple as well as the center of the Cupertino, California-based company's ecosystem. Apple Senior Vice President and Chief Financial Officer Peter Oppenheimer noted the iTunes Store's "strong growth in revenue in both content and apps" during the company's third-quarter earnings call.
Using newly available iTunes information, Apple analyst Horace Dediu at Asymco offered his observations and estimates about Apple's lucrative online digital media store. Although the "total quarterly revenue of $4 billion from iTunes software and services" was slightly less than last quarter, Dediu said in a note that this quarter is still the "second highest after $4.1 billion last quarter."… (Read more.)
Publishers Hate DoJ's Proposal as Much as Apple Does
Does the U.S. Department of Justice's proposed "remedy" for Apple's e-book business harm the publishers as much as it punishes Apple? Less than a month after a federal judge ruled that Apple violated antitrust laws in its e-book business dealings, the Department of Justice presented a proposal to the court designed to prevent further anticompetitive conduct.
Not surprisingly, Apple was quick to condemn the antitrust compliance proposal as "draconian and punitive," reports Bloomberg. However, Apple is not the only company that thinks the Department of Justice is overstepping its boundaries. One stipulation of the proposal requires Apple to "refrain for five years from entering new e-book distribution contracts" with the five major publishers that it conspired with… (Read more.)
Why Does T-Mobile Love Apple?
Is Apple's iPhone the primary reason that the U.S.'s fourth-largest carrier was able to post stronger-than-expected earnings for the second quarter of its fiscal 2013 year? T-Mobile (NYSE:TMUS) beat analysts' expectations this morning after announcing its total revenues increased by 27.5 percent over the year-ago quarter.
T-Mobile also revealed that, "iPhone sales have accounted for approximately 29 percent of T-Mobile's branded gross customer additions and upgrade smartphone sales." T-Mobile began selling the iPhone on April 12 of this year and was the last of the major U.S. carriers to offer Apple's flagship smartphone. Overall, T-Mobile added 1.1 million new customers in its second quarter… (Read more.)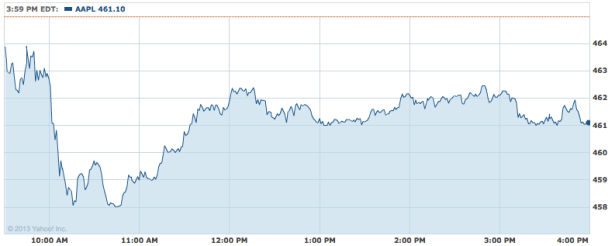 Follow Meghan on Twitter @MFoley_WSCS
Don't Miss: Why Does T-Mobile Love Apple?