12 Hot Apple Stories Pushing the Stock Up Another 4.97% This Week
Monday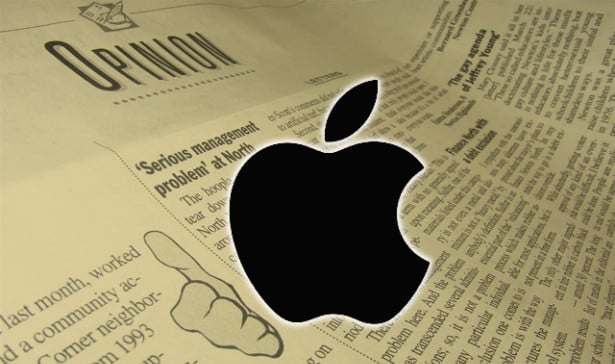 Coasting on the weekend's record-breaking iPhone sales, shares of Apple's (NASDAQ:AAPL) stock, soared, ending Monday up $23.23, or 4.97 percent, at $490.64. Here's a cheat sheet to Monday's top Apple stories:
Here's More Good News from Apple's 8-K
It's a good day to be an Apple investor. Soon after Apple revealed its record-breaking iPhone weekend sales numbers on Monday, the Cupertino-based company filed an 8-K form with the Securities and Exchange Commission that revised its previously provided earnings guidance for the fiscal 2013 fourth quarter.
"Apple expects total company revenue for the fourth fiscal quarter to be near the high end of the previously provided range of $34 billion to $37 billion, and expects gross margin to be near the high end of the previously provided range of 36 percent to 37 percent," stated Apple… (Read more.)
Apple's Record-Breaking iPhone Numbers Shatter Expectations
Apple blew most analysts' expectations out of the water today when it revealed that it sold a record-breaking nine million iPhone 5S and iPhone 5C models over the launch weekend. Although Apple didn't break down the sales by model, it noted that, "Demand for iPhone 5S has exceeded the initial supply, and many online orders are scheduled to be shipped in the coming weeks."
This year's iPhone sales numbers shatter last year's numbers when Apple sold five million iPhone 5 models in three days. However, it should be noted that this year was the first time that Apple launched two iPhone models simultaneously. This was also the first time that China was included in the initial iPhone launch weekend. "This is our best iPhone launch yet — more than nine million new iPhones sold — a new record for first weekend sales," said Apple CEO Tim Cook via a press release… (Read more.)
Has Apple's Fingerprint Scanner Been Hacked?
Has Apple's iPhone 5S fingerprint scanner already been hacked? A team of hackers in Germany called the Chaos Computer Club claim that they have successfully circumvented Apple's biometric authentication system "using easy everyday means" and have posted a video that purports to demonstrate the hack.
The hacker group explained their method for bypassing the Touch ID on their blog. First they took a high-resolution photograph of an authorized user's fingerprint. After the image was cleaned up and inverted, it was printed on a transparent sheet with heavy toner. Next, the printed image was covered with "pink latex milk or white wood glue."… (Read more.)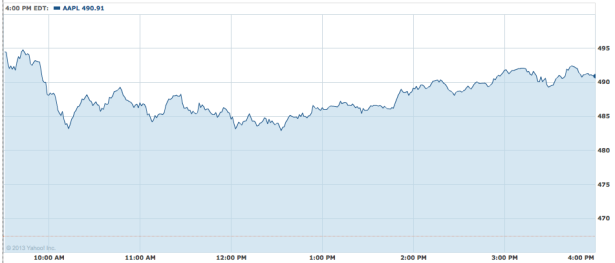 Follow Meghan on Twitter @MFoley_WSCS
Don't Miss: Apple's Record-Breaking iPhone Numbers Shatter Expectations.
Tuesday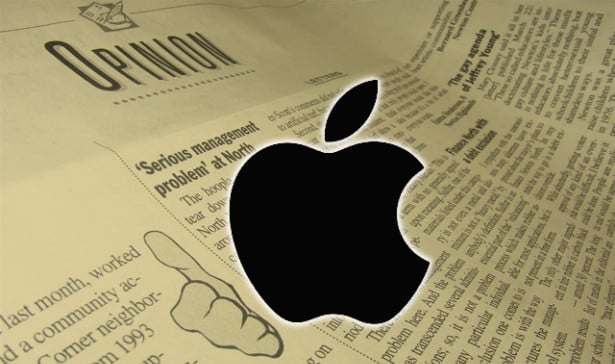 Shares of Apple's (NASDAQ:AAPL) stock edged down slightly on Tuesday, closing down $1.54, or 0.31 percent, at $489.10. That decline compares against Monday's nearly 5 percent jump. Here's a cheat sheet to Tuesday's top Apple stories:
Apple Gets Its Own Upgrade from Susquehanna
Despite low analyst expectations, it's safe to say that Apple's newest iPhone roll-out was a successful one. The company announced Monday that it sold nine million smartphones within the first few days of its new iPhone 5S and iPhone 5C launch, and now many analysts are subsequently adjusting their Apple expectations.
According to Street Insider, Susquehanna is one of them. The firm upgraded its Apple rating from Neutral to Positive on Tuesday, upping its price target to $625.00. It also increased its September-quarter iPhone unit assumption from 29 mln to 30 mln, and raised C3Q revenue to $36.8 bln and EPS to $7.91. This reflects a significant improvement from Susquehanna's earlier forecast modeling revenue of $35.6 bln and EPS of $7.45, and the firm isn't shy about the changes… (Read more.)
Apple Is in Season: iMac Gets an Update, Too
These days, Apple's new iPhones and tablet devices may be hogging the majority of the tech spotlight, but that doesn't mean the Cupertino, California-based company is forgetting about its bigger, slightly less lightweight models.
Apple is still issuing updates to its iMac all-in-one computer, and the latest refresh came Tuesday, when the tech giant rolled out a new desktop that is now equipped with Intel's (NASDAQ:INTC) latest quad core processors, 802.11ac Wi-Fi, and Nvidia (NASDAQ:NVDA) GeForce 700 series graphics.The upgrade isn't as significant as the one the iMac scored last year, but, nonetheless, it still facilitates the launch of several appealing features that dramatically affect the desktop's performance… (Read more.)
Tim Cook Was Right: Apple's iPhone 5S Outsold iPhone 5C
During Apple's third quarter earnings call in July, CEO Tim Cook stated that, "I don't subscribe to the common view that the higher end if you will of the smartphone market is at its peak. I don't believe that but we will see and we will report our result as we go along."
It now appears that the Cook's prescient perspective was correct. Not only did Apple sell a record-breaking nine million new iPhones over the opening weekend, it sold more of the expensive iPhone 5S models than it did of the lower-cost iPhone 5C. According to data from mobile app analytics firm Localytics, Apple's iPhone 5S was 3.4 times more popular than the iPhone 5C in the U.S. … (Read more.)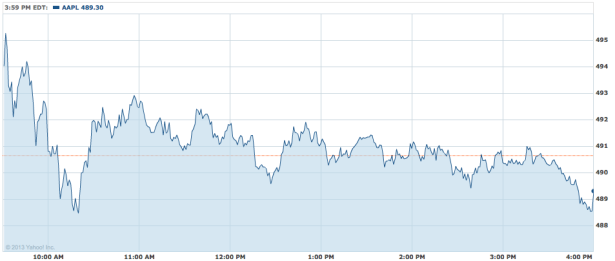 Don't Miss: Tim Cook Was Right: Apple's iPhone 5S Outsold iPhone 5C.
Follow Meghan on Twitter @MFoley_WSCS
Thursday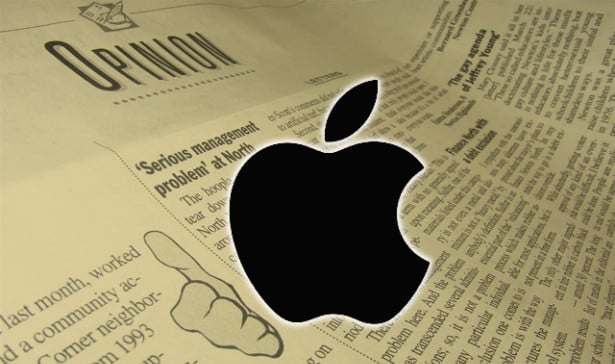 Shares of Apple's (NASDAQ:AAPL) stock, which have been trading above key technical indicators since mid-September, closed up $4.69, or 0.97 percent, at $486.22 on Thursday. Here's a cheat sheet to Thursday's top Apple stories:
Why Is Carl Icahn Meeting With Apple CEO Tim Cook?
Is an accelerated Apple share buyback program in the works? According to a recent tweet from CNBC, billionaire investor Carl Icahn will be meeting with Apple CEO Tim Cook in New York on Monday. Last month, Icahn tweeted: "Spoke to Tim. Planning dinner in September. Tim believes in buyback and is doing one. What will be discussed is magnitude."
If CNBC's sources are correct, it appears that Icahn's dinner with Cook will take place on Monday. The activist investor recently added to his already significant position in the company when Apple's stock price dipped immediately after its iPhone media event on September 10. However, Apple's stock price has risen more than 2 percent since the company announced its higher-than-expected opening weekend sales numbers… (Read more.)
Apple's iPhone Isn't the Only Thing Breaking Records
While most of the media's attention has been focused on Apple's record-breaking iPhone sales, the company has also been shattering records relating to its latest mobile operating system. According to online ad network company Chitika, Apple's new iOS 7 is being adopted by users at a record-breaking pace.
Chitika's data shows that 51.8 percent of iOS-based Web traffic in North America was generated by devices running iOS 7 by the afternoon of September 25. This surpasses the 47 percent adoption level reached by iOS 6 over the same time period after its release. The adoption rate difference between iOS 7 and iOS 6 was even more pronounced during the first 48 hours… (Read more.)
Is the Apple-China Mobile Deal Almost Here?
Yet another leaked image of a China Mobile (NYSE:CHL) advertisement promoting the sale of Apple's iPhones suggests that the Cupertino, California-based company may be closer than ever to inking a deal with China's largest mobile carrier. The latest leaked advertising poster comes courtesy of Chinese website MyDrivers.
According to MyDrivers, the poster says that China Mobile will offer the "strongest iPhone" with full support for both 3G and 4G networks. Although the TD-LTE versions of Apple's iPhone 5S and iPhone 5C have already been approved for use on China's networks, the Ministry of Industry and Information Technology has yet to issue 4G operating licenses to the country's carriers. But according to Sina Tech, MIIT minister Miao Wei recently said that 4G licenses will be issued before the end of this year, while some rumors even suggest that licenses may be issued before the end of September… (Read more.)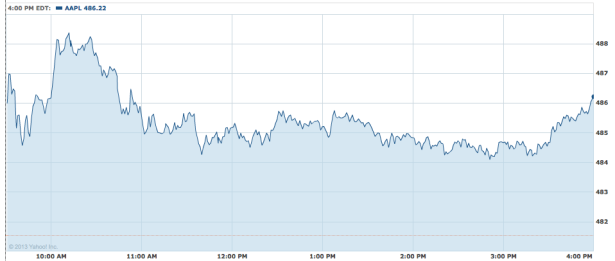 Don't Miss: Twitter IPO: Two More Top Banks Swoop In
Follow Meghan on Twitter @MFoley_WSCS
Friday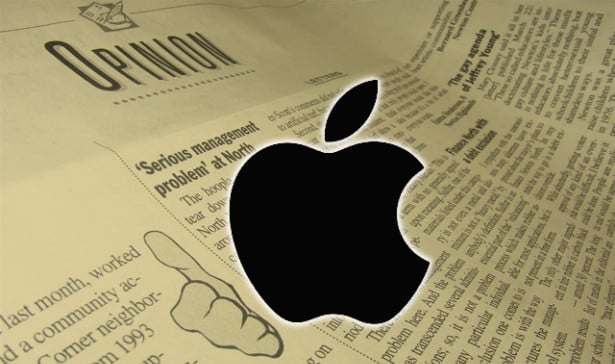 Shares of Apple's (NASDAQ:AAPL) stock ended the 5-day trading period up $15.34, or 3.28 percent, despite closing down $3.47, or 0.71 percent, at $482.75 on Friday. Here's a cheat sheet to Friday's top Apple stories:
Is Apple Really Losing the Tablet Market to Android?
Is Apple's iPad on the verge of ceding its tablet market crown to its many Android-based competitors? According to a new report from market intelligence firm ABI Research, the second quarter of 2013 signaled a change in Apple's worldwide tablet market dominance. ABI Research identified three major events that led it to conclude that, "Apple's iPad family of products has passed the baton to the Android ecosystem." First, the market research firm noted that sales of Android-based tablets topped sales of Apple's iPads for the first time in the second quarter of 2013. According to IDC data, Apple sold 14.6 million iPads while various competitors sold a total of 30.5 million Android-based tablets. Second, ABI Research points out that Android-based tablet vendors acquired 50 percent of the total tablet market revenues for the first time… (Read more.)
Is Apple's Retina iPad Mini Launch on Hold?
Has the long-awaited release of Apple's second-generation iPad Mini 2 with Retina display been delayed? According to market research firm IHS iSuppli's sources, via CNET, Apple has not produced enough iPad mini 2 units for a rumored October release date. "The Retina Mini looks less certain for that time. Manufacturing volumes on that would match better with a Q114 [first-quarter 2014] launch," IHS iSuppli's Rhoda Alexander told CNET.
On the other hand, although IHS iSuppli believes that Apple has not produced enough units for an October release, Alexander noted that Apple may still announce the iPad Mini 2 when it releases the iPad 5. According to IHS iSuppli, Apple will still unveil the fifth-generation iPad sometime in October… (Read More.)
Did Apple Pay Electronic Arts for First Dibs?
Did Apple pay Electronic Arts (NASDAQ:EA) to delay the release of the Android version of Plants vs. Zombies 2? Earlier this week, gaming site Giant Bomb reported on a quote from an Electronics Arts executive that implied Apple had cut a special deal with the company to ensure that the popular mobile game would be available first on iOS.
"Apple gave us a truckload of money to delay the Android version [of Plants vs. Zombies 2]," said Electronic Arts head of mobile Frank Gibeau, according to Giant Bomb's Patrick Klepek. Gibeau reportedly made the comment at an internal Electronic Arts meeting, and Klepek notes that other sources have confirmed hearing it… (Read more.)
Don't Miss: Apple Loses Japanese Patent Battle
Follow Meghan on Twitter
@MFoley_WSCS