14 Hot Apple Stories Help Stock Above $425 This Week
Monday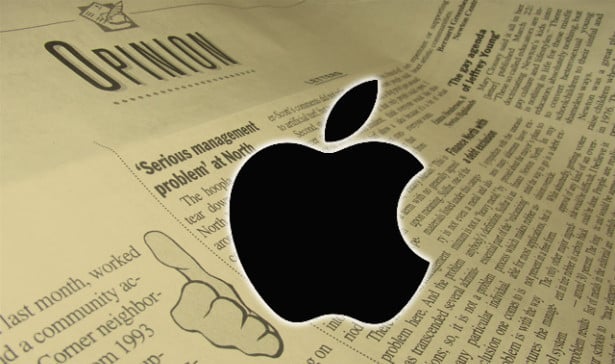 Expectations are boiling for Apple (NASDAQ:AAPL) in the second half of the calendar year, but investors are still weary of bidding the iPhone maker's stock too high. While shares managed to edge up 5.27 percent in the first week of the month, the stock fell $2.37, or -0.57 percent, to $415.05 on Monday. Here's a cheat sheet to today's top Apple stories:
How is Apple Growing Faster than Google in the U.S.?
With the help of T-Mobile (NYSE:TMUS), Apple has managed to sweep up a little extra market share for itself in the early part of the year. According to recently released data from Kantar Worldpanel, Apple managed to take 41.9 percent of sales in the U.S. smartphone market, and that share could grow. Apple has had a lot to contend with over the past several years, considering the speedy growth of Google's  (NASDAQ:GOOG) Android platform as a serious worldwide competitor. However, Apple has managed to stay strong in the U.S. market thanks in part to its early presence and U.S. heritage that gives it an edge on devices from foreign original equipment manufacturers like Samsung (SSNLF.PK)… (Read more.)
Is Apple Gearing Up to Reignite Investors' Hunger?
There is a lot of negativity toward the iPhone maker, as has been clearly demonstrated by Apple's share price, but a few positive points may emerge this fall and shake shares free of their stupor. For months now, fans have had to wait for new Apple products. After the launch of the iPhone 5 in September, there have been no new iPhones, and it's been many months without new iPads as well. The dearth of products was one area of concern for investors that likely took form in the major stock decline for Apple.
A round of new products is expected from Apple in the fall and early next year… (Read more.)
Who's Right: Apple Schadenfreudes or Apple Lovers?
With Apple stock price down 22 percent this year to date and down 40 percent since hitting its all-time high of $705.07 in September, investors are facing an important question: Is it game over for the iPhone maker or does the company have room to grow?
Fortune Magazine's 2013 compilation of the 500 most profitable companies in the world put this Apple conundrum firmly in the spotlight.  According to the magazine's list, Apple is the second most profitable company in the world after Exxon Mobil (NYSE:XOM), and it jumped from 55th to 19th place in terms of revenue. The problem is that this year's list is based on last year's results, and Apple's fiscal year ended in September 2012, just before the company's share price begin its nine-month plunge from more than $700 to less than $400.
As a pair of essays written by Fortune's Adam Lashinsky show, there is enough evidence to support both the bull and bear case for Apple… (Read more.)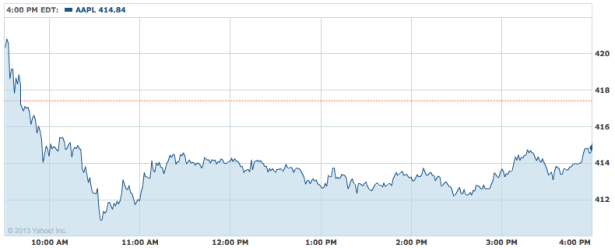 Don't Miss: How is Apple Growing Faster than Google in the U.S.?
Follow Meghan on Twitter @MFoley_WSCS
Tuesday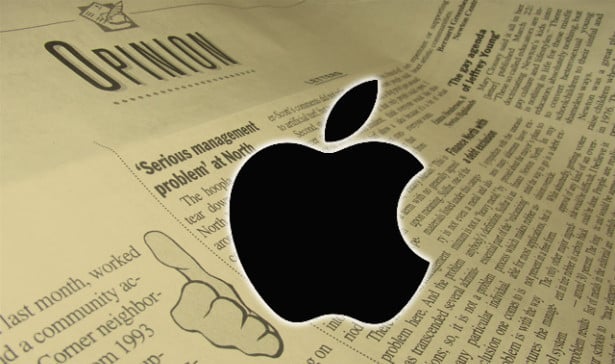 Apple Inc. (NASDAQ:AAPL) is on pace to spend more than $4 billion on research and development this year, an amount that would make most technology companies an attractive buy. Yet, for the entire first half of 2013 and for much of the company's current fiscal year, negative sentiment has been keeping the stock at depressed levels. In keeping with the generally roller coaster-like path that the iPhone maker's stock has followed since last September, shares closed up $7.30, or 1.76 percent, at $422.35 on Tuesday. Here's a cheat sheet to today's top Apple stories:
Analyst: Investors Should Look at Apple's Equipment Spending
Several problems have contributed to the changing perception of Apple's fortunes: rising competition, innovation, and global markets. Particularly, worries about profit margin have prompted some investors to sell and others not to buy.
The market for the company's primary products — the iPhone and the iPad — are extremely competitive, and price competition from rivals like Google Inc. (NASDAQ:GOOG) have especially hurt Apple in the smartphone market. The iPhone was first released six years ago and the iPad hit shelves three years ago, and that time lapse between major innovations has allowed competitors to catch up. Even Apple's refreshed products have not been enough to keep the company ahead of the curve… (Read more.)
Does Apple's iOS 7 Have Hidden Goodies for the Car?
Much to lawmakers and parents' chagrin, the union between automobiles and technology is seemingly inevitable at this point. Automakers everywhere are partnering with different mobile companies in order to get first timer's advantage as they rush to adopt new technology.
Earlier in June, we were clued in to a team-up between General Motors (NYSE:GM) and AT&T (NYSE:T), and it was just last week that we learned Ford Motors (NYSE:F) was partnering with Chinese search engine Baidu and mobile telecom company China Unicom to facilitate the development of apps and services for its new Ford Sync AppLink… (Read more.)
Emerging Markets Are Where Apple's Competition is Growing
T-Mobile (NYSE:TMUS) began offering the iPhone on its network in April, and the partnership with the mobile carrier helped Apple increase the market share of its signature device to 41.9 percent in the past three months, while  Google's   (NASDAQ:GOOG) Android held steady at 52 percent of the domestic market.
Comparatively, BlackBerry (NASDAQ:BBRY) nearly disappeared with a 0.7 percent share, down from 4.6 percent while Microsoft's (NASDAQ:MSFT) Windows Phone grew 25 percent to a 4.6 percent market share.
But elsewhere in the world, there is a much smaller divide between the smartphone market's leaders and the herd.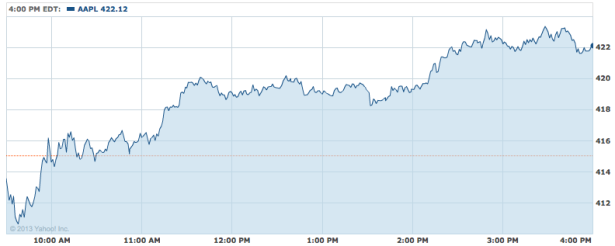 Follow Meghan on Twitter @MFoley_WSCS
Wednesday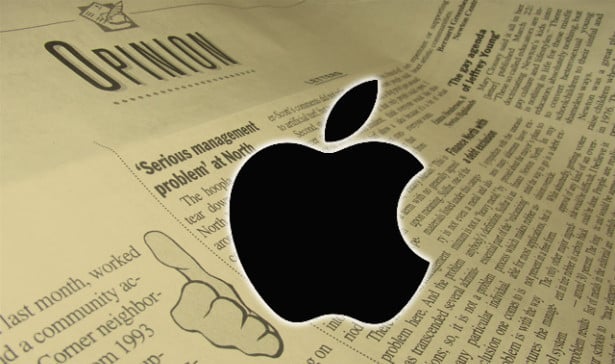 Apple's (NASDAQ:AAPL) stock witnessed an explosive growth during the last decade. However, the stock has now pulled back from all-time highs, and it seems to be forming a base around these prices. An analysis of the its price trend using key simple moving averages show that Apple has recently been trading below its key averages, which signal neutral to bearish price action in the near-term. On Wednesday, shares moved choppily between a range of $418.25 and $424.80, soaring above and below the stocks 50-day and 100-day moving averages several times before closing below both technical indicators. Shares of the iPhone maker closed down $1.62, or 0.38 percent, at $420.73.  Here's a cheat sheet to today's top Apple stories:
Is Samsung Trying to Delay the Next Apple Trial?
Samsung (SSNLF.PK) has filed a motion requesting a new trial over Apple's so-called "rubber-banding" patent, reports Foss Patents. Samsung was found to have infringed this patent following the August 2012 trial, which resulted in the Korea-based electronics company being ordered to pay $1.05 billion in damages to Apple.
Apple's patent covers a scrolling method on touchscreens that allows displayed content to "bounce back" when the edge of an electronic document is reached. The United States Patent and Trademark Office recently reversed its preliminary rejection of Apple's patent, and confirmed most of the patent's original claims, including "claim 19" that covers the "rubber-banding" technique, reports Foss Patents… (Read more.)
Can Apple Prevent This Big U.S. Ban From Kicking In?
On Monday, Apple filed papers asking the International Trade Commission to stay an import ban on some older models of iPhones and iPads, which is due to take effect on August 5. The ITC issued the import ban after Samsung appealed a preliminary ITC decision that ruled Apple did not violate Samsung's patents. In the filing, Apple argued that it will suffer "irreparable harm" if the ban is allowed to go forward, since it "will lose not only sales of its iPhone 4 and iPad 2 3G products, but also the opportunity to gain new smartphone and tablet customers who otherwise would have purchased these entry-level Apple devices."
Apple also noted that the import ban will adversely affect some carriers… (Read more.)
Here's Why Apple Lost the E-Book Trial
A federal judge has found Apple liable in an e-book price-fixing conspiracy trial. U.S. District Judge Denise Cote in Manhattan ruled that Apple violated antitrust laws when it conspired with publishers to fix prices in the e-book business.
"The plaintiffs have shown that the publisher defendants conspired with each other to eliminate retail price competition in order to raise e-book prices, and that Apple played a central role in facilitating and executing that conspiracy," Cote said in the ruling, via Reuters. "Without Apple's orchestration of this conspiracy, it would not have succeeded as it did in the spring of 2010."… (Read more.)

Follow Meghan on Twitter @MFoley_WSCS
Don't Miss: Emerging Markets Are Where Apple's Competition is Growing.
Thursday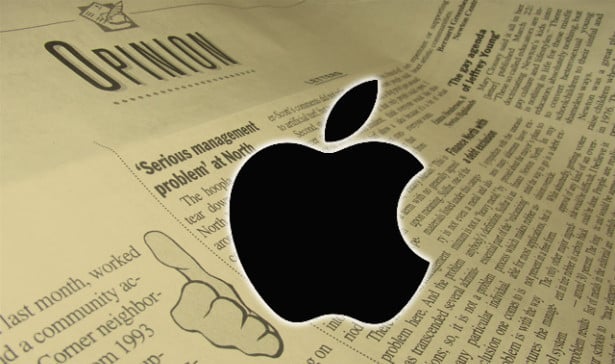 Apple (NASDAQ:AAPL) was once the stock market's speedboat, but now, the shares of the iPhone maker are acting more like the anchor. The market is edging higher; the Standard & Poor's 500 is up 15.9 percent and 1.0 percent its record high, while the tech-heavy Nasdaq is at its highest point in the current bull market, hitting levels not seen since late 2000. But shares of Apple, which were once thought to be the engine of the market's growth, have fallen 21 percent. Even more telling, the S&P's 2013 gain would have been 17.4 percent without Apple.
Will investors have been wary of Apple of late, shares edged up $6.51, or 1.55 percent, on Thursday, closing at $427.24. Here's a cheat sheet to today's top Apple stories:
Google's Motorola is Out to Challenge Apple and Samsung
Google's (NASDAQ:GOOG) Motorola Mobility unit will unveil its first flagship smartphone since being acquired by Google this fall, and the tech giant planning to spend $500 million marketing the device as a challenge to Apple and Samsung Electronics's (SSNLF.PK) duopoly on the smartphone market.
Analysts are expecting the move to have significant implications across the smartphone market, with many hoping Google can power Motorola into becoming a real competitor against Apple and Samsung. AT&T (NYSE:T), Sprint Nextel (NYSE:S), Verizon Wireless (NYSE:VZ), and T-Mobile U.S. (NYSE:TMUS) will all carry the device upon its release… (Read more.)
Will Apple Be Hurt by the Global PC Market Slowdown?
Global PC shipments declined by almost 11 percent in the second quarter of 2013, according to the latest statistics released by market research firm Gartner. The PC industry continues to die a slow death, as tablets increasingly replace desktops as the primary consumption device. This trend is especially apparent in emerging markets, where "inexpensive tablets have become the first computing device for many people, who at best are deferring the purchase of a PC," notes Gartner analyst Mikako Kitagawa.
Gartner has previously noted that the worldwide device market is increasingly being driven by sales of tablets, smartphones, and ultramobiles. This may help shield Apple from the declining PC market, since Apple's iPad devices took a 39.6 percent share of the worldwide tablet market in the first quarter of 2013, according to the IDC… (Read more.)
Will Apple Make the Classic Mouse and Trackpad Obsolete?
A new patent application from Apple describes a potential future replacement for traditional input devices like mice, trackballs, and trackpads, reports Apple Insider. In a patent titled "Hybrid Inertial and Touch Sensing Input Device," Apple outlines a method and apparatus for combining the various advantages found in different conventional input devices into one hybrid device.
In the patent, Apple notes that computer mice "typically employ optical sensors, track wheels or track balls to control the motion of a cursor."… (Read more.)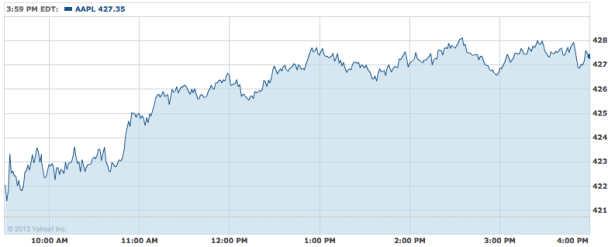 Follow Meghan on Twitter @MFoley_WSCS
Friday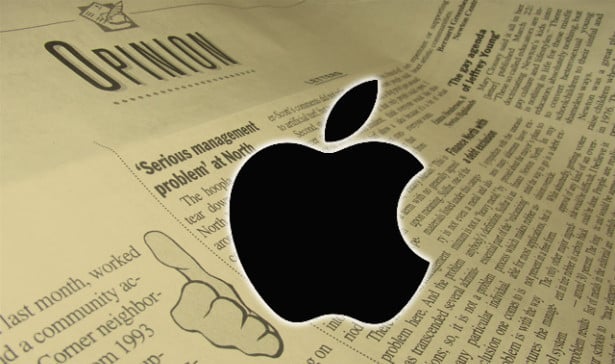 After starting off the week fairly weak, shares of Apple (NASDAQ:AAPL) managed to gain $9.09, or 2.18 percent, during the past five-day trading period despite the news of the company's e-book trial. With the iPhone maker's stock price remaining relatively flat this week, it seems that investors are still deciding whether to put "it was the best of times" or "it was the worst of times" spin on the company's fortunes. However, shares did ended Friday down $0.78, or 0.18 percent, at $426.51. Here's a cheat sheet to today's top Apple stories:
Is the Decline in Worldwide PC Sales Bad News for Apple's Mac?
Amid the overall slowdown in the global PC market, many analysts and investors are wondering what the impact of this market trend will be on Apple's bottom line. According to market research firm Gartner, worldwide PC shipments declined by 10.9 percent in the second quarter of 2013.
IDC's data revealed an 11.4 percent decline. Although everyone seems to be certain that the PC market is in decline, there is some uncertainty about how much this decline will affect Apple's third-quarter earnings… (Read more.)
Wise Apple Reduces Dependence on These Two Major Suppliers
Is Apple taking steps to further diversify its supply chain by taking on new manufacturers? According to a note acquired by Apple Insider from KGI Securities analyst Ming-Chi Kuo, Apple is looking to expand its manufacturing base beyond its two major suppliers – Foxconn and Pegatron.
Kuo believes that the new suppliers may include Taiwan-based manufacturers Compal Communications and Wistron. Compal Communications has previously made phones for Lenovo, Nokia (NYSE:NOK), and Sony (NYSE:SNE). Wistron is a supplier of enhanced messaging services to BlackBerry (NASDAQ:BBRY)… (Read more.)
Apple and Google: BFFs Once Again
Are Apple and Google (NASDAQ:GOOG) beginning a new era of collaboration? Apple used to have a closer relationship with its Mountain View-based rival, but the relationship began to sour after Google's Android mobile operating system became a direct competitor to Apple's iOS in the global smartphone market.
However, Google Executive Chairman Eric Schmidt said the two companies have had "lots and lots" of meetings over the past year, and are in "constant business discussions on a long list of issues," reports Reuters… (Read more.)

Follow Meghan on Twitter @MFoley_WSCS