14 Hot Apple Stories Pushing the Stock Down Another 6.69% This Week
Monday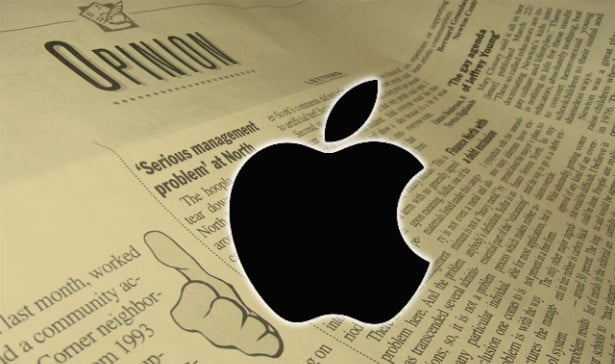 Tuesday is Apple's (NASDAQ:AAPL) special event. Even though the company is notoriously secretive when it comes to its future products, investors and analysts expect the festivities will bring several new iPhones — the low-cost iPhone 5C and the iPhone 5S — and perhaps even a new version of Apple TV. On Monday, ahead of the event, shares of the technology giant closed up $7.94, or 1.60 percent, at $506.17. Here's a cheat sheet to Monday's top Apple stories:
Munster: Apple's iOS and New Products Will Boost Stock
A new research note from Piper Jaffray's Gene Munster revealed that Apple's iOS continues to account for the majority of mobile Internet traffic in the U.S. Using data from Quantcast's media measurement service, Munster determined that Apple's mobile operating system grew its market share from 60.6 percent in the last week of June to 65 percent in the last week of August.
"We see stability in iOS mobile traffic share as evidence that U.S. iPhone & iPad demand/usage remains strong despite the iPhone and iPad lineup nearing end of life," noted the analyst. Apple's last mobile product releases were the fourth-generation iPad and iPad mini in November 2012… (Read more.)
Here Is the Apple TV Scoop
Fans of Apple's digital media receiver product can look forward to a software upgrade, but no new hardware at the company's upcoming media event reports AllThingsD's Peter Kafka. Speculation about a possible Apple TV product refresh at the September 10 media event began after GigaOM reported that global trade intelligence platform Panjiva had discovered bills of lading that described shipments of "Set Top Boxes."
However, according to AllThingsD's unnamed sources, Apple will not be unveiling a new Apple TV set top box at its upcoming media event scheduled for September 10. Instead, Apple will be adding some new features to the device via a software upgrade… (Read more.)
Analyst: New iPhones Could Invigorate Apple's Current Quarter
Although Apple is expected to unveil two new iPhone models at its upcoming media event on September 10, most Apple watchers don't expect the new iPhones to be available until around September 20. For this reason, most analysts think that the new iPhones will have a minimal impact on Apple's fiscal fourth quarter.
However, Pacific Crest analyst Andy Hargreaves begs to disagree. In a note to investors obtained by AllThingsD's John Paczkowski, Hargreaves wrote that he believes Apple could sell 10 million new iPhones before the end of the current quarter on September 29… (Read more.)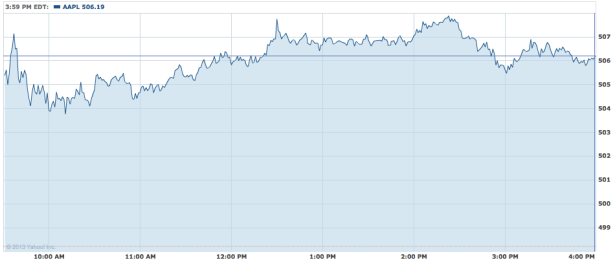 Follow Meghan on Twitter @MFoley_WSCS
Don't Miss: Is This China's Version of the iPhone 5S?
Tuesday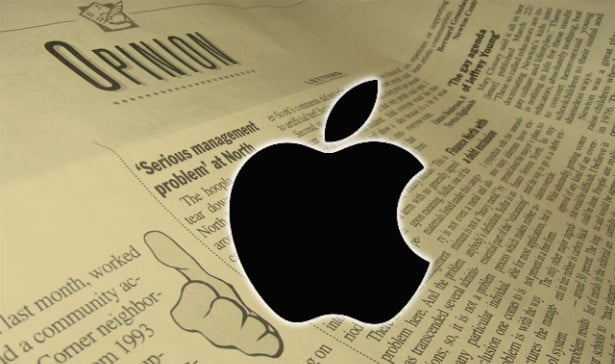 At a special event held at the company's Cupertino, California headquarters on Tuesday, Apple (NASDAQ:AAPL) announced not one, but two new smartphones. While shares temporarily rose to $507.45, by the end of the day's festivities, shares were down by as much as $7.75. Shares of the iPhone maker continued to drop, closing down $11.53, or 2.28 percent, at $494.64. Primarily guiding investors' disappointment was the fact that the long-rumored, low-cost iPhone 5C was not as low-cost as expected. The device will cost $549 without a two-year contract, which could present a huge setback for Apple's expansion into emerging markets. Fans of Apple's iPhone also seemed largely unimpressed by the new features of the iPhone 5S, with the biggest update being the fingerprint sensor. Still, a CNET poll showed that slightly more than half of respondents, 54 percent, believe that Tuesday's new phone announcements showed Apple is still a leading innovator, while 46 percent believe the company is falling behind.
Live: Apple's September Announcements
Chief Executive Officer Tim Cook took the stage first Tuesday morning at Apple's special event, saying "I've got some updates on some exciting things happening around the company this month in September." Executives announced when iOS 7, the latest iteration of Apple's mobile operating system, would be released, but the most anticipated moment of the event was the unveiling of the next generation of iPhones.
Phil Schiller, Apple's senior vice president of worldwide marketing, announced the long rumored iPhone 5C. "The iPhone 5C is made with all the incredible technology that customers have loved with the iPhone 5, but there's more, too," he said. "It has an incredible new design. One that's more fun, and more colorful than anything we've made before." Next up was the announcement of the iPhone 5S. Schiller called it "perhaps the most forward thinking phone anyone has ever made." It is made of high-grade aluminum, with chamfered edges, and comes in slate, gold, and silver.
Study: More First-Time Smartphone Buyers Turn to Apple
Does the decline of the first-time smartphone buyer presage the end of Android's popularity? According to a recent report from market research company Kantar Worldpanel, the declining number of first-time smartphone buyers could be linked to the declining sales of Android-based devices.
Kantar Worldpanel's data reveals that U.S. sales of Android-powered devices declined by 7.6 percent in the three-month period that ended in July 2013 when compared to the same period last year. Meanwhile, Apple saw its sales of iOS devices increase by 7.8 percent over the same time period… (Read more.)
Why Is Apple Boosting Its Marketing Team?
Apple may soon double the size of its in-house marketing and advertising team in an effort to keep tighter control on its brand messaging, reports AdAge. According to an unnamed executive cited by the advertising industry news website, Apple may boost the size of its marketing staff from 300 employees to as many as 600.
The executive also notes that the increased focus on in-house marketing is a sea change from how Steve Jobs ran Apple's advertising efforts. He notes that Jobs deliberately limited the size of the marketing department, "because Steve wanted Apple to be seen as a products company, not a marketing company."… (Read more.)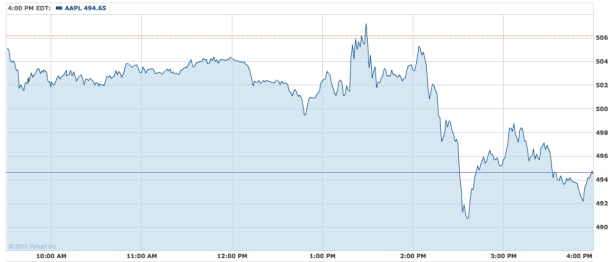 Don't Miss: Analyst: Apple's Asia Deals May Add 35 Million iPhones.
Follow Meghan on Twitter @MFoley_WSCS
Wednesday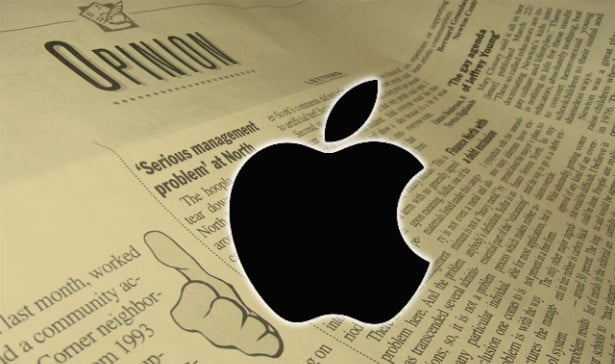 Apple (NASDAQ:AAPL) investors are definitely less than impressed with the two new iPhones the company revealed at a special event held Tuesday at its Cupertino, California headquarters. While Apple eschewed habit and released a lower-priced version of the smartphone in a variety of colors in addition to the flagship iPhone, the technological innovations the company introduced alongside the new devices were judged to be minimal and not significant enough to keep competitors at bay for long. Shares closed down $26.81, or 5.42 percent, at $467.83. Here's a cheat sheet to Wednesday's top Apple stories:
Could Pricey iPhone 5C Make Apple Fail in Asia?
When Apple unveiled its much-rumored "low-cost" iPhone at a media event Tuesday, many were mystified when the company revealed that the iPhone 5C would cost $549 without a contract. That's a much higher price than the $300 to $400 expected, and it won't help the company much in the emerging markets where it has been struggling due to its lack of a low-cost device.
A report from Forbes claims Apple priced the iPhone 5C so high because the company chose to focus on margins over market share, which could have disastrous results for Apple's growth in emerging markets. Low-cost devices from Samsung (SSNLF.PK) and others powered by Google's (NASDAQ:GOOG) Android operating system have been incredibly popular in emerging markets like Asia, where customers often have to pay full price for smartphone devices… (Read more.)
Apple Secures China Mobile Network License, But Not Consumer Satisfaction
Apple had good news to share Wednesday morning when the Chinese government finally approved its new iPhones to run on China Mobile Ltd.'s mobile network, the world's largest wireless operator. Apple and China Mobile have been in negotiations for years over whether Apple would make an iPhone compatible with China Mobile's third-generation network, and now that Apple has finally been granted the license to run the handset on the carrier's next-generation network, the iPhone giant is one step closer to finally securing a deal with China Mobile.
This reflects significant progress for Apple in China because although the country represents the world's largest smartphone market, Apple has struggled to increase its presence there due to regulatory obstacles and difficulties that major networks like China Mobile put forward. According to The Wall Street Journal, China Mobile has more than seven times the subscriber base of the U.S. largest wireless operator Verizon Wireless with 700 million users, and that's why it is so important that Apple has access to these customers… (Read more.)
Apple: iPhone 5S Set a New Precedent with This Technology
"iPhone 5S is our most refined iPhone to date. It is meticulously designed, engineered, and crafted. But it's the remarkable innovation inside the iPhone 5S that sets a new precedent," said Senior Vice President of Design Jony Ive in the Apple video detailing the iPhone's latest innovation. "It's not just rampant technology for technology's sake. Every single component, every process has been considered and measured to make sure that it is truly useful… this care, this consideration extends to how we protect all of the important information that you actually carry on your iPhone."
Taking to the stage at Apple's headquarters Tuesday, Phil Schiller, the company's senior vice president of worldwide marketing, announced that not one, but two smartphones would replace the current iPhone 5. Unlike in previous product refreshes, the iPhone 5 will not be discounted to make "it more accessible to new people," it will be gone. That might have been the most shocking announcement of the day's festivities… (Read more.)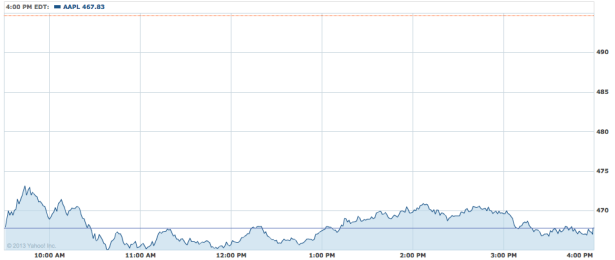 Follow Meghan on Twitter @MFoley_WSCS
Don't Miss: Could Pricey iPhone 5C Make Apple Fail in Asia?
Thursday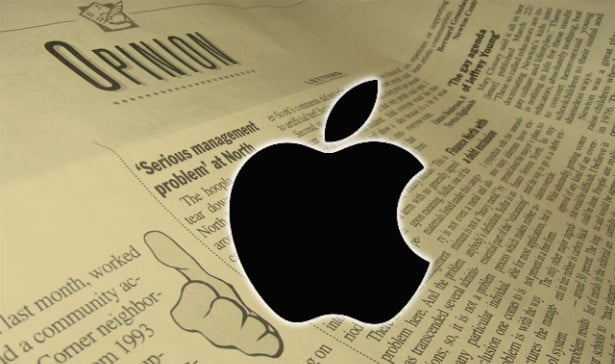 Ending a two-day downward slide following the company's Tuesday special event, shares of Apple's (NASDAQ:AAPL) stock closed in the green on Thursday, ending the day up $4.98, or 1.06 percent, at $472.69. Here's a cheat sheet to Thursday's top Apple stories:
Is Everyone Wrong on the Apple Pessimism?
In general, the response to Apple's release of the iPhone 5S and the iPhone 5C on Tuesday was not overwhelmingly positive. Investors seemed to hold a similar position, bidding shares of the company's stock down by more than 2 percent following the special event. But it could be possible that the wealth of criticism flung at Apple Wednesday morning was more an exhibition of a herd mentality than it was evidence of the company's shortcomings; it could be that the most commonly held opinion ignores basic fundamentals. Piper Jaffray analyst Gene Munster argued that case in a research note sent to the Wall St. Cheat Sheet.
While Apple eschewed habit and released a lower-priced version of the smartphone in a variety of colors in addition to the flagship iPhone, the technological innovations the company introduced alongside the new devices were judged too minimal and not significant enough to keep competitors at bay for long… (Read more.)
Icahn Buys More 'Extremely Cheap' Apple
Share of Apple fell by 5.4 percent on Wednesday after the Cupertino-based company's latest entries into the smartphone market failed to impress investors. However, billionaire investor Carl Icahn remained bullish on Apple as he disclosed to CNBC that he added "quite a bit" of Apple stock to his already significant position because, "It's just extremely cheap."
Icahn sent Apple stock up about a month ago when he revealed via Twitter that he had a "large position" in the iPhone maker. Despite the post-media event slide in the stock price, Icahn recently told CNBC that his investment in Apple is a "no brainer."… (Read more.)
New Apple TV Hardware Rumors Have Been Rebooted
After Apple failed to announce an anticipated software upgrade for Apple TV at this week's media event, some observers pointed to September 18 as the next possible software release date. However, a recent tweet from technology industry commentator MG Siegler suggests that Apple TV users may be in for more than a simple software upgrade by the time October rolls around, reports Apple Insider.
"I guess those excited about a software refresh in a week are gonna be *really* excited when new Apple TV hardware is unveiled next month," tweeted Siegler. The commentator's tweet reignited rumors that Apple will soon be releasing a new version of its digital media receiver… (Read more.)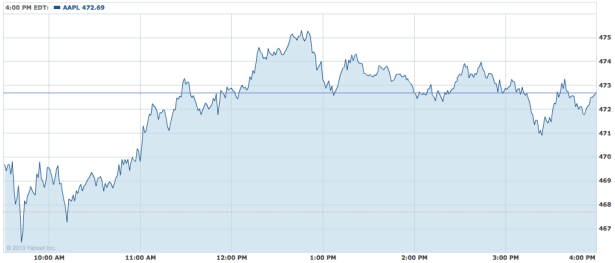 Don't Miss: 7 New iOS 7 Features to Look Forward To.
Follow Meghan on Twitter @MFoley_WSCS
Friday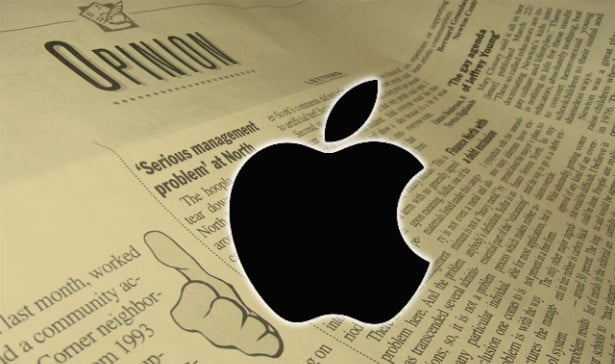 The reaction of Apple (NASDAQ:AAPL) shareholders to the company's release of the iPhone 5C and iPhone 5S is evident in this week's stock chart, after Tuesday, shares took a noticeable plunge. Over the course of the five-day trading period, the stock dropped $33.32, or 6.69 percent. On Friday along, the stock lost $7.79, or 1.65 percent, closing at $464.90. Here's a cheat sheet to Friday's top Apple stories:
Apple Gets Siri-ous About Speech Recognition
Apple has developed a unique speech recognition system that could make future iterations of Siri less likely to misunderstand a user's language, reports Apple Insider. Although Apple's voice-activated personal assistant can understand most users' natural language queries, it is more likely to misinterpret nonstandard dialects or uncommonly used word sequences.
In a patent titled, "Automatic input signal recognition using location based language modeling," Apple outlines a system that would combine "location-based information" and "local language models" to create a "hybrid language model." This "hybrid language model" would allow Siri to more accurately interpret a particular user's input… (Read more.)
Analyst on Apple: Fingerprint Sensor Production Problems Ahead
Will Apple be plagued by iPhone 5S production difficulties? According to Jefferies analyst Peter Misek's supply chain sources, the iPhone maker's suppliers are encountering "terrible" yields on the new fingerprint scanner, StreetInsider reports.
The Touch ID fingerprint scanner is one of the primary features of Apple's iPhone 5S. However, Misek believes that the yield issues for this technology will lower the expected number of iPhone builds in the second half of 2013. For the current quarter, Misek projects 5 million to 10 million iPhone 5S units and 20 million iPhone 5C units. Misek is equally pessimistic with his build estimates for the calendar fourth quarter… (Read more.)
4 Cool Apple Announcements You May Have Missed
Unless you've been hiding under a rock for the past several months, you're probably aware that Apple unveiled two new iPhones at this week's much-hyped media event. The Cupertino-based company unveiled the iPhone 5C — a plastic smartphone that is available in five bright color schemes that are reminiscent of Apple's classic iMac G3 line.
The other iPhone Apple revealed was the upgraded flagship device — the iPhone 5S. The iPhone 5S is made of high-grade aluminum and is available in silver, gold, and "space gray." The iPhone 5S also featured the long-rumored fingerprint scanner that Apple calls the "Touch ID." However, amid all the hype about the lower-cost iPhone and the fingerprint scanner, you may have missed some of the other technological advancements that Apple introduced at this year's iPhone media event. Here are four additional cool technological tidbits that Apple also unveiled in Cupertino on Tuesday: 64-Bit A7 Chip, M7 Motion Coprocessor, True Tone Camera Flash, and iTunes Radio… (Read more.)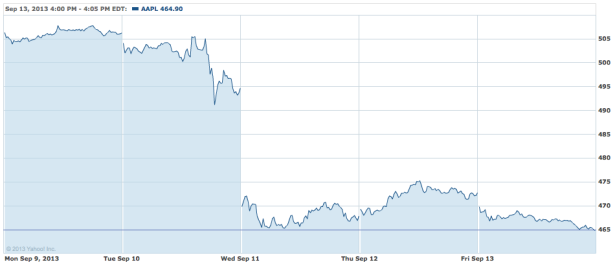 Don't Miss: Here Are the Details of Apple's Big Deal in Japan.
Follow Meghan on Twitter @MFoley_WSCS