15 Apple Stories Shake Investor Anxiety Below $425 This Week
Monday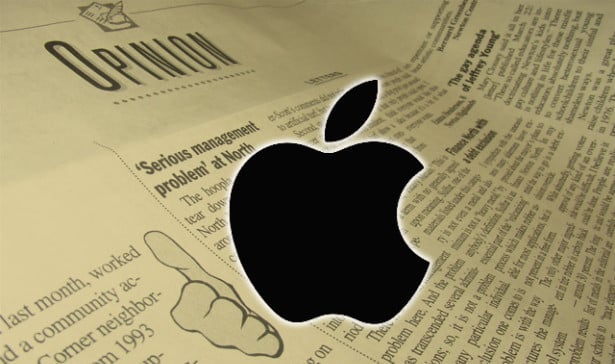 Apple (NASDAQ:AAPL) did not have the easiest of days Monday; reports that a 23-year-old woman in China's western Xinjiang Uighur Autonomous Region was electrocuted by her iPhone launched a new public relations nightmare for the company. And, after rising as high as $431.46 per share, the iPhone maker's stock began trading lower and closed up just $0.93, or 0.22 percent, at $427.44. Here's a cheat sheet to today's top Apple stories:
Look Out Apple, Microsoft Is Developing a Smart Watch Too
Microsoft (NASDAQ:MSFT) is rumored to be testing a prototype of a new smart watch. AmongTech is reporting that the device will offer wristbands in a variety of colors and outside housing made of a special type of aluminum that's four times harder than glass and still transparent.
Rumors about the Microsoft smart watch began when it was reported that the company was ordering 1.5-inch screens from suppliers. According to some of the rumors, the wristbands will be removable and come in blue, red, yellow, black, white, and grey. The device will run on the Windows 8 operating system and use the cloud for storage in addition to six gigabytes of storage space on the watch itself… (Read more.)
Will Apple Have to Pay Shareholders for Its E-Book Escapades?
Will Apple face additional litigation from stockholders over its antitrust law violations? After U.S. District Judge Denise Cote ruled that Apple violated antitrust laws when it conspired with publishers to fix prices in the e-book business, some commentators predicted that Apple could face additional lawsuits from individuals.
Now it appears that those predictions are coming true. The national law firm of Levi & Korsinsky has announced that it is looking into potential claims on behalf of Apple shareholders, reported MarketWatch… (Read more.)
Five Years Later, Apple's App Store Is Still Number One
As Apple App Store celebrates its fifth anniversary, some Apple watchers are wondering how long the Cupertino-based company is likely to keep dominating the mobile software market. Respected market research firm, ABI Research, thinks the trend is likely to continue for at least another 18 months.
At the Worldwide Developers Conference this year, CEO Tim Cook reveled in just how successful the App Store has been over the past five years, noting that the $10 billion that has been paid to developers is "more than the three other app platforms combined." Apple has surpassed 50 billion app downloads and paid approximately $10 billion to app developers… (Read more.)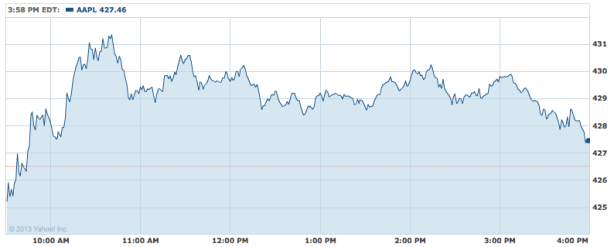 Follow Meghan on Twitter @MFoley_WSCS
Tuesday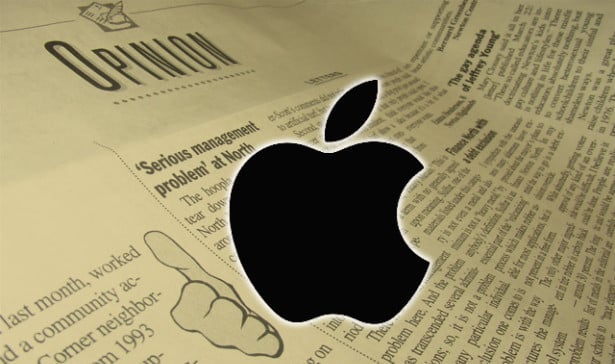 Apple's (NASDAQ:AAPL) third-quarter earnings are schedule to be released a week from Tuesday, and shares closed just slightly above their 50-day and 100-day moving averages. The stock ended the day up $2.76, or 0.64 percent, at $430.20. From this movement, Apple shares appear to be tracing a path similar to the one they followed before earnings for the last quarter were reported; the iPhone maker's stock soared from a low of less than $400 before the report to a high of more than $465 in 10 trading days. Here's a cheat sheet to today's top Apple stories:
Apple Wants to Slice Commercials Out of TV
Consumers have long been looking for an excuse to not only have Apple in their pockets and at their desk, but also in their living room. Rumors about an Apple television waiting in the wings have been circulating for a considerable amount of time, but it finally looks as if these rumblings will take shape at the end of this year.
And when the iTV arrives, the Cupertino, California-based tech company wants to make sure its deal is extra sweet. That's why it is hoping to roll out a complementary television service that will offer viewers the chance to skip commercials… (Read more.)
Does Apple Really Need Help Selling iPhones?
In what may be one of its humblest moves, Apple is requesting help. It's not asking for just any help and not from just anyone, though, but rather for help invigorating sales and the iPhone — and it's asking workers near the bottom of its corporate totem pole. Apple has sounded something of a call to arms for employees at its retail stores — specifically, those employees below the management level. This isn't the first time Apple has turned to its retail employees for help, as the company sought improvement suggestions for Apple Maps in this manner.
In a post titled "Career Experience: We want your ideas, Winning on iPhone team, Cupertino," Apple said it is looking for people who have ideas about the iPhone — either for improving it or selling it — from "candidates with the most innovative and relevant ideas."… (Read more.)
Analyst: Maybe Apple Should Go Into Chip Fabrication
Word is going around that Apple is considering buying a semiconductor fabrication plant, but it's still just rumors at this point. The move might not even make much sense, given the company's recently inked arrangement with Taiwan Semiconductor Manufacturing Co. (NYSE:TSM)
In a research note, Piper Jaffray analyst Gene Munster mentioned that website SemiAccurate suggested Friday that Apple was looking to purchase its own semiconductor fab. According to Munster, it could make sense for Apple to get its hand on a development fab, but that it wouldn't make sense for Apple to invest in one or buy a production facility… (Read more.)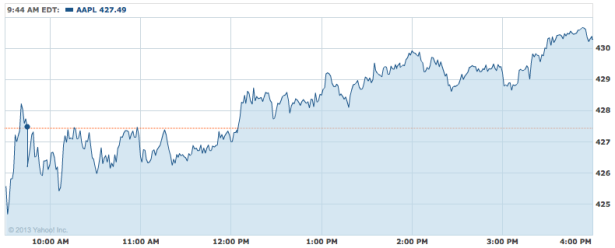 Don't Miss: Will Apple's Courtroom Loss Change Business Everywhere?
Follow Meghan on Twitter @MFoley_WSCS
Wednesday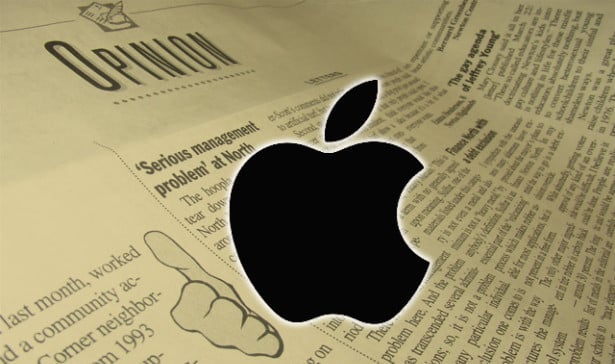 After reaching heights of just above $432 per share, Apple's (NASDAQ:AAPL) stock fell back, althought the iPhone maker's shares did manage to end the day slightly above Tuesday's close. On Wednesday, the stock closed up $0.11, or 0.0 percent, at $430.31. Here's a cheat sheet to today's top Apple stories:
Analyst: Still Plenty of Smartphone Market Growth Left for Apple
Will Apple remain mostly unaffected by the widely predicted slowdown in the high-end smartphone market? A recent report from Credit Suisse via Barron's outlines a fairly optimistic future for Apple, though it also predicts that the Cupertino, California-based company's next earnings report will be below consensus expectations.
Although many analysts believe the high-end smartphone market is reaching saturation, Credit Suisse analyst Kulbinder Garcha thinks Apple's expected product refresh in the fall and a new low-end iPhone will soon offset any downside from the overall slowdown in the market. However, Garcha does believe that the June quarter will be a slower "transitional" period for Apple… (Read more.)
Analyst: Apple Will Beat iPhone Sales Expectations 
Will Apple's higher-than-expected iPhone sales in the June quarter help the Cupertino-based company beat Wall Street's expectations? Although the consensus estimate for iPhone shipments in the June quarter is about 26.5 million, Morgan Stanley analyst Katy Huberty believes that Apple may have actually shipped between 29 and 32 million iPhones, reports Apple Insider.
Huberty bases her prediction on data from Morgan Stanley's AlphaWise Smartphone Tracker, as well as from supply chain checks by Asia-Pacific analyst Jasmine Lu. According to Huberty, overall iPhone sales were boosted by strong demand for the iPhone 4 and iPhone 4S. Thanks to the strong sales for the iPhone, Huberty anticipates that Apple will beat the consensus revenue estimate for the June quarter… (Read more.)
Are the Apple Stores' iPhone Sales Goals Unreachable?
At a recent Apple Retail Store Leaders meeting, CEO Tim Cook announced he would like to see at least half of all iPhone sales come from the Cupertino-based company's Apple Stores. However, a new analysis from Consumer Intelligence Research Partners via AllThingsD suggests that this goal may not be realistically attainable.
Cook noted at the retail gathering that about 80 percent of iPhone sales come from sources other than the Apple Store. On the other hand, 50 percent of iPhone repairs and replacements are done at Apple Store Genius Bars. Apple's CEO suggested that he would like to see a closer alignment between those two statistics… (Read more.)

Follow Meghan on Twitter @MFoley_WSCS
Don't Miss: Why Is Russia Abandoning the iPhone?
Thursday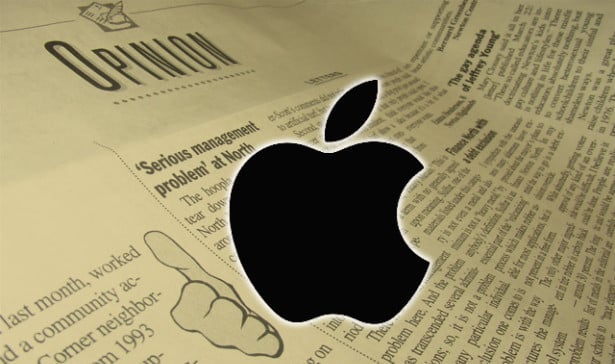 Apple (NASDAQ:AAPL) shares have been edging up modestly over the past several days. The iPhone maker's stock closed up $1.45, or 0.34 percent, at $431.76 on Thursday. Here's a cheat sheet to today's top Apple stories:
Is Apple Building an iWatch Dream Team?
Fans of iOS-powered wearable tech take heart – Apple may already be assembling a uniquely qualified group of experts to begin development on the long-awaited iWatch. According to insider sources cited by Mark Gurman at 9to5Mac, this group includes medical sensor specialists, fitness experts, and hardware and software engineers. Senior Vice President of Technologies Bob Mansfield, VP Kevin Lynch, and senior hardware director James Foster are reportedly leading the iWatch project. Lynch is leading the team that is developing the software, and Foster is leading the team that is developing the hardware.
Not surprisingly, the hardware team includes battery efficiency specialists, who will focus on creating light and efficient batteries for this wearable tech product. This group supposedly includes battery experts who helped develop the MacBook Air's "all day" battery life of 12 hours… (Read more.)
Can This Apple TV Strategy Be a Winning One?
Recent moves to further develop its neglected Apple TV product suggests the Cupertino-based company is still very interested in revolutionizing its users' television viewing experience. According to the New York Times, Apple is expanding the number of shows available through its digital media receiver product, by partnering with content owners like Walt Disney (NYSE:DIS), and distributors like Time Warner Cable (NYSE:TWC).
Although Apple TV owners now have the option to stream ESPN or HBO, they must still subscribe to the channels from a cable or satellite company in order to access the content through their Apple TV device. In this sense, Apple is taking a collaborative, rather than a competitive, approach to the existing television distribution industry… (Read more.)
Is This Supply Chain Rumor a Sign of New Apple Products?
Apple may be boosting its chip orders in preparation for a slew of new products. Supply chain sources told the Taipei, Taiwan-based DigiTimes that Apple has recently increased its integrated circuit orders for the third quarter.
The report says the amount of integrated circuit orders is nearly double what it was in the previous quarter. "Apple started to reduce its chip orders in the fourth quarter of 2012 and maintained the slow pace of orders until second-quarter 2013," according to DigiTimes sources. "Shipments for iPhone components from the IC supply chain, for example, fell to about 20 million units quarterly during the period."… (Read more.)

Follow Meghan on Twitter @MFoley_WSCS
Don't Miss: Is This Supply Chain Rumor a Sign of New Apple Products?
Friday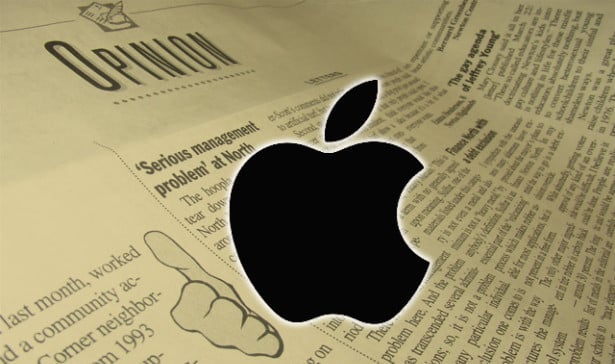 The S&P 500 managed to close at a record high of 1,692.09 despite a drop in technology stocks. Shares of Apple (NASDAQ:AAPL) closed down $6.81, or 1.58 percent, at $424.5, bring the iPhone maker's stock overall, 5-day trading period loss to $1.56, or 0.37 percent. Here's a cheat sheet to today's top Apple stories.
Analyst: Nokia's Windows Phone No Match for Android or Apple's
iOS
Are Nokia's (NYSE:NOK) struggling Windows Phone-powered devices a sign that consumers are happy with the market dominance of Apple's iOS and Google's (NASDAQ:GOOG) Android platforms? Needham & Company analyst Charlie Wolf downgraded Nokia shares from a "Buy" to a "Hold" rating, after a disappointing quarterly earnings report on Thursday, reports Barron's.
Although Lumia sales actually grew 32 percent over the previous quarter, the average selling price dropped 18 percent. In his research report, Wolf noted that the falling sales price of Nokia's Windows Phone-based Lumia smartphones seem to "raise the larger question of whether consumers are even interested in a viable third platform in the smartphone market."… (Read more.)
Apple's Still the Coolest Kid on the Block, Even if It's Growing Up
"OMG…for the 1st time in years $AAPL was NOT the most looked up stock on CNBC.com yesty. It was $BAC…" – Allen Wastler (@AWastler) July 18, 2013.
Apple earnings are around the corner, and just like putting up the Christmas tree on Black Friday, we're all free to start speculating on what the company has in store for investors. Estimates will roll in right up to the closing bell on Tuesday, after which Apple will report, but the current consensus is pretty clear: don't expect much movement, and think long. llen Wastler's comment is interesting because even though Bank of America likely took the spotlight because of earnings, it suggests that Apple is losing a little bit of popularity… (Read more.)
Do Verizon Numbers Mean Apple Had a Bumper Quarter?
Is Verizon's (NYSE:VZ) earnings report a sign of better-than-expected iPhone sales in the June quarter? On Thursday, Verizon announced that it activated a total of 7.5 million smartphones last quarter. According to CFO Fran Shammo via Apple Insider, Apple's iPhone accounted for 3.8 million of those activations.
Wells Fargo analyst Maynard Um observed via Apple Insider that Verizon has consistently handled approximately 11 percent of Apple's iPhone sales in each of the last six quarters. Although the consensus estimate for iPhone shipments in the June quarter is about 26.5 million…(Read more.)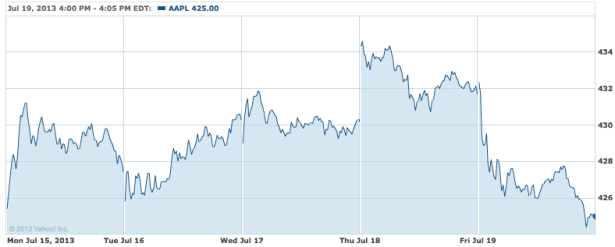 Don't Miss: Analyst: Nokia's Windows Phone No Match for Android or Apple's iOS.
Follow Meghan on Twitter @MFoley_WSCS