15 Hot Apple Stories Pushing the Stock Up Almost 5% This Week
Monday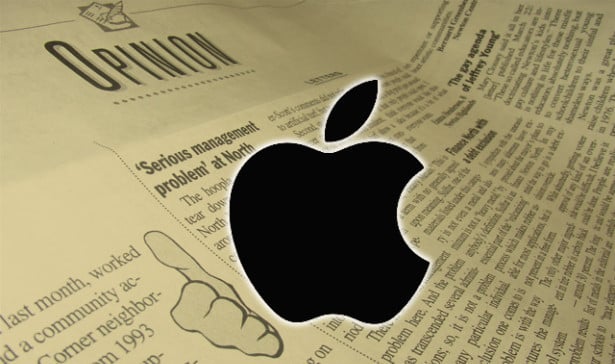 Since reporting earnings last week, Apple (NASDAQ:AAPL) shares have been steadily advancing. On Monday, shares ended the day up $6.80, or 1.54 percent, at $447.79. Here's a cheat sheet to Monday's top Apple stories:
Did This Security Researcher Do Apple a Favor?
Apple recently got most of its developer site back online after it was down for eight days. Although Apple initially indicated that it was shut down due to an "intruder" who was trying to steal developers' private information, it now appears to have been a less worrisome "white hat" security researcher attack. White hat hackers try to push companies to improve network security by demonstrating vulnerabilities.
According to VentureBeat, a Turkish security researcher named Ibrahim Balic has claimed responsibility for infiltrating Apple's developer center. The researcher claims he was able to find 13 security bugs in Apple's system, which he reported to the Cupertino-based company. Although the attack appears to be a benign attempt to improve Apple's security, the extent of the breach is still unclear… (Read more.)
Is Apple Doomed to Be No. 2 in Tablets, Too?
The tablet market playing field has been changing drastically since more players got involved, and it hasn't been in Apple's favor. While global tablet sales have grown year over year, Apple hasn't seen a share of that growth, and in fact didn't even contribute to it. Google (NASDAQ:AAPL) and Microsoft (NASDAQ:MSFT) have had more favorable results.
Strategy Analytics posted second-quarter results for the global tablet market Monday, and the numbers showed some interesting trends that could soon become the shape of the market. If something drastic doesn't happen in the tablet market, it may take similar form to the smartphone market… (Read more.)
What Happened to Bob Mansfield, Apple?
Has Apple just lost a key player in its executive lineup? Some would say yes, as Bob Mansfield is no longer working in his position as senior vice president of technologies. However, he is still with the company — but just what he is doing remains unclear, Bloomberg reports.
Mansfield has already proved his importance within the company, and he has even proved that he's hard to live without at Apple. Last year, Mansfield tried to quit in June. Only two months later, he was coaxed back to the company with a package that made him one of the highest-paid executives in the U.S. Part of the reason Apple worked so hard to get Mansfield back was because people who had been working under him complained when they were moved to work under the senior vice president of hardware engineering, Dan Riccio, according to Bloomberg… (Read more.)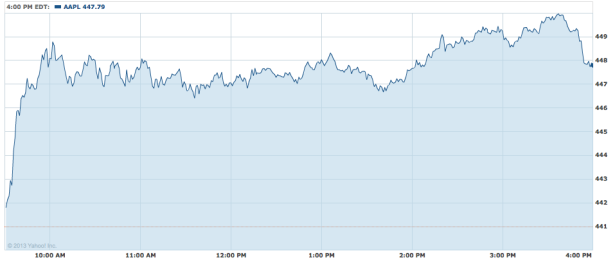 Follow Meghan on Twitter @MFoley_WSCS
Tuesday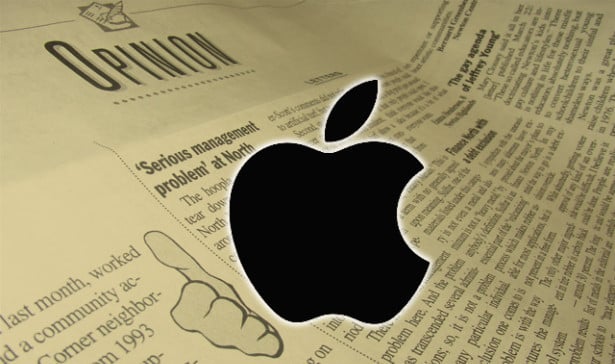 Reports and rumors are circulating over whether the next iteration of Apple's (NASDAQ:AAPL) flagship smartphone will include such technology as a fingerprint scanner, but given the iPhone maker's typical habits, the company's future plans are always up for debate. What is sure is the past, and Apple investors are still bidding the technology giant's shares upward after last week's earnings beat. The stock ended Tuesday up $5.5, or 1.2 percent, at $453.32. Here's a cheat sheet to Tuesday's top Apple stories:
Report: Samsung Takes a Bite Out of Apple in Patent Suit
Apple's "pinch-to-zoom" patent lawsuit against Samsung (SSNLF.PK) has apparently been rejected by the U.S. Patent and Trademark Office, according to a report from Macworld.
The patent in question involves a smartphone or tablet screen being able to distinguish between one and two fingers touching it. According to the report, the 21 claims Apple made against Samsung have been thrown out by the U.S. patent office, and Apple has two months to respond to the decision… (Read more.)
Are Apple and Samsung Deciding the Fate of Patents?
In just a few days, an International Trade Commission ruling could heavily impact Apple, but the ripples of the ITC's decision could reach much further, threatening the operations of numerous companies in the tech industry.
The ITC has already decided what it believes it must do. In June, the commission ruled against Apple in a patent case, finding that Apple's iPhone 4, iPhone 3GS, and iPhone 3G infringed on Samsung (SSNLF.PK) patents, Apple Insider reported. The ITC ordered that a ban on those products begin August 4. If nothing is done to intervene, that ban will take effect within a week. Of course, Apple isn't sitting idly by and doing nothing: the company has been working to get the decision overturned… (Read more.)
Appointment Slots are on Sale at China's Apple Stores: Genius or Illegal?
It is clear the world is evolving when scalpers are willing to put tickets for sports games on the backburner while they attempt to sell slots for Genius Bar appointments inside Apple's (NASDAQ:AAPL) retail stores.
That's right: according to Apple Insider, Genius Bar appointments are the new name of the game for scalpers in Beijing who are offering solutions to Apple consumers who need help expert help for their products but are virtually unable to schedule a Genius Bar appointment earlier than two to three months away… (Read more.)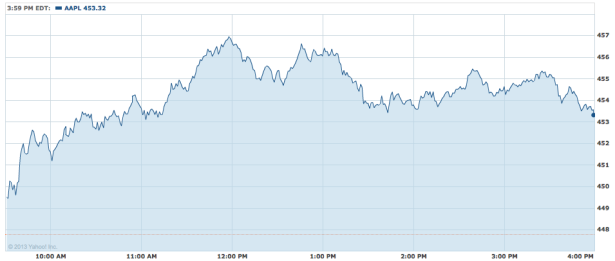 Follow Meghan on Twitter @MFoley_WSCS
Don't Miss: Can Cook Convince Chinese Carriers to Join the iPhone Party?
Wednesday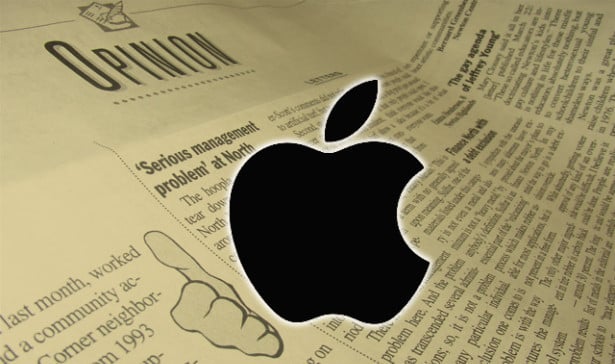 Revenue from app downloads is still led by Apple (NASDAQ:AAPL), whose app store draws in 2.3 times the revenue of Google (NASDAQ:GOOG) Play. However, that gap is shrinking fast, and total downloads from Google Play came in 10 percent higher than at Apple's app store, according to researcher App Annie.
Shares of the iPhone maker ended the day down $0.79, or 0.17 percent, at $452.53. Here's a cheat sheet to Wednesday's top Apple stories:
Apple Solves the Digital Camera 'Blind Region' Problem
A recently granted Apple patent demonstrates how the Cupertino, California-based company is striving to make the picture quality of its digital cameras even better. The patent, titled "Image capture using luminance and chrominance sensor," covers a new type of camera sensor array that uses three separate image sensing devices, reports Apple Insider.
According to the patent abstract, one of the sensors captures a luminance image, while the other two sensors capture chrominance images. The apparatus may also include an "image processing module" that combines the separate images into a final composite image. Chrominance conveys the color information for an image, while luminance conveys the light intensity… (Read more.)
Is Apple About to Close a Deal with China Mobile?
Apple may be on the verge of dramatically expanding its footprint in the world's most populous country. Apple CEO Tim Cook met with China Mobile (NYSE:CHL) Chairman Xi Guohua in Beijing on Tuesday, reports Reuters. According to an emailed statement from China Mobile via Reuters, the two executives discussed "cooperation."
China Mobile is country's largest carrier, with over 700 million subscribers, but it does not currently have a distribution deal with the Cupertino-based iPhone maker. A deal with China Mobile is widely considered to be essential for Apple if it wants to increase its share of the burgeoning Chinese smartphone market. Apple's third-quarter revenue in the Greater China market fell 14 percent from the same quarter last year, and declined 43 percent from the March quarter this year… (Read more.)
Android's Imitation Apple App Returns to Google Play
An Android app that blatantly copied the look of Apple's iOS 7 Control Center has returned to the Google Play store, after briefly being taken down due to complaints from Apple, reports Apple Insider. The appropriately titled "Control Center" Android app appeared to be a clone of Apple's iOS 7 Control Center feature when it initially debuted at the Google Play store.
Earlier this month, app developer Hi Tools Studio unveiled an app titled "Control Center" for Android-powered devices. Besides sharing the same generic name as Apple's iOS 7 Control Center, the Android app also bore an uncanny resemblance to the visual design of Apple's latest iOS feature. Hi Tools Studio's Control Center app page describes the app as a "Swiss Army Knife Tool for Your Android Phone. Control Center contain [sic] commonly used switches of Android system and all installed apps, you could quickly toggle your switch and open your favorite apps."… (Read more.)

Don't Miss: Is Apple About to Close a Deal with China Mobile?
Follow Meghan on Twitter @MFoley_WSCS
Thursday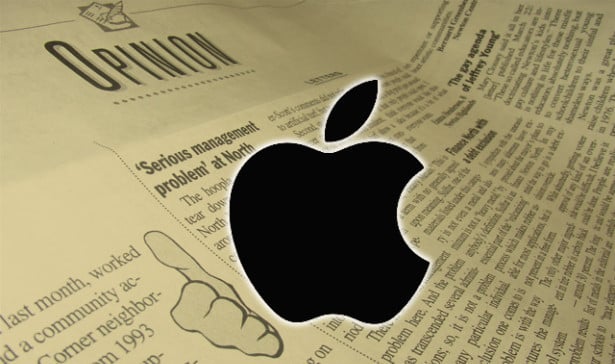 Apple (NASDAQ:AAPL) shares are still down more than 14 percent this year to date. However, since July 23, when the iPhone maker reported that third quarter earnings rose 22 percent, shares are up 7.12 percent. The stock continued its upward momentum Thursday, closing up $4.15, or 0.92 percent, at $456.68. It did not hurt that Apple now has the largest market capitalization on the S&P 500, retaking the number one position in the rankings from Exxon Mobil (NYSE:XOM), which reported disappointing earnings Thursday morning. Here's a cheat sheet to Thursday's top Apple stories:
Rumor: Apple's New iPad Mini to Have Retina Display, Colorful Back
Apple's suppliers are ramping up for production of the next-generation iPad mini that will feature a Retina display, according to unnamed industry sources via the Wall Street Journal. Apple has tapped Samsung (SSNLF.PK), Sharp (SHCAY.PK), and LG Display (NYSE:LPL) to produce the high-resolution display panels, reports the WSJ.
According to the WSJ's sources, the new iPad mini will be produced in the fourth quarter of this year, though no specific release date was provided. Although the second-generation iPad mini is expected to get a higher-resolution screen, the display will retain its 7.9-inch size. The WSJ's sources also state that Apple is considering using "multiple color back covers" for the new iPad mini… (Read more.)
Why Are These Former Employees Suing Apple?
Apple is facing a lawsuit from two former Apple Store employees, who allege that the company failed to properly pay them for off-the-clock time used for daily theft-prevention searches, reports Reuters. The two plaintiffs are also seeking to have their lawsuit granted class-action status, since the practice is alleged to be widespread throughout Apple's retail operations.
The lawsuit was filed in San Francisco federal court on July 25, reports the local San Francisco CBS affiliate. The plaintiffs, Amanda Frlekin and Dean Pelle, allege that hourly Apple employees are required to wait approximately five to ten minutes every time they leave the store in order to be subjected to mandatory searches… (Read more.)
Apple Keeps Smartphone Profit Crown
Apple continued to account for the majority of the smartphone market's profits in the second quarter of 2013, according to a new report from Canaccord Genuity research analyst T. Michael Walkley and reported by Apple Insider. According to his data, Apple secured approximately 53 percent of total profits in the global smartphone market.
Although Apple still took the lion's share of profits, rival smartphone maker Samsung (SSNLF.PK) was not far behind, taking 50 percent of total smartphone profits. As usual, both companies accounted for more than 100 percent of total smartphone profits because most other companies actually sustained operating losses or broke even during the quarter… (Read more.)

Follow Meghan on Twitter @MFoley_WSC
Don't Miss: Why Are These Former Employees Suing Apple?
Friday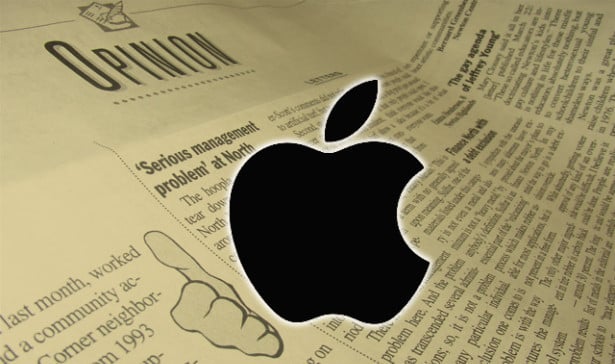 In comparison to the past few months, Apple (NASDAQ:AAPL) shares are now on a tear; the iPhone maker's stock may be still down approximately 13 percent this year to date, but it gained almost 5 percent in the past 5-day trading period, advancing $5.86, 1.28 percent, to $462.54 on Friday alone. Here's a cheat sheet to Friday's top Apple stories:
ITC Ban: Samsung's Decision Pushed Back
A decision on Samsung's devices was expected Thursday but has now been pushed to August 9. Although no reason was given for the delay, it is likely that the ITC wants to hold off making any further import ban rulings until the Obama administration makes a decision about Apple's import ban. In June, the ITC determined that Apple was violating a Samsung patent that covers a particular data transmission method used on some older models of iPhones and iPads… (Read more.)
Apple Searches for a Fresh Face to Head Retail
Apple  is continuing its long-running search for a new head of its retail operations as the Cupertino-based company approaches a year without someone in this position. However, if you are already employed by Apple, don't expect to be tapped for the job. According to insider sources cited by the Wall Street Journal, Apple is only seeking candidates from outside the company.
Apple has been without a head of retail operations since it fired former Dixons Retail CEO John Browett in October 2012. Browett's six-month stint as Apple's head of retail was controversial due to several cost-cutting measures he implemented for Apple Stores, including eliminating staff and reducing working hours. CEO Tim Cook has handled Apple's retail operations since Browett's departure… (Read more.)
Is Apple's Latest Acquisition for the
iWatch

?

In what could be the latest move to improve its iWatch development, Apple has acquired the low-power wireless chip company Passif Semiconductor. The story was first reported by former Wall Street Journal reporter Jessica Lessin.

Although it doesn't have its own chip fabrication plant, Passif Semiconductor specializes in developing chips that use very little power. Energy efficient chips are becoming vitally important, as mobile devices are becoming increasingly smaller while acquiring more energy-consuming functions and features… (Read more.)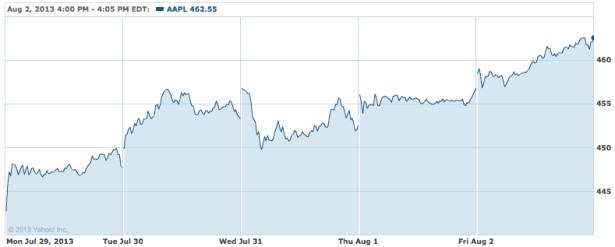 Don't Miss: Is Apple's Latest Acquisition for the iWatch?
Follow Meghan on Twitter @MFoley_WSCS