15 Hot Apple Stories Pushing the Stock Up Another 10.54% This Week
Monday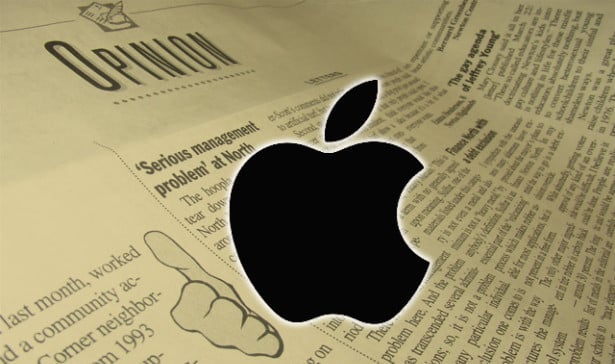 Apple (NASDAQ:AAPL) shares began the week on a tear, outperforming the broader market. The iPhone maker's stock closed up $12.91, or 2.84 percent, at $467.92 on Monday. Here's a cheat sheet to Monday's top Apple stories:
Is Apple Getting Ready to Put on a Show?
With its fiscal third quarter earnings report, Apple reported revenue of $35.3 billion and guided fourth-quarter revenue in a range between $34 and $37 billion. The results were actually a surprise beat: on average, analysts were expecting revenue of about $35.1 billion, which was downwardly revised several times during the quarter "to reflect demand trends across Apple's portfolio and the timing of new product launches," as Topeka Capital analyst Brian White put it.
White's comment is at the heart of the conversation surrounding Apple right now. The company hasn't released a new iPhone since the iPhone 5 was announced on September 12, 2012. Meanwhile, Samsung (SSNLF.PK) has pretty much spammed the market with devices running Google's (NASDAQ:GOOG) Android OS… (Read more.)
5 Things Everyone Should Know About Apple
Even some grizzled Google fans would admit: it's hard not to have a little respect for Apple. In less than 40 years the company went from being the crazy ambition of Steve Wozniak, Steve Jobs, and Ronald Wayne to one of the largest consumer electronics companies on the planet. Apple products have become cultural icons, even status symbols, and the company has become something of a siren for investors.
The stock, at about $454 as of August 11, has seen better days. In September of 2012, shares were up 74 percent on the year and tripped over $700 as investors ran full speed ahead on the premise that Apple, with multiple quarters of earnings and revenue growth between 40 and 120 percent, was unstoppable. In hindsight, it's obvious that that kind of growth was unsustainable and the company would run out of steam… (Read more.)
What Does Silver-Screen Steve Jobs Say About Apple?
Steve Jobs founded Apple (NASDAQ:AAPL) in April 1976. The rest, to put it one way, is history. The Apple I went on sale in July of that year  and 37 years later, the company has a market value of over $410 billion, the largest of any publicly-traded company in the U.S., even superseding international oil and gas titan Exxon Mobil (NYSE:XOM).
By this point, Apple's rags-to-riches story has become ubiquitous and its founders — Jobs, along with the legendary Steve Wozniak — have assumed a sort of mythic mantle of cultural relevance. They have been credited with a revolution in computer technology, and their innovations have defined the current technological landscape. Even before his passing in 2011, Jobs in particular was hailed as a once-in-a-generation visionary… (Read more.)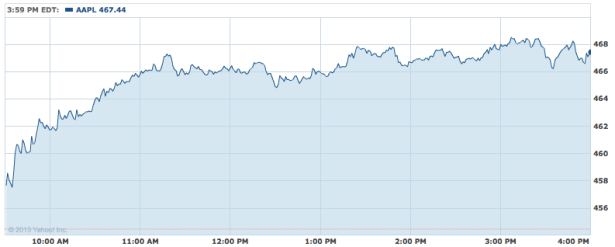 Tuesday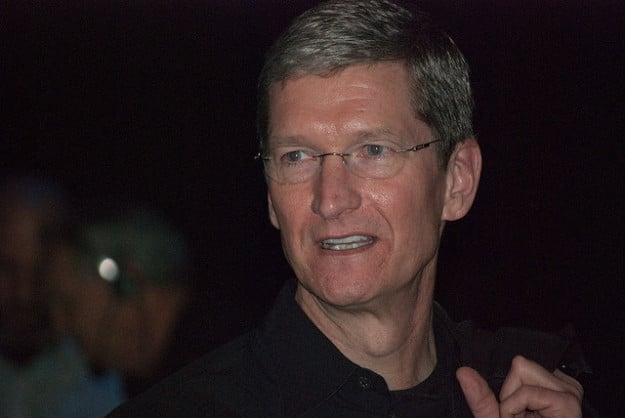 Apple (NASDAQ:AAPL) looks like it is getting ready to go full gear starting at the end of this year, as lagging performance and increased competition is pushing the company into crunch time.
An iPad mini with retina display and a slimmed down, full-size iPad are expected to make their way into the marketplace this fall, according to Bloomberg, in an attempt to revitalize the American tech company amid a stock performance that has been lackluster.
Whether this is enough to placate Apple's board, though, remains unclear. The board has been concerned with the pace of innovation in the post-Steve Jobs era, and while the iPad mini is certainly a hotly awaited product in the Apple community, it is not exactly a new product. The board and fans alike are waiting for the much-rumored iWatch and the hinted TV that Apple has in the works as products that will help Apple continue to define trends in the tech space.
CEO Tim Cook did hint during the last quarterly earnings call that Apple's "key catalysts will be — always will be — new products and new services, and these are above in existing categories that we're in and in new categories," an omen of things to come.
But with a rumored cheap iPhone looming as well as the iPad duo, Cook could be set to revitalize the company's earnings, according to an analyst note from Piper Jaffray. It's something that could potentially placate Apple's board and put the company in a better position as it prepares to roll out products next year, one of which should be the so-called iWatch in mid-2014, according to the same note.
Most recent headlines for Apple have dealt with trade and patent spats with rival Samsung (SSNLF.PK). The International Trade Commission banned certain iPhones and iPads from being imported into the United States as patent wars with Samsung continue, but the Obama administration overturned the decision, leaving Samsung faced with a similar ban on certain phone models, though the legal matters at issue aren't exactly the same.
The iPad mini will certainly be something for Apple enthusiasts to look forward to, and not only for the product itself. Healthy margins between 20-25 percent on the device will contribute to earnings growth, the analyst note from Piper Jaffray said.
Ironically, the new iPad could be using LCD panels sourced from Samsung to cope with high demand for the product. The full-size iPad will have a 9.7-inch screen and the mini will come in at 7.9 inches.
Don't Miss: Are Apple's Patent Claims Sharper Than Samsung's?
Tuesday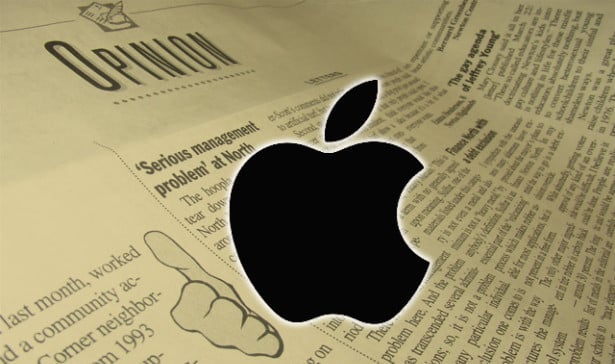 Apple (NASDAQ:AAPL)shares soared as high as $494.66 on Tuesday afternoon after activist investor Carl Icahn tweeted that his fund had taken a "large position" in the iPhone maker. The tweet pushed the stock up to that new six-month high from $475.76, a $17 billion move. "We currently have a large position in APPLE. We believe the company to be extremely undervalued. Spoke to Tim Cook today. More to come," he wrote. Shares closed up $22.21, or 4.75 percent, at $491.85. Here's a cheat sheet to Tuesday's top Apple stories:
Icahn to Apple: Buy Back More Shares While They're Still Cheap
Icahn, a self-made billionaire and founder of Icahn Enterprises (NYSE:IEP), has a mixed reputation as a shareholder. He is an outspoken critic of anybody he thinks is running a company poorly, and is not afraid to shake people out of board positions. He infamously referred to Navistar International (NYSE:NAV) as a "poster child for abysmal business decisions and poor corporate governance," and recently engaged in a somewhat tense media showdown with hedge fund manager Bill Ackman over Herbalife (NYSE:HLF), in which he said, "I don't like Ackman, I don't respect him, everybody knows that."… (Read more.)
Can a New iPad Mini Placate Apple's Concerned Board?
Apple looks like it is getting ready to go full gear starting at the end of this year, as lagging performance and increased competition is pushing the company into crunch time.
An iPad mini with retina display and a slimmed down, full-size iPad are expected to make their way into the marketplace this fall, according to Bloomberg, in an attempt to revitalize the American tech company amid a stock performance that has been lackluster. Whether this is enough to placate Apple's board, though, remains unclear… (Read more.)
Analyst: Apple Needs Low-End iPhone
Rumors have been swirling about Apple's low-end iPhone dubbed the "iPhone 5C." Although the company has not yet confirmed it's creating a cheaper iPhone device, analysts are already speculating about the effect entering the low-end market will have on Apple's margins.
Analyst Brian Marshall of ISI Group said in a report seen by Apple Insider that a low-cost iPhone could have gross margins of 40 percent, higher than the company's average of 36.9 percent reported for the quarter ending in June — a drop from 42.8 percent in the same quarter of last year. Based on those estimates, Apple Insider guessed that the iPhone 5C's hardware would cost Apple $160, and would have a wholesale price of $340… (Read more.)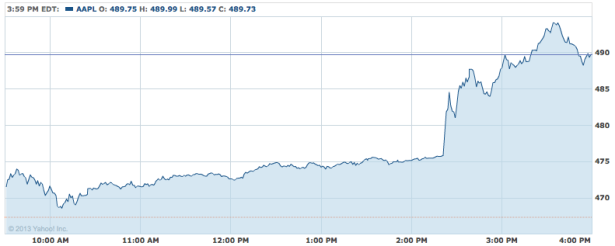 Follow Meghan on Twitter @MFoley_WSCS
Don't Miss: Are Apple's Patent Claims Sharper Than Samsung's?
Wednesday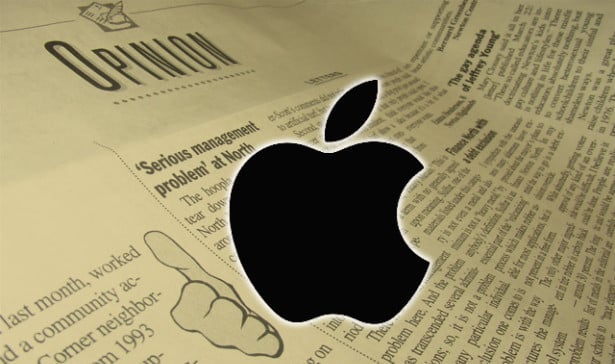 Shares of Apple's (NASDAQ:AAPL) struggling stock edged past $500 just after 12 p.m. on Wednesday in New York, a level they have not traded at since January 23. But shares did not stay above $500 for long, and they closed at $498.50, which was still a gain of $8.93, or 1.82 percent. Here's a cheat sheet to Wednesday's top Apple stories:
Apple Touches $500, But Can Icahn-Fueled Gains Last?
Prior to infamous activist investor Carl Icahn announced on Twitter that his firm, Icahn Enterprises (NYSE:IEP), had taken a "large position" in the world's largest publicly traded company, whose stock he referred to as "undervalued," Apple shares had lost more than 12 percent of their value so far this year. Wall Street appreciated his interest. Apple shares closed nearly 5 percent higher on heavy volume and posted their second best day of the year.
While the excitement over Icahn's investment added to the growing momentum shares of Apple have begun to exhibit, the recent activity in Apple's stock is nowhere near enough to undo the massive selloff that began in late September… (Read more.)
Can Carl Icahn Push Apple Stock Higher?
Apple stock been exploding higher over the last several years. The stock is currently breaking above a base established in the last few months. Analyzing the price trend and its strength can be done using key simple moving averages. What are the key moving averages? The 50-day (pink), 100-day (blue), and 200-day (yellow) simple moving averages. As seen in the daily price chart below, Apple is trading above its rising key averages, which signal neutral to bullish price action in the near-term… (Read more.)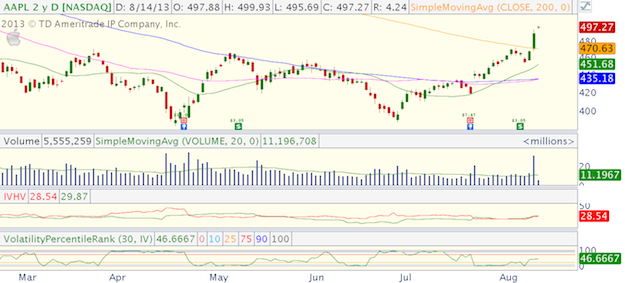 (Source: Thinkorswim)
5 Reasons Why Apple Investors Should Welcome the iCahn
On Tuesday, billionaire investor Carl Icahn announced via Twitter that his fund holds a "large position" in the world's largest publicly traded company. He believes Apple is "extremely undervalued," and had a "nice conversation" with chief executive officer Tim Cook about launching a larger buyback immediately. The activist investor did not disclose the amount of his investment, but the amount is believed to be around $1 billion. In a statement, Apple said, "We appreciate the interest and investment of all our shareholders. Tim had a very positive conversation with Mr. Icahn today."
Wall Street also appreciated the interest. Apple shares closed nearly 5 percent higher on heavy volume, and posted their second best day of the year. Since hitting its 52-week low of $385.10 on April 19, Apple is up about 27 percent — but still down 8 percent for the year. Most Apple investors appear to be very welcoming of Icahn. The investor has been on a roll this year and is considered to have the Midas Touch. Here's a look at five Icahn stocks that have been golden this year… (Read more.)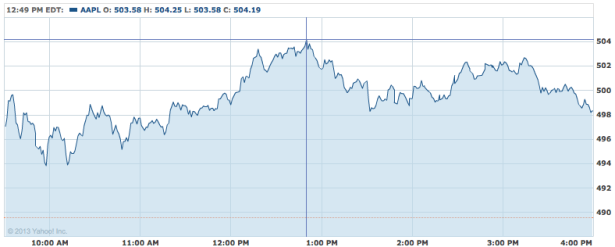 Thursday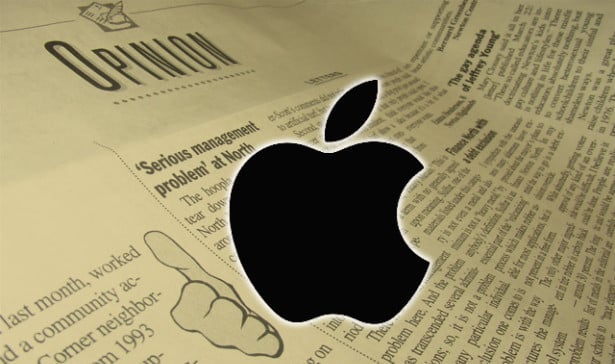 Similarly to Wednesday's movement, shares of Apple (NASDAQ:AAPL) inched above the $500 mark for a time on Thursday, only to fall beneath that level by market's close. Shares of the iPhone maker closed down $0.40, or 0.08 percent, at $498.10. Here's a cheat sheet to Thursday's top Apple stories:
Apple's Trickle Down: Does Cheap Credit, Massive Cash Hoard Give Value to Investors?
Apple has a ton of cash.
Too much cash, it seems — or at least, the company is getting sick of sitting on all of it. Apple was bored enough that someone took pocket change out of the vast vaults and snatched up Matcha.tv for anywhere around or more than $1.5 million as a project that could be the seeds of Apple TV, according to Venture Beat. The company also looks like it's going to roll out the iWatch at some point next year, a launch that no doubt took a fair amount of investment… (Read more.)
Will a Low-Cost Apple iPhone Hurt More Than Help?
With Gartner's latest smartphone market report on the minds of analysts and investors, two things are clear to all — smartphones are quickly taking over the mobile phone market and low-cost smartphones are the ones making it happen. The question is what does this mean for Apple  and its chances of success with a low-cost iPhone?
Smartphones shipments grew all across the board in the second quarter of 2013 but showed the most growth in Asia/Pacific, Latin America, and Eastern Europe, reporting growth rates of 74.1 percent, 55.7 percent, and 31.6 percent, respectively. That's because manufacturers are increasingly appealing to customers in emerging markets by catering to the budget end of the smartphone spectrum, offering smartphones now starting around $60 in 2013, while in the same period last year they were closer to $120 or more. But what is one manufacturer that doesn't yet offer these low-cost smartphones? Apple… (Read more.)
In Smartphone Wars, Samsung Bares Its Teeth with Anti-Apple Ads
Many consumers don't realize that Samsung Electronics (SSNLF.PK) has actually surpassed Apple in the smartphone footrace in terms of overall units sold, but luckily, that's all part of Samsung's strategy.
Apple Insider notes that the South Korean manufacturer prefers to be thought of as the challenger, because it drives the company to be constantly looking for new ways to innovate and expand and not get lazy. Samsung's chief marketing officer Arno Lenoir explains, "I don't think the public sees us as a market leader just yet, and I quite like that. I like being thought of as a challenger brand — I think even though we will be in most segments a market leader, we will always be acting like a challenger. And that comes back to that perpetual state-of-crisis mindset."… (Read more.)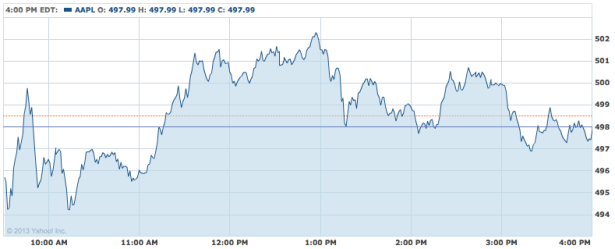 Don't Miss: Apple's App Store Is Now More Kid-Friendly.
Follow Meghan on Twitter @MFoley_WSCS
Friday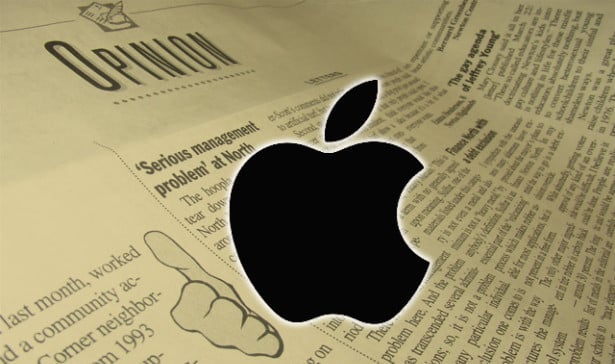 Apple (NASDAQ:AAPL) closed above $500 per share on Friday for the first time since January. The news that activist investor Carl Icahn, a man known for taking large stakes in companies he judges to be ill-managed or undervalued and pushing for change, had taken a large position in the iPhone maker calmed investors, leading to this week's rally. During the five-day trading period, shares advanced 10.54 percent or $47.88. The stock ended Friday up $4.42, or 0.89 percent, at $502.33.
Is Apple's China Hiring Foreshadowing Bigger Plans?
After reporting a market share in China that got nearly halved, it appears Apple is about to substantially step up its game in one the world's most crucial markets and second largest economy. According to The Wall Street Journal, China is making a concerted effort at hiring in China after job postings such as 'environmental affairs program manager' was scouted out on LinkedIn (NYSE:LNKD). Positions such as 'store specialist' are also being coveted by Apple — a sign that the company is taking its recent weak performance in China very seriously.
This also comes at a time of increasing speculation of whether or not the tech giant is nearing a deal with China Mobile Limited (NYSE:CHL) to carry the iPhone… (Read more.)
Report: Apple Flash-Launches Final Test of
iOS

7

The anticipation for Apple's iOS 7 may have been too much to take. Following reports that Apple had its final test version of iOS 7 coming out on Monday, MacRumors has confirmed it's already a done deal. Developers got their hands on the sixth beta version late Thursday, giving them a few extra days to play with the final test run in advance of the September launch.

Tech sites everywhere had the release slated for Monday, as per Apple's pattern when sending out earlier versions of the iOS 7 tests… (Read more.)
Samsung Pays ITC to Keep Violating Apple Patents
The patent drama between Apple and Samsung (SSNLF.PK) continues. It seemed Apple had won the drawn-out battle on Friday, when the International Trade Commission ruled that some of Samsung's products violate patents held by Apple. The ITC said that Samsung could continue selling those products if they paid a surety bond of 1.25 percent, which Samsung has done, FOSS Patents reported Thursday.
Apparently, Samsung is willing to pay a bond to the ITC in order to continue importing and selling the offending smartphones and tablets…. (Read more.)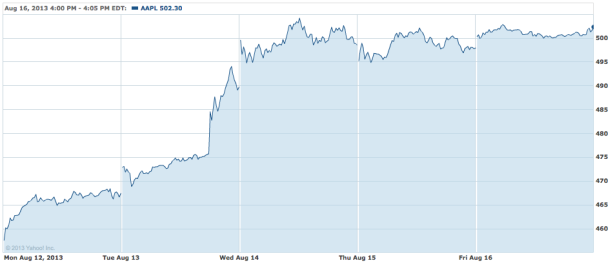 Follow Meghan on Twitter @MFoley_WSCS