15 Hot Apple Stories Pushing the Stock Up Another 2.85% This Week
Monday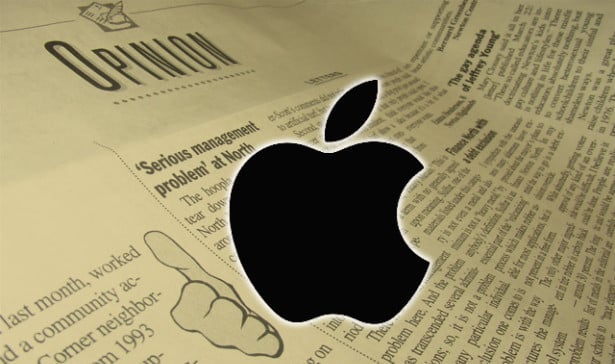 Apple (NASDAQ:AAPL) announces earnings after the bell on Tuesday, July 23, and shares jumped around quite a bit throughout Monday's trading, especially since most analysts are predicting less-than-inspired results, although some are slightly more optimistic than others. Shares began the day at $429.46, and eventually hit a high of $429.75 and a low of $425.47, before closing up $1.36, 0.32 percent, at $426.31. Here's a cheat sheet to Monday's top Apple stories:
Analyst: Apple's Earnings May Disappoint, Just for Now
In a note, Piper Jaffray analyst Gene Munster expressed his belief that average Wall Street expectations for Apple may be a bit too high in some regards, but he does see some positive quarters ahead for the iPhone maker. As Apple's stock has struggled for much of the past nine months, a change of pace is likely welcomed by many investors.
It seems faith in the company's stock is about to be buoyed by a slew of new devices over the next year and a half, but timing will be critical for finding the right moment to invest. Apple will be reporting on the June quarter on Tuesday, and Munster believes the report will be "uninspiring" in terms of unit sales and gross margin. However, he believes that Apple's new products will turn things around… (Read more.)
Analysts Take a Bite Out of Apple Before Earnings
Apple will report earnings after the bell on Tuesday, July 23, and analysts seem eager to downwardly revise their earnings and sales estimates. Misses from other big-name tech companies  like Samsung (SSNLF.PK),  BlackBerry (NASDAQ:BBRY), and HTC have helped drive estimates down over the past few weeks, and the consensus seems to be that the company and the stock are simply slogging through the dog days of summer heading for greener pastures in the second half of the year.
Weighing in a day before the earnings, Topeka Capital analyst Brian White lowered his third quarter revenue projection from $36.52 billion to $35.28 billion. This is slightly ahead of the average analyst estimate at $35.09 billion, and at the upper end of Apple's guidance of a range between $33.5 and $35.5 billion. White lowered his earnings projection from $7.45 to $7.37 per share, also above the average analyst estimate of $7.31 per share… (Read more.)
Analyst: Investors Should Be 'Forgiving' Over Apple Earnings
Apple's upcoming third-quarter earnings report will probably not delight any Apple investors. Apple is expected to post year-over-year declines for the second quarter in a row. According to Yahoo Finance, Apple consensus revenue for the June quarter is $35.09 billion and consensus EPS is $7.31. Last year Apple posted $35 billion in third-quarter revenue and EPS of $9.32.
"Even if the quarter is horrendous and the outlook is bad — and it's hard not to see the worst — we are in a period where you have to be forgiving. People have been unforgiving, but we have to be forgiving because you are going to have a new product cycle that starts and when they give guidance they won't put that in, they don't want to tell, they don't want to reveal too much," said Topeka Capital Markets senior analyst Brian White via CNBC… (Read more.)

Don't Miss: Has Apple's iPhone 5S Launch Been Delayed?
Follow Meghan on Twitter @MFoley_WSCS
Tuesday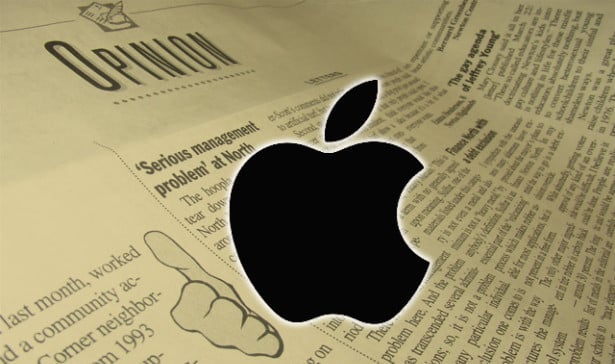 Throughout the entire trading day Tuesday, Apple (NASDAQ:AAPL) investors had one thing on their minds — earnings. Shares closed down $7.32, or 1.72 percent, at $418.99, but once the past quarter's earnings report — which showed the company's top line and bottom line results beat analysts' expectations — shares shot up as much as $15.41, or 3.86 percent. Here's a cheat sheet to Tuesday's top Apple stories:
Apple Earnings: Here's Why Investors Like These Results
The iPhone maker delivered a profit and beat Wall Street's expectations, AND beat the revenue expectation. The revenue beat is a positive sign to shareholders seeking high growth out of the company.
"We are especially proud of our record June quarter iPhone sales of over 31 million and the strong growth in revenue from iTunes, Software and Services," said Tim Cook, Apple's CEO. "We are really excited about the upcoming releases of iOS 7 and OS X Mavericks, and we are laser-focused and working hard on some amazing new products that we will introduce in the fall and across 2014."
Looking forward, analysts have a more negative outlook for the company's next-quarter performance. Over the past three months, the average estimate for next quarter's earnings has fallen from a profit of $8.57 to a profit $7.96. For the current year, the average estimate has moved down from a profit of $40.67 to a profit of $39.32 over the last ninety days… (Read more.)
Live Apple Earnings: The Hits and the Misses
Investors and curious market participants would be doing themselves a disservice if they only looked as far as the top and bottom line. This quarter, like last, Apple's industry-leading margins will be in the spotlight. Gross margins at the tech company were 37.5 percent in the second quarter and 42.8 percent in the year-ago quarter. The company guided third-quarter margins in a range between 36 and 37 percent.
The million — billion, more likely — dollar question is: What's next for Apple? On the company's last earnings call, CEO Tim Cook indicated that the company would need some more time before it pulled another iRabbit out of its hat. Analysts are looking for the iPhone 5S and perhaps a lower-priced model in the second-half of the year, and investors will have an ear on the earnings call for hints… (Read more.)
Why Is Apple Teaming Up with Samsung? 
Apple's second-generation iPad mini is facing some production hiccups, as Apple supplier AU Optronics (NYSE:AUO) is reportedly unable to meet production requirements for the new iPad's low-power LCD screens. AUO has been a long-time partner of Apple's, but if it can't meet the production demands for the new iPad, some are speculating that Apple could turn to rival Samsung (SSNLF.PK) to meet its needs. Screens for the current iPad mini are made by AUO, LG Display (NYSE:LPL), and Sharp. According to Apple Insider, Sharp will remain a supplier, as it's the only company that produces low-power oxide semiconductor LCD panels, which help save electricity.
Apple could easily drop AUO, according to ETNews, because it "could not secure orders from Apple since it had failed to develop a high penetration LCD for the iPad Mini 2."… (Read more.)

Follow Meghan on Twitter @MFoley_WSCS
Don't Miss: Motorola's Patent Suit Against Apple Goes to Federal Court.
Wednesday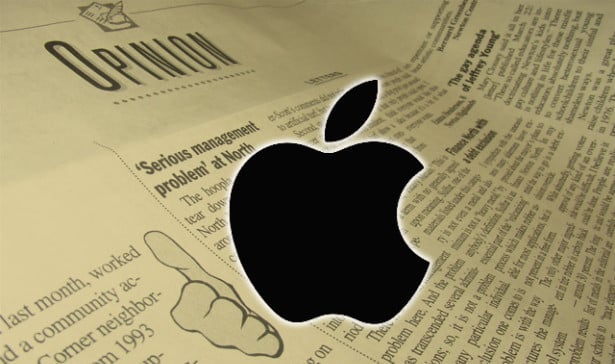 One day has passed since Apple (NASDAQ:AAPL) released third quarter earnings, and shares are steadily picking up steam. Thanks to the company's better-than-expected results, including strong iPhone sales, pushed the iPhone maker's stock to its biggest one-day percentage gain this year. Shares ended the day Wednesday up $21.52, or 5.14 percent, at $440.51. Here's a cheat sheet to Wednesday's top Apple stories:
Apple Earnings Call Insights: The Mix and iPhone ASPs
Tim Cook – CEO: "From an iPhone point of view Tony [Sacconaghi of Sanford Bernstein], with the moves that we made on 4 and with iPhone 5 continuing to be the most popular model, we saw very strong sales in several of the emerging markets, sort of pre-pay markets, India was up over 400%, Turkey and Poland were both up over 60%. The Philippines were up about 140% and these were – in addition we saw very strong iPhone sales in several of the developing markets, for example the U.S. was up over 50%, Japan up over 60%, the U.K. about 50% and so we had several regions where iPhone actually accelerated from the previous quarter which is a unusual pattern for us. And we were very happy with those… (Read more.)
Apple's Massive Cash Hoard Hits New Record
Apple reported its latest round of earnings after Tuesday's closing bell. Despite the negative sentiment surrounding the tech giant over the past year, the results topped expectations. In addition, Apple proved it's still a huge cash machine, and is willing to return some greenbacks to investors.
For the company's fiscal 2013 third quarter, Apple posted a net profit of $6.9 billion ($7.47 per diluted share), compared to $8.8 billion ($9.32 per diluted share) a year earlier. Revenue edged slightly higher from $35.0 billion to $35.3 billion over the same period. While growth and innovation continue to remain a concern, the results topped Wall Street's earnings estimate of $7.32 per share on revenue of $35 billion… (Read more.)
On Hold? Apple Wants to Make Waiting Fun
Apple's iPhones may one day include a feature that makes being put on hold a little less annoying. A recently awarded patent discovered by Apple Insider outlines a method for iPhone users to share content from their devices with other iPhone users that they put on hold.
In a patent titled "On-hold visual menu from a user's communications device," Apple describes how the user who places another iPhone user on hold can transmit a menu of interactive content to that person. The menu can be customized by the user according to how much information they want to share with a particular on-hold party. For example, a user could allow family members to access all of the content on their device while they are on hold. However, a user could also customize a restricted menu with limited content access that would be only be used for work associates… (Read more.)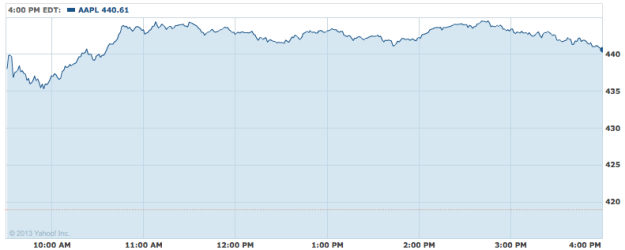 Follow Meghan on Twitter @MFoley_WSCS
Don't Miss: On Hold? Apple Wants to Make Waiting Fun.
Thursday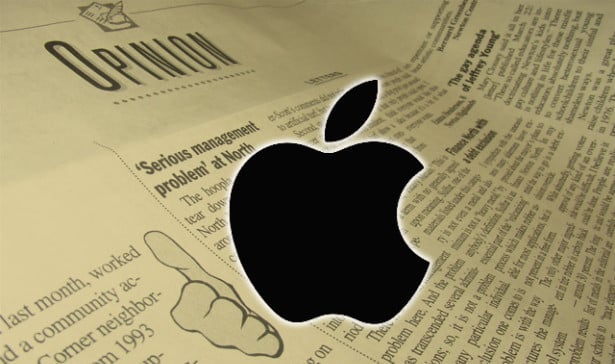 Apple (NASDAQ:AAPL) shares retreated slightly from Wednesday's bumper movement on the stock chart. After trading just above $440 per share, the iPhone maker's stock dropped $2.01, or 0.46 percent, to $438.50 on Thursday. Here's a cheat sheet to Thursday's top Apple stories:
You May Not, But Apple Has Faith in Itself
Though the bulls and the bears are still debating whether Apple's recent quarterly earnings result show that the company is getting better or worse, there is one major investor who definitely believes that the best is yet to come. Last quarter, Apple put its money where its mouth is and spent $16 billion repurchasing its own shares, according to analyst Horace Dediu at Asymco.
Dediu notes that this staggering amount is more than what many companies are worth. Finnish smartphone maker Nokia (NYSE:NOK) is valued at $15 billion, and BlackBerry (NASDAQ:BBRY) and HTC are each worth less than a third of Apple's share buyback expenditure. In an earnings conference call with analysts, Apple Chief Financial Officer Peter Oppenheimer explained the rather complicated and massive accelerated share repurchase program… (Read more.)
Analyst: Apple Moving Beyond Jobs
Are Apple's executives still working under the shadow of legendary Apple CEO Steve Jobs? Greencrest Capital senior analyst Max Wolff believes that Apple has been struggling to develop a future strategy independent of Jobs's influence ever since the former CEO left the company, reports CNBC. "They're about to get the ghost out of the boardroom. They'll start making what the market is telling them to make, and not what someone is channeling out of the ghost of Steve Jobs," Wolff told CNBC. As an example of how Jobs's personal opinions may still be shaping the company's decisions, Wolff alluded to the former Apple CEO's observation that a 3.5-inch phone screen is the "perfect size."
Perhaps in deference to Jobs's screen size opinion, Apple neglected to increase the size of the iPhone screen until the latest iPhone 5 model… (Read more.)
5 Bullish Analysts' Reactions to Apple's Happy Earnings
Although third-quarter results revealed that Apple's (NASDAQ:AAPL) gross margins slipped from 42.8 percent to 36.9 percent and that profit declined by 22 percent from the year-ago quarter, the iPhone maker still managed to beat most analysts' expectations. As a result, several bullish analysts picked up on some positive future trends in Apple's better-than-expected quarterly report. Via Barron's, here are five analysts' happy reactions to Apple's fiscal third-quarter results.
Brian Blair: Although Wedge Partners analyst Brian Blair doesn't offer an official Apple stock rating, he does state via Barron's that, "it's time to own Apple again."… (Read more.)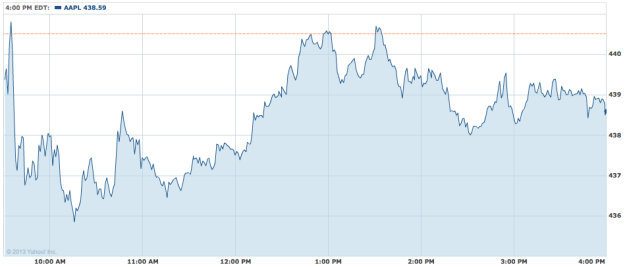 Follow Meghan on Twitter @MFoley_WSCS
Don't Miss: Verizon Takes a Stand for Apple.
Friday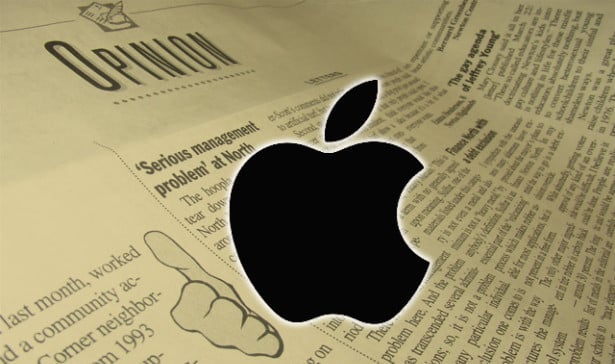 Apple (NASDAQ:AAPL) closed the day up 0.57 percent at $440.99 per share on Friday. The stock closed the week up 2.85 percent, with most of the gains coming from a strong second-quarter earnings report on Tuesday evening. Here's your cheat sheet to Friday's top Apple stories:
Apple to China: Only Use Genuine Chargers
Earlier this month, two separate incidents of people being electrocuted while using iPhones that were still plugged into the chargers were reported by the Chinese media. Now Apple has taken a proactive step towards preventing these types of incidents, by posting a guide for identifying genuine Apple chargers on its China website, reports the Wall Street Journal.
"Apple always puts the user's safety first, so all of our products are subject to stringent safety and reliability testing, and designed to meet government safety standards around the world, including the iPhone and iPad USB power adapters. This overview will help you identify genuine Apple USB power adapters," states Apple on its China website, via a Google (NASDAQ:GOOG) translation… (Read more.)
Is Apple Facing a Mid-Range Smartphone Market Showdown?
Will Apple's upcoming product launches boost its overall smartphone market share, or will the iPhone maker lose more ground to new mid-range devices from Chinese smartphone vendors? According to market research firm ABI Research, Apple may soon face more market share competition from various low-cost smartphone makers based in China.
"The second half of 2013 will be defined by fierce competition between price-aggressive OEMs moving toward the middle tiers for increased margins, while at the same time top tier OEMs are diversifying portfolios into the middle in search of continued growth," states ABI Research senior practice director Jeff Orr… (Read more.)
Is the iPhone Falling Behind in the Global Smartphone Market?
"The smartphone market is still a rising tide that's lifting many ships. Though Samsung and Apple are the dominant players, the market is as fragmented as ever. There is ample opportunity for smartphone vendors with differentiated offerings," states IDC Senior Research Analyst Kevin Restivo. The report also notes that Apple is widely expected to launch a lower-cost iPhone model this fall, which will likely boost its share of the worldwide market.
Apple's rival smartphone maker Samsung also had a low growth rate of 43.9 percent. This was below the industry's year-over-year average growth rate of 52.3 percent, although it was still more than double Apple's growth rate last quarter. Chinese smartphone maker Lenovo (LNVGY.PK) had the highest rate of year-over-year growth at 130.6 percent, thanks in large part to high shipment unit numbers in its domestic market… (Read more.)
Don't Miss: Apple to China: Only Use Genuine Chargers.