15 Hot Apple Stories Shaking Investor Direction This Week
Monday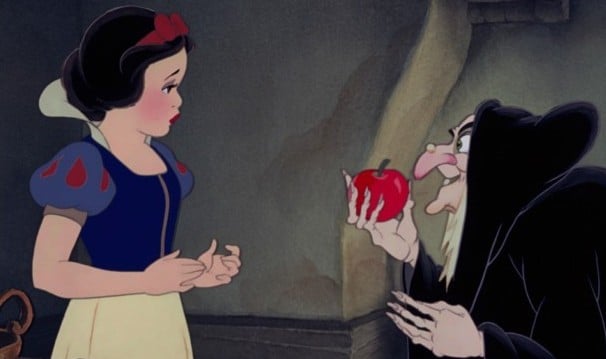 U.S. stocks closed broadly higher on Monday, and Apple (NASDAQ:AAPL)  was swept upward on the stock chart as well. Even with negative nitpicking continuing over the company's latest update to its mobile operating system and its future prospects, shares of the iPhone maker closed up $1.95, or 0.45 percent, at $432.00. Here's a cheat sheet to today's top Apple stories:
Is iOS 7 a Portent of Apple's Decline?
Does Apple's new iOS 7 reveal that the Cupertino-based company has lost its position as an industry innovator? Although many Apple aficionados embraced Apple's fresh take on its mobile operating system, others were disappointed that it seemed to be following in the footsteps of its competitors.
Many commentators have pointed out several features that, while new to iOS, have long been available to users of Google's (NASDAQ:GOOG) Android platform. Chuong Nguyen at Gotta Be Mobile notes that iOS 7's card-based multitasking view has long been a feature of the Android operating system… (Read more.)
3 Reasons to Buy Apple Stock
Since falling from the $700-plus heights of September 2012, Apple stock has gained a reputation for volatility. The last several months have not helped Apple's reputation in this regard, since the stock dipped below $400 in April before its $100 billion shareholder capital return plan and dividend increase briefly propelled the stock above $450.
Despite the anticipated "June bounce" from the Worldwide Developers Conference last week, Apple stock finished the week down 3.31 percent at $430.05. With so many naysayers doubting Apple's viability, it's a good time to reiterate three of the Cupertino-based company's fundamental strengths… (Read more.)
Apple: Don't Worry, We Don't Give Your Data to the Government
Early in June, a contractor for the National Security Agency named Edward Snowden blew the whistle on a program called PRISM. At a glance, PRISM is a massive surveillance program that allegedly includes the collection of data from America's largest internet, technology, and telecom companies. Slides obtained by the Washington Post reveal that Google, Facebook (NASDAQ:FB), Yahoo (NASDAQ:YHOO), Microsoft (NASDAQ:MSFT), and Apple are all apparently subject to monitoring… (Read more.)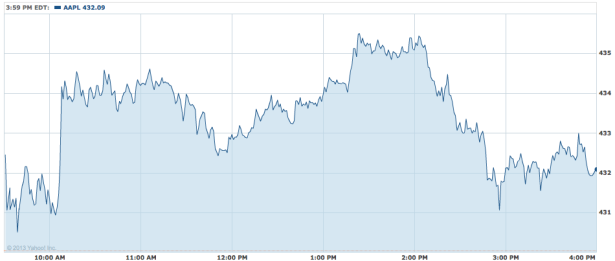 Follow Meghan on Twitter
@MFoley_WSCS
Don't Miss: Apple: Don't Worry, We Don't Give Your Data to the Government.
Tuesday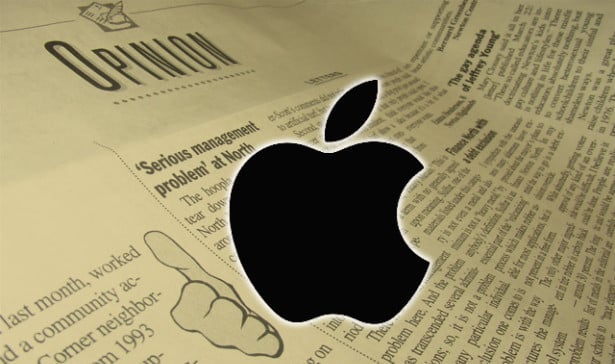 Even though Samsung (SSNLF.PK), a tough Apple (NASDAQ:AAPL) competitor, has been hit with a wave of analyst downgrades throughout June, shares of the iPhone maker have not made up any lost territory. So far this month, the stock has lost 0.34 percent of its value. Negative movement on the stock chart has generally been the path that shares have followed since hitting an all-time high last September. In keeping with that trend, shares closed down $0.23, or 0.05 percent, at $431.77. Here's a cheat sheet to today's top Apple stories:
Is Samsung Not the Apple Rival It's Billed As?
Sales estimates for Samsung's Galaxy S4 were slashed by as much as 30 percent last week, spawning investor concerns over the company's mobile devices division. Analysts now admit to making extremely optimistic forecasts for sales of the S4, citing industry data pointing to a fast-saturated smartphone market that they previously ignored.
The first company to cut its outlook for S4 sales, on June 5, was South Korea's Woori Investment & Securities. They were far from the last… (Read more.)
E-Book Drama: Did Amazon Muddle Evidence Against Apple?
An antitrust case over the pricing and contracts of e-books is underway in a Manhattan courtroom. Involved are two of the biggest Internet companies: Apple and Amazon (NASDAQ:AMZN). The controversy started around the time when Apple introduced its iPad and opened an e-bookstore. Shortly thereafter, according to The New York Times, Amazon changed the way it sold digital titles to a model called "agency pricing": one that allows publishers, not the retailer (in this case, Amazon) to set the price of the books… (Read more.)
The case the U.S. Department of Justice is trying to make states that publishers were unhappy with Amazon's uniform price of $9.99 for e-books, because they wanted to raise the price on new releases and bestsellers. The Justice Department believes Apple conspired with five big publishing companies by opening up an e-bookstore to force Amazon to switch to agency pricing, thus allowing publishing companies to price bestsellers at, say, $20 instead of the typical $9.99.
Are Google, Apple, and Samsung Focused on the Wrong Goals?
With all the smartphone competition between Google's (NASDAQ:GOOG) Android, Apple's iPhone, and Samsung's Galaxy, there has been a lot of innovation to impress consumers across the globe. However, long-time venture capitalist and Elevation Partners founder Roger McNamee was interviewed on Bloomberg Television discussing how he is unimpressed with what smartphone companies have done of late.
He likened the three tech giants to "keystone cops," running around chasing the wrong objectives and missing the most important element — service to their existing customers. Although Barron's reports that the primary target of McNamee's ire was Apple, both Google and Samsung received criticism as well… (Read more.)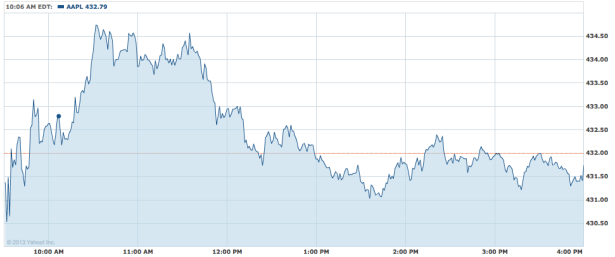 Follow Meghan on Twitter @MFoley_WSCS
Don't Miss: Can Little-Known Huawei Challenge Apple & Friends?
Wednesday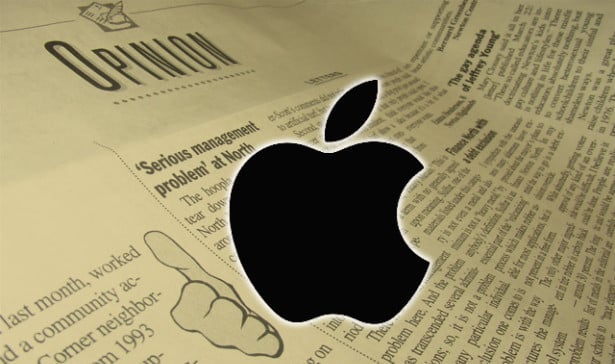 The volatile trading session, which was sparked by investors' anxiety regarding the outcome of the policy-setting Federal Open Market Committee meeting, pushed all three major U.S. indices in the red Wednesday and left shares of Apple (NASDAQ:AAPL) battered. The iPhone maker's stock ended the day down $8.77, or 2.03 percent, at $423.00. Here's a cheat sheet to today's top Apple stories:
How Bad Was Your Apple Bonds Buy? Pretty Bad
Have rising Treasury yields finally ended the bond bull market? Although Apple's $17 billion April bond offering was given the second-highest corporate bond rating by Moody's and Standard & Poor's, the prices of Apple's bonds have been steadily falling as Treasury yields rise.
This has had the unusual effect of making Apple's long-term corporate bonds more volatile and sensitive to price loss than the Cupertino-based company's stock. Investors who bought bonds issued by Apple are dealing with losses of more than 8 percent according to MarketAxess data cited by the Wall Street Journal… (Read more.)
Can the iWatch Be More Than a Hobby For Apple?
It seems as though analysts may have spent so much time trying to unveil when Apple rumored iWatch will come out, that they've forgotten to consider if it'll even be successful.
Citigroup analyst, Glen Yeung, wrote in a note earlier this month that he believes Apple has already primed its supply chain and is just waiting for the go-ahead to initiate production for the new highly anticipated product. He events contends the launch could take place before the year's end… (Read more.)
Has Microsoft Taken a Page Out of Apple's Book?
Microsoft (NASDAQ:MSFT) is taking a page out of Apple's book and offering the 32GB Surface RT at a discounted price to schools and universities across the globe.
Discouraged by paltry sales of its new tablet, Microsoft will offer the Surface RT, typically priced at $499, for $199. An RT equipped with a Touch Cover, normally offered at $599, will only be $249. One with a Keyboard Cover will be offered for $289, compared to a $629 cover price… (Read more.)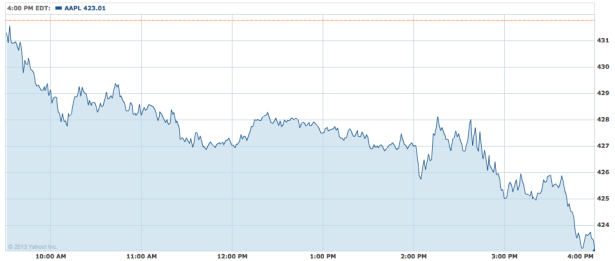 Don't Miss: Analyst: Tim Cook Deserves a Thumbs-Up.
Follow Meghan on Twitter @MFoley_WSCS
Thursday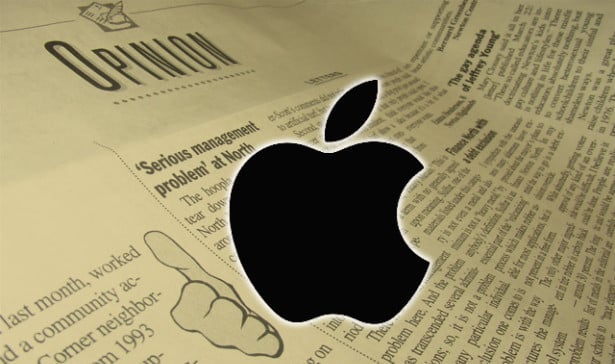 Apple's (NASDAQ:AAPL) introduction of the iPhone in 2007 and the iPad in 2010 may have shook up the technology world. Those inventions may have also helped the company launch a mobile revolution that left it a winner and forced other market players to play catch up after having failing to adapt quickly enough to the changes. However, the momentum those products created is flagging. Far below their September 2012 high, shares of the iPhone maker closed down Thursday $6.16, or 1.46 percent, at $416.84. Here's a cheat sheet to today's top Apple stories:
Did Apple Just Double iPhone 4 Sales in China?
Apple now ranks fifth in China's burgeoning smartphone market with a 9 percent share in the first quarter of 2013, according to the latest data from market research firm IDC. According to an earlier report from industry research firm Canalys, Apple had slipped to sixth place in the last quarter of 2012. Samsung (SSNLF.PK) still ranks first in the Chinese market with a 19 percent share. However, 47 percent of the smartphones that Samsung shipped retailed for $200 or less.
Incredibly, Apple managed to grow shipments of its base model of iPhone 4 by 211 percent over the previous quarter. A rumored upcoming low-cost iPhone launch from Apple may also help the Cupertino-based company grab an even larger slice of the fast-growing low-end smartphone market in China… (Read more.)
Is the E-Book Trial Finally Going Apple's Way?
Is the tide turning in Apple's favor in the e-book antitrust trial? Judge Denise Cote, who is overseeing the trial, made an interesting statement towards the end of the court proceedings on Wednesday that seemed to suggest that the trial may end with a favorable outcome for Apple.
According to Philip Elmer-DeWitt at CNNMoney, Judge Cote stated, "I thought I had prepared so well. I learned a lot. But you have helped me understand so much more through the evidence. I look forward to your summations. It seems to me the issues have somewhat shifted during the course of the trial. Things change. People have to stay nimble. I'm looking forward to understanding where we are now." This seems to indicate a change of opinion for Judge Cote that could bode well for Apple… (Read more.)
Apple Supplier: Low-Cost iPhone Will Not Be Cheap
How cheap will Apple's rumored low-cost iPhone be? According to a China Times report via the Japanese blog Mac Otakara, Pegatron CEO T. H. Tung stated at his company's shareholders meeting that the so-called low-cost iPhone price "is quite high."
This had led some commentators to speculate that the "cheap" iPhone will actually retail as a mid-range price smartphone. Although the existence of this product has yet to be confirmed by Apple, Tung's statements seem to indicate that the Taiwan-based Pegatron is currently involved in the production of this new iPhone. Via Mac Otakara, Tung also noted that Pegatron's "production plants [are] busy and [in a] non-stop state." The CEO also said Pegatron has plans to hire additional employees to help with production of the low-cost iPhone in the second half of 2013… (Read more.)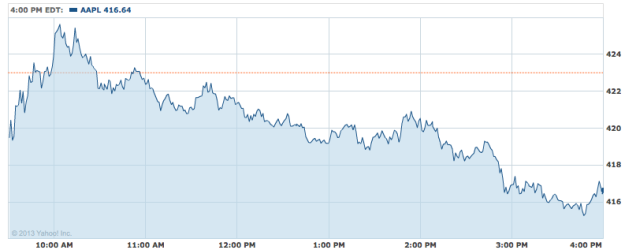 Don't Miss: Apple Supplier: Low-Cost iPhone Will Not Be Cheap.
Follow Meghan on Twitter @MFoley_WSCS
Friday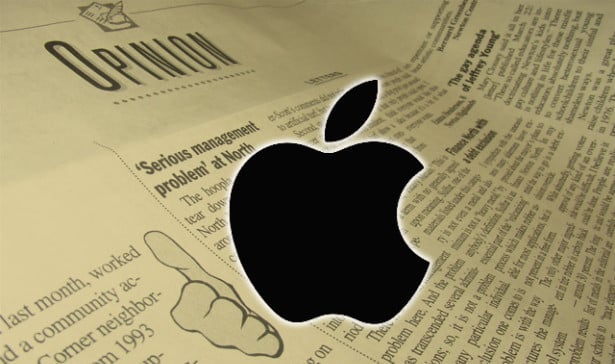 Apple (NASDAQ:AAPL) shares took a beating this week. While U.S. stocks experienced sell-offs across the board after Federal Reserve Chairman Ben Bernanke indicated that the central bank may soon consider ending its stimulus program, Apple shares had to contend with additional investor malaise. Shares of the iPhone maker lost 3.85 percent over the five-day trading period and ended Friday down $3.34, or 0.80 percent, at $413.50. Here's a cheat sheet to today's top Apple stories:
Analyst: The Cost of Disloyalty to Apple Is High!
What's the cost of switching from Apple's platform to an Android-based competitor? Goldman Sachs analyst Bill Shope set out to answer this question by exchanging his own iPhone with a Samsung (SSNLF.PK) Galaxy S4. Via Barron's, Shope concludes that "the cost of switching platforms is significant" and goes beyond the mere dollar cost. With the goal of replicating all the content found on his iPhone, Shope discovered that he had to pay $79.85. However, even after using Apple's iTunes Match service, Shope was still unable to transfer all of his iTunes content to Samsung's Android platform.
As a result, Shope lost 13 percent of his "apps and iTunes-based content."… (Read more.)
Can Samsung's New Tablet Take a Bite Out of Apple?
Samsung's newest tablet can run both Microsoft's (NASDAQ:MSFT) Windows 8 and Google's (NASDAQ:GOOG) Android applications in a move meant to challenge Apple's current dominance in the tablet market.
The ATIV Q tablet, which has a hinged keyboard to provide the same ease of use as a laptop, will allow users to share files between Windows 8 and Android apps. Samsung is using similar techniques that made it the number one maker of smartphones to increase its share in the tablet market. By offering multiple operating systems, Samsung is providing its users with more choice than Apple, whose iPad tablets only run on iOS… (Read more.)
Apple's iPad Still King of the Mountain
Ever since Apple released the first generation of iPad in 2010, tablets have become an increasingly more popular choice for consumers shopping for a mobile computing device. A recent survey conducted by Frank N. Magid Associates revealed which models of tablets are the most popular in U.S. households.
Apple continued its dominance of the U.S. tablet market this year, with 59 percent of tablet owners using some iteration of Apple's iPad or iPad mini… (Read more.)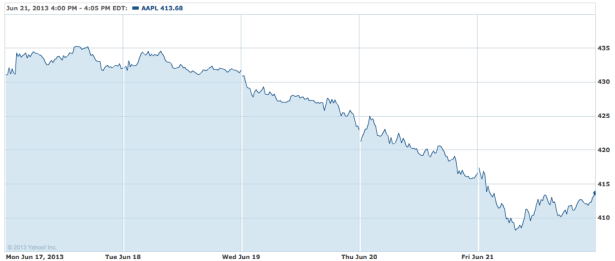 Don't Miss: What Is This Company Suing Apple Over?
Follow Meghan on Twitter @MFoley_WSCS