15 Hot Apple Stories You Must Know This Week
Monday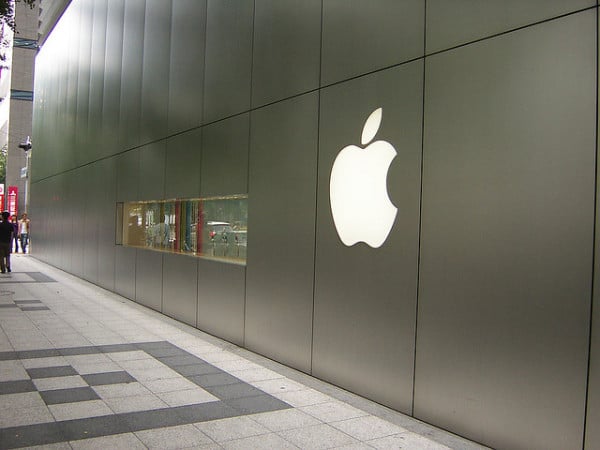 For the month of May, Apple (NASDAQ:AAPL) traded fairly consistently between $440 per share and $450 per share, moving above or below that range just occasionally. As Oppenheimer analyst Carter Worth said on CNBC Monday, the stock's daily action has been impressive; recently, share price has broken above the well-defined downward trend the stock has been following since hitting an all-time of $705 last September. The stock has "limited downside risk" and potentially a lot of upside, he added. Shares of the iPhone maker closed up $0.99, or 0.22 percent, at $450.72 on Monday. Here's a cheat sheet to today's top Apple stories:
Apple May Actually Boost Margins With This Device
A low-cost iPhone may have seemed like a dangerous move for Apple to consider, but that could be far from the truth. A new, cheaper device could be a new cash cow for Apple. Many had seen the prospect of a cheap iPhone as a good way for Apple to widen its consumer base in developing countries like China, where Google's (NASDAQ:GOOG) Android has been dominating because of its ability to hit many different price points. The move could also help draw in consumers who are new to the smartphone market.
One of the big concerns about such a device is that it would be crushing to one of Apple's greatest assets: its high profit margin. The device would not only cannibalize sales of the higher-end, higher-profit-margin iPhone model, but potentially reduce the company's profit margin… (Read more.)
Is This the Latest Apple Store?
Is Apple opening its next retail store in this Alpine country? Switzerland-based website Macprime.ch has uncovered seven Apple positions for Basel, Switzerland, that are being advertised on the jobs.ch website. Some of the advertised job positions include: Business Manager, Customer Advisor/Apple Specialist, and Technical Customer Service/Apple Genius.  Macprime.ch has also claimed to have acquired the exterior plans and the interior floor plans for the two-story Basel Apple Store. The floor plans reveal a typical Apple Store layout with long sales tables and two Genius Bars… (Read more.)
How Many More Taxes Can Apple Dodge?
The tax troubles never end, and once again it's Apple that is in the deep end. In France, Apple is about $6.5 million dollars deep in back-taxes. France has a special tax that benefits the creative folks of the country by collecting a special tax on the sale of digital devices that use copyrighted content. Of course, Apple's devices fall into that category, as tablets are known to be used heavily for media consumption. But, it doesn't seem that Apple paid that tax.
There is a group in France, called SACEM, that controls royalty payments to authors, composers, and the like.  According SACEM, Apple did not pay 5 million euros — about $6.5 million — in taxes that it owed on iPads sold in France in 2011… (Read more.)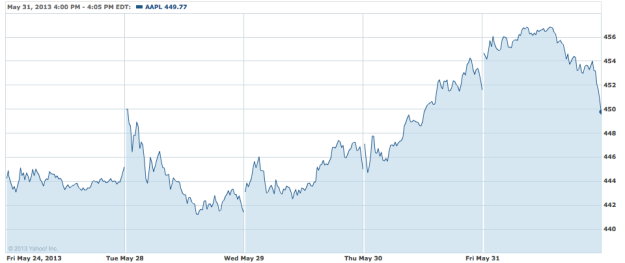 Follow Meghan on Twitter @MFoley_WSCS
Don't Miss: Will Apple's iRadio Join the Competition This Summer?
Tuesday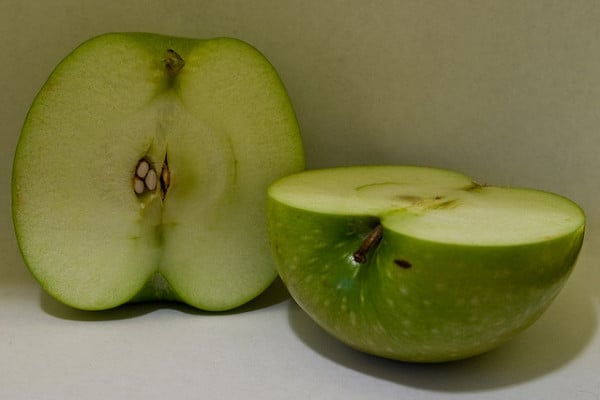 Apple (NASDAQ:AAPL) investors may have not appreciated this news: sources connected to the company's Taiwanese suppliers indicated that production for the next iPad mini could be delayed by a month, pushing the release back as late as the beginning of 2014. The fact that speculation over whether the Federal Reserve will scale back its stimulus efforts has continued did not make investors feel any more confident. At any rate, shares of the iPhone maker ended Tuesday in the red, closing down $1.41, or 0.31 percent, at 449.31. Here's a cheat sheet to today's top Apple stories:
Will Apple's Flawed Marketing Strategy Cause It to Sink?
New data revealed by a Fast Company report demonstrates that Apple's (NASDAQ:AAPL) smartphone reign may not be as secure as the company would hope, and it has no one to blame but itself. Apple CEO Tim Cook and his management team aren't in denial about the company's discouraging financial performance. Consistent with the declining shipments of its new iPhone 5, it reported deflating profits in April for the first time in a century.
How did the company go wrong? It failed to listen to its customers… (Read more.)
Now, Apple's Bond Sale Looks Like a Smart Move 
Apple's enormous and unprecedented $17 billion bond sale helped the Cupertino-based company to raise funds for its $100 billion shareholder capital return plan. At the time, many investors questioned whether the low-yielding papers were truly a wise investment or just another over-hyped product from Apple, while professional traders advised their clients to avoid bonds and keep investing in stock.
But time has shown that there was hardly a better time to borrow that unprecedented amount in what was the company's first bond sale since 1996. On the six bonds it sold, the iPhone maker will pocket an initial $40 million from interest savings, thanks to the recent increase in yields… (Read more.)
Here's Apple's Newest Patent to Compete With Samsung
Apple has been awarded a patent for NFC-based cross-platform data transfer solution, a technology that will allow users of multiple Apple devices to transfer data between devices with a simple tap.
The iPhone maker has been issued a patent called "system and method for simplified data transfer" from the U.S. Patent and Trademark Office for a system that uses near field communications (also called NFC) to transfer data between devices. This technology is similar to the "S Beam" feature found on Samsung (SSNLF.PK) Galaxy phones. NFC components have yet to appear in Apple products, but will be particularly useful for owners of multiple Apple devices. In one embodiment of the patent, a user can tap a NFC-equipped iPhone against a NFC-equipped Mac to easily transfer files between the two devices… (Read more.)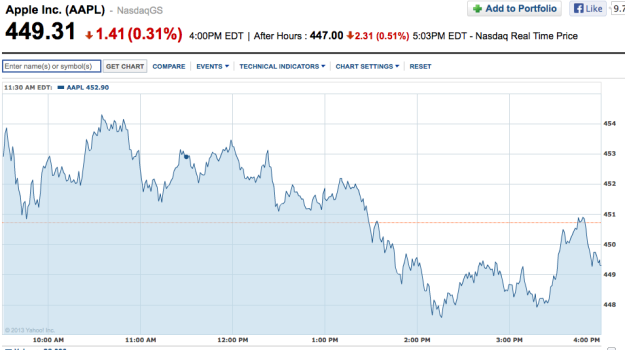 Follow Meghan on Twitter @MFoley_WSCS
Don't Miss: Is the iPhone Turning Gold?
Wednesday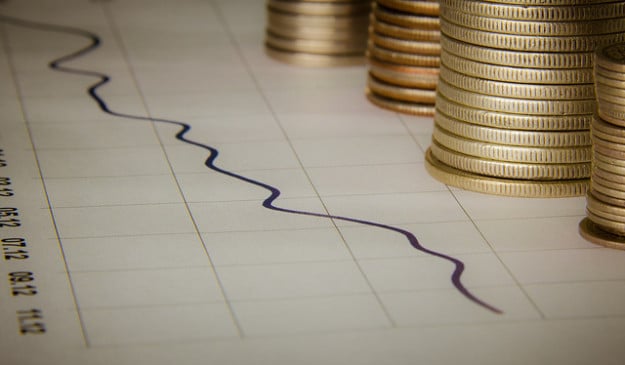 Shares of Apple (NASDAQ:AAPL) etched out a particularly volatile path Wednesday, one that closely resembled the dips and crests of a wild roller coaster. Throughout the day, shares crossed multiples times over the stock's 50-day simple moving average, but ended the trading session just below that marker. Shares also ended the day in the red, closing down $4.20, or 0.93 percent, at 445.11. Here's a cheat sheet to today's top Apple stories:
Gundlach: Apple Is Headed Back to $500!
Jeffrey Gundlach, the CEO and CIO of DoubleLine Capital, is continuing his relatively recent trend of coming out in support of owning Apple stock. Gundlach is perhaps best known for making a famously accurate call when he began shorting Apple in April of 2012 when it was still trading for around $610.
Gundlach recently discussed his latest views on Apple stock on CNBC's "FastMoney Half Time Report" with Scott Wapner. On a previous appearance on the show, Gundlach stated that if he was forced to choose on Apple stock, "I would own it instead of shorting it."… (Read more.)
Analyst: 3 Ways Apple Can Make More Money
Apple's enormous base of user accounts could become a significant future source of revenue for the company according to an analysis done by Morgan Stanley's Katy Huberty. The analyst notes that Apple's account base of 500 million users is second in size only to Facebook's (NASDAQ:FB) user base of approximately 1 billion.
However, Apple's user base is growing at a faster pace than other online retailers and generates more revenue per user. The Cupertino-based company's user base grew by 55 percent in 2012 and each user generates the company an average of $329. This surpasses second-ranked Amazon's (NASDAQ:AMZN) average revenue of $305 per user account and is significantly higher than the $125 that third-ranked eBay (NASDAQ:EBAY) derives from each of its user accounts. Based on this rate of growth, Huberty estimates that Apple's user base may reach as high as 600 million users this year. She notes that Apple could drive its future revenue growth merely by expanding the number of services that it provides through its ecosystem of products… (Read more.)
Apple: Spaceship HQ Will Bring California the Dough
Apple outlines the many economic benefits of its Apple Campus 2, or "spaceship campus," in a new report recently published on its site titled "Economic and Fiscal Impacts Generated by Apple in Cupertino — Current Facilities and Apple Campus 2." In this report, Apple notes the positive impact that it currently has on the local economy, and touts the additional benefits that the new multi-billion dollar facility will bring.
Apple states that the "iconic" centerpiece building will "accommodate up to 12,000 employees." It also notes that the company is expected to hire 7,400 additional employees between now and the scheduled Apple Campus 2 completion date in 2016. This will bring Apple's total employee count up to 23,400. The report also points out that Apple already has 16,000 employees that account for 40 percent of Cupertino's job base… (Read more.)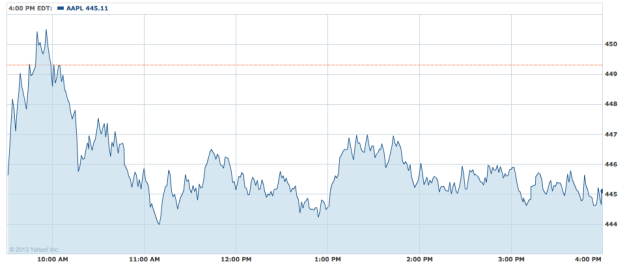 Follow Meghan on Twitter @MFoley_WSCS
Don't Miss: Speedy Apple Is Still Winning the U.S. Race.
Thursday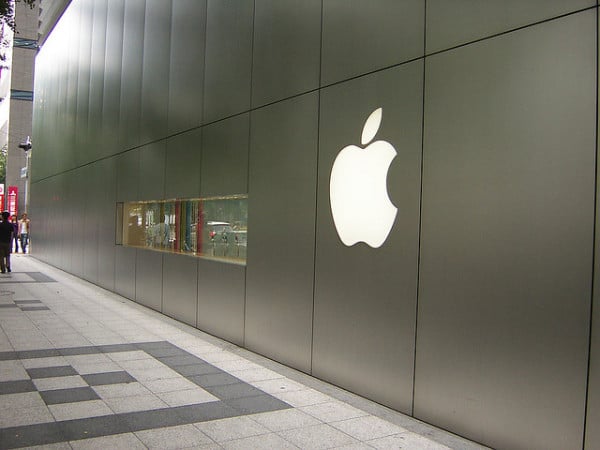 Even though investors bid the Dow Jones, the Nasdaq, and the S&P 500 into the green Thursday, ending a three-day losing streak, after the Federal Reserve reassured them that stimulus would be kept in place, Apple (NASDAQ:AAPL) was not carried up by that wave. With ongoing investor malaise and just the company's 24th annual developers conference to look forward to, shares dipped further into the red, following Wednesday's downward trend. Shares of the iPhone maker ended the day down $6.65, or 1.49 percent, at $438.46. Here's a cheat sheet to today's top Apple stories:
Will the ITC Ruling Hurt Apple's Bottom Line?
Will Apple's bottom line be negatively impacted by the U.S. International Trade Commission's decision to ban certain older models of its iPhone and iPad products? Although the ITC decision was a publicity coup for Samsung (SSNLF.PK), it should have a minimal impact on Apple's finances according to several high-profile analysts.
The ITC's ruling bans the importation and sale of the AT&T (NYSE:T) versions of the iPhone 3G, iPhone 3GS, and iPhone 4. It also bans the cellular versions of the original iPad and iPad 2. However, although Apple still sells some units of the iPad 2, the only banned product with significant sales is the iPhone 4. Wells Fargo analyst Maynard Um points out that Apple is already widely expected to debut a new iPhone in September. If Apple debuts a new model of iPhone, the iPhone 4 will likely be phased out regardless of the ITC ban… (Read more.)
Apple Keeps the Mobile Enterprise Crown
It's a well-known fact that Google's (NASDAQ:GOOG) Android platform is found on the majority of mobile devices today. However, despite Android's significant lead in the overall mobile operating system market, the platform's popularity has failed to cross over into the world of enterprise. When it comes to business, Apple's iOS remains the clear leader, according to the latest data compiled by Good Technology. Apple's iOS platform accounted for 75 percent of mobile device activations by enterprise users in the first quarter of 2013 according to Good Technology's latest Mobility Index report… (Read more.)
Help for Yelp: Apple Maps Improvement
Yelp's (NYSE:YELP) got some help, and it is coming in the form of improved Apple maps.
Yelp, the consumer review aggregate, whose shares have already been posting impressive increases, is about to get another big boost. The company's local listings were integrated into Apple's iOS operating system for the iPhone, iPad, and iPod Touch last year, and Apple's plans to refresh its own maps application could provide welcome improvements to Yelp's service. Barron's reports that Wedge Partners' Brian Blair expects the company to benefit from Apple's upgrade that will be discussed at its Worldwide Developer Conference in San Francisco next Monday… (Read more.)
Follow Meghan on Twitter @MFoley_WSCS
Don't Miss: Will the ITC Ruling Hurt Apple's Bottom Line?
Friday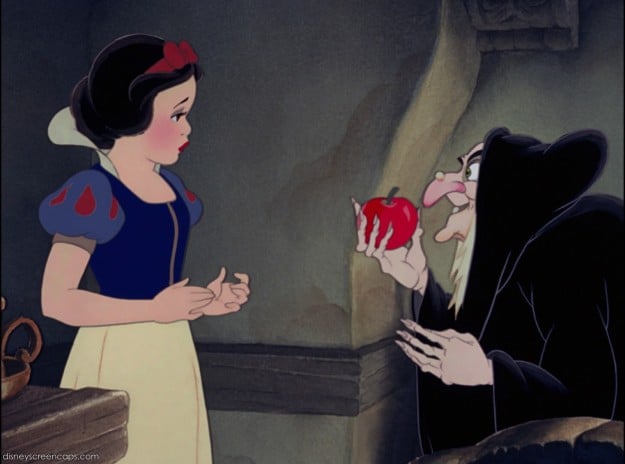 After a volatile trading week, Apple (NASDAQ:AAPL) ended Friday in the green; shares of the iPhone maker closed up $3.50, or 0.80 percent, at $441. But despite the upward momentum, the stock was unable to regain the all the losses it sustained over the five-day trading period. Investor discontent throughout the market — prompted by some uncertainty over Federal Reserve policy — and linger unease over Apple's future left the stock down 1.73 percent. Here's a cheat sheet to today's top Apple stories:
5 Things to Expect From Apple's WWDC
Apple's much-anticipated Worldwide Developers Conference kicks off this Monday, June 10 with a keynote presentation at the Moscone Center in San Francisco. As usual, there are rampant rumors about which new products and services the Cupertino-based company might unveil at the WWDC this year. Although you never know what unexpected surprises Tim Cook & Co. may have up their sleeves, here are five things to expect at this year's WWDC… (Read more.)
Your Wait for Apple's New Releases Just Got a Deadline
Are the rumors regarding an upcoming low-cost iPhone launch all wrong? Pacific Crest analyst Andy Hargreaves doesn't see a cheaper iPhone in Apple's future. However, he does believe that the Cupertino-based company will debut a new version of its flagship smartphone before the year is out. Hargreaves also thinks that the "iPhone 5 replacement" will be coupled with a higher-priced iPad mini that will feature a Retina display. Unfortunately he doesn't believe that these new products will significantly benefit Apple's long-term growth.
"While these products are not likely to materially change our long-term profit outlook for Apple, they would likely stabilize the company's margin profile and improve confidence in out-year forecasts. We believe this could drive AAPL toward the high end of our 12-month fair value estimate of $415 to $505," wrote Hargreaves via Barron's…(Read more.)
Did Google Just Help Apple in the E-Book Trial?
It's no secret that Google (NASDAQ:GOOG) — the maker of the Android mobile operating system — is one of Apple's biggest rivals in the industry. However, it appears that the Internet search giant has inadvertently given Apple's defense team an advantage in the Cupertino-based company's ongoing e-book antitrust trial.
The U.S. Department of Justice called Thomas Turvey, Google's director of strategic partnerships, as a government witness to help fortify its allegations that Apple conspired with publishers to price-fix e-books. However, soon after Turvey took the witness stand, it became clear that he was a liability to the government's case… (Read more.)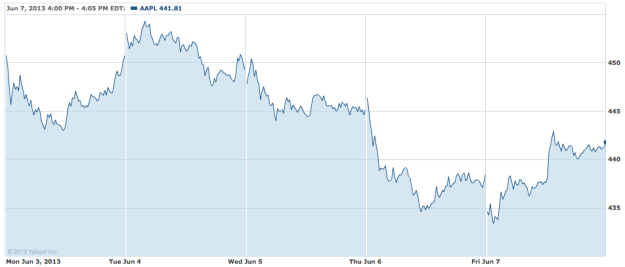 Don't Miss: Did Apple Help Google Get More Advertising Dollars?