15 Ripe Apple Stories Juicing Shares Upward This Week
Monday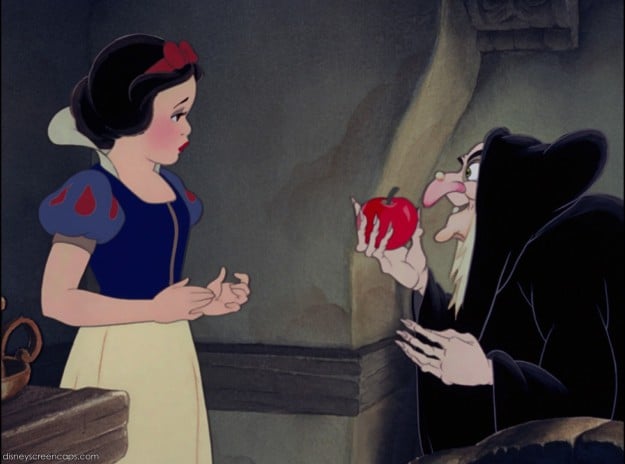 There may be a lot of criticism raining down on Apple (NASDAQ:AAPL) from analysts and from investors; several large shareholders, including David Tepper's Appaloosa Management and Julian Robertson's Tiger Management, even dumped large portions or completely exited their positions in the past quarter, as disclosed from last week's series of 13F filings. However, Apple customers are spending record amounts at Apple stores. After closing out last week in the red, shares of the iPhone maker ended Monday up $9.67, or 2.23 percent, at $442.93. Here's a cheat sheet to today's top Apple stories:
New Suicides at Foxconn Put Apple in a Pickle
Two employees of Taiwanese manufacturer Hon Hai Precision Industry Co. have fallen to their deaths since April, the company disclosed today.
Hon Hai is a large manufacturer of iPhones that has come under scrutiny for its labor practices in recent years. The deaths are a reminder of human rights struggles the manufacturer has faced after the suicides of at least 13 employees in 2010. The company, which uses the trade name Foxconn Technology Group, has instituted reforms since those deaths, but the tight relationship between Foxconn and Apple has been unraveling…(Read more.)
Is Apple Dodging Taxes?
Apple Chief Executive Officer Tim Cook is set to testify before Congress Tuesday on how his company manages its books.
Up for question at Tuesday's hearing are accounting practices such as Apple's reporting of a 25.2 percent rate, which takes into account the billions set aside each year for potential repatriation taxes, even though that money does not get paid to the government. Apple, like other multinationals, also does not have to reveal how revenues move between various subsidiary corporations, making tracing their taxable income even harder… (Read more.)
Is the U.S. Government Giving Apple Shoddy Treatment?
Is Apple being unfairly targeted by its own government? Apple and various departments of the U.S. government have been sharing some news headlines lately, and it's not for good reasons. First, the U.S. Department of Justice is proceeding with an antitrust lawsuit against Apple that alleges the company conspired with publishers to price-fix e-books… (Read more.)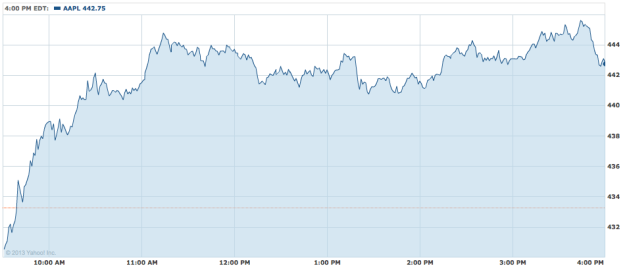 Follow Meghan on Twitter @MFoley_WSCS
Don't Miss: When It Comes To Retail, No One Is Better Than Apple.
Tuesday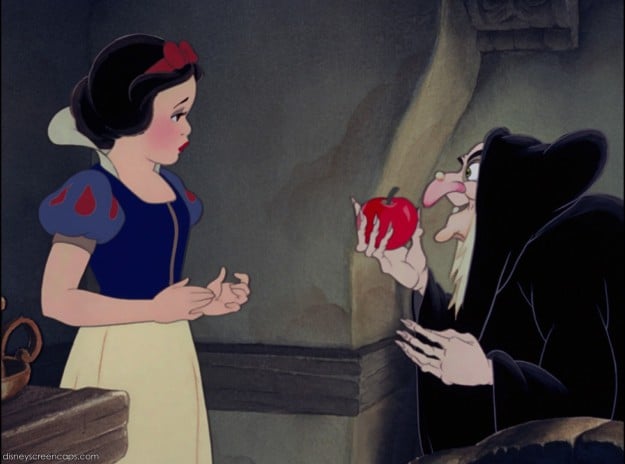 Apple (NASDAQ:AAPL) had a rough day, with Chief Executive Officer Tim Cook testifying before the Senate Permanent Subcommittee on Investigations regarding what The New York Times' iEconomy series termed the "extraordinary lengths" the iPhone maker has taken to avoid paying its fair share of taxes. Still, Apple made no apology for the company's tax strategy. But investors remained concerned; the company's shares fell $3.27, or 0.74 percent, to $439.66 on Tuesday. Here's a cheat sheet to today's top Apple stories:
Is Apple Still the World's Most Valuable Brand?
While there are many newcomers and large risers on the list of the world's most valuable brands, familiar names dominate the top of the rankings.
The world's most valuable 100 brands grew their worth 7 percent to $2.6 trillion last year, according to a new report by BrandZ, the world's largest brand equity database. All but two of the 13 categories in the ranking posted year-over-year growth, as technology and the oil and gas brands lagged behind overall. In comparison, the aggregate value of the list only edged 0.4 percent higher in the previous year and 4 percent during the official 2009 Great Recession… (Read more.)
Does Apple Have a Winning Plan Abroad?
Apple may have figured out its move for competing with Samsung (SSNLF.PK) and other rivals in foreign countries. But it may never be enough to actually come out on top.
Worldwide, Apple has had trouble keeping up with its major Korean competitor. While the iPhone might have been the first smartphone on the scene, it has never been the most affordable, and in a lot of places, that has been a problem. Developing nations have been particular trouble for Apple… (Read more.)
Cook: Apple's Tax Practices Are Not Unfair!
As Cook asserted in the opening moments of his testimony before the Senate, Apple paid a corporate tax rate of 30.5 percent in 2012, which resulted in a bill of $6 billion of the past fiscal year. The iPhone maker was not brought before the Senate subcommittee because it has violated the law, but because an analysis of the company's current practices will serve to further the legislative body's attempt to draft new tax codes. In response to questions from Senator Carl Levin of Michigan and John McCain of Arizona, Cook stated plainly: "We pay all the taxes we owe."… (Read more.)
Follow Meghan on Twitter @MFoley_WSCS
Don't Miss: Senate Fire: Apple's Tax Trickery Includes Ghost Firms.
Wednesday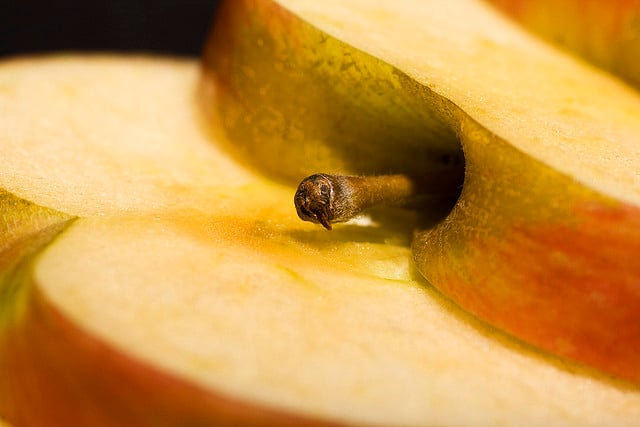 Apple (NASDAQ:AAPL) may be still smarting after Chief Executive Officer Tim Cook stood before the Senate Permanent Subcommittee on Investigations Tuesday and explained unapologetically the iPhone maker's tax policies, but the company's stock is not. Shares closed up slightly on Wednesday, rising $1.69, or 0.39 percent, at $441.35. Here's a cheat sheet to today's top Apple stories:
Here's Why Apple and Google Love Irish Tax Laws
Cook's appearance in front of the Senate Permanent Subcommittee on Investigations yesterday brought attention to the company's practice of establishing offshore subsidiaries in countries that have lower taxes than the U.S. However, Apple is not the only California-based technology company that avoids U.S. taxes by keeping profits overseas. Google (NASDAQ:GOOG) has also avoided paying U.S. income taxes with a practically identical tax-avoidance strategy.
The recent Senate hearing revealed that Apple has avoided income taxes on $74 billion in profit made between 2009 and 2012 by using multiple subsidiaries based in low-tax countries such as Ireland… (Read more.)
Apple's E-Book Fight Is Officially Solitary
Pearson PLC's (NYSE:PSO) book publishing arm, Penguin Group, has settled antitrust charges related to a deal made with Apple, agreeing to pay $75 million in damages to consumers over the way it priced electronic books.
When e-books were first taking off, publishers would set a wholesale price, then a slightly higher price for e-books. Retailers were free to offer discounts, which Amazon.com Inc. (NASDAQ:AMZN) took advantage of by offering hugely discounted prices on new releases to promote its Kindle e-book reader… (Read more.)
Is Apple's Chip Supply Stressed?
Does Apple have "moore" reason to worry? According to a note written on Tuesday morning, Jefferies & Co. analyst Peter Misek seems to think so. He cites Moore's Law and says he believes Apple, as well as other high-end smartphone makers, will start to feel the law's stresses as it begins to face some natural limits. The note comes as an increasing number of experts in the semiconductor business are ruminating about the end of Moore's Law and what it will mean for its disciples. Apple, one of the world's top suppliers of mobile computing devices, could be among those most affected… (Read more.)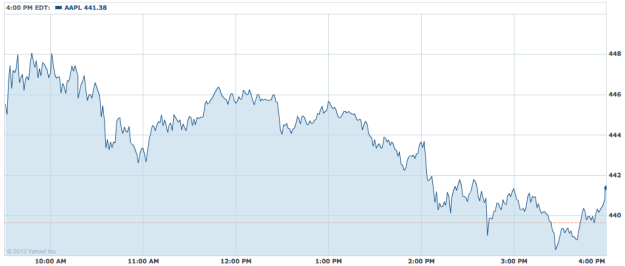 Follow Meghan on Twitter @MFoley_WSCS
Don't Miss: What Will These Grumpy Governments Do About Tax Evasion?
Thursday
Over the past few months, Apple (NASDAQ:APPL) has begun to lose its grip on its reputation as a company that could do no wrong: its mobile operating system has lost its lead to Google's (NASDAQ:GOOG) Android, its pace of innovation has slowed, and its stock price tanked. At one point, shares were 40 percent below the high of $705 they reached in September. However, since the iPhone maker reported earnings at the end of last month, the company's shares have made up some lost ground. The stock closed up slightly on Thursday, increasing $0.79, or 0.18 percent, to $442.14. Here's a cheat sheet to today's top Apple stories:
Apple Confirms WWDC 2013 Keynote
Apple has given its official confirmation that the Worldwide Developers Conference, or WWDC, will begin with a keynote presentation on June 10. WWDC events typically begin with a keynote presentation that gives attendees their first glimpses of any new Apple products. According to AllThingsD, Apple acknowledged the keynote address will take place on Monday, June 10, at Moscone Center in San Francisco. In a bit of a departure for the normally secretive company, Apple has already announced that it will be unveiling its latest versions of iOS and OS X. Apple's senior vice president of Worldwide Marketing, Philip Schiller, announced in an April 24 press release, "We can't wait to get new versions of iOS and OS X into their hands at WWDC."… (Read more.)
Apple's Newest Patent Target: Galaxy S4
In preparation for the next round of its patent infringement trial against Samsung (SSNLF.PK), Apple has added another five patents to its lawsuit. Apple has already raised the stakes for Samsung in the next patent trial by announcing that it intended to add Samsung's flagship Galaxy S4 device to the list of products that Apple believes are infringing on its patents. This latest filing makes Apple's request for the inclusion of the Galaxy S4 official, as well as citing the specific patents on which the device is infringing.
Via Foss Patents, Apple's filing states that "Apple determined that the Galaxy S4 product practices many of the same claims already asserted by Apple, and that the Galaxy S4 practices those claims in the same way as the already-accused Samsung devices."… (Read more.)
Is Apple Hiding Its Actual Tax Rate?
Is Apple obscuring its actual tax rate behind a web of offshore profit shifting? Earlier this week CEO Tim Cook told the Senate Permanent Subcommittee on Investigations that Apple paid $6 billion, or 30.5 percent, of its income in federal taxes. But does this figure tell the whole story? The 30.5 percent tax rate cited by Cook only covers Apple's U.S. income of $19 billion. This is approximately a third of Apple's global pretax income.
Martin Sullivan, the chief economist at the non-profit organization Tax Analysts, believes Apple is being disingenuous with its 30.5 percent tax rate figure. Sullivan states via Bloomberg that "Apple has shifted enormous amounts of profits from the United States to an untaxed entity overseas. That's the issue."If Apple's total worldwide income is considered, the company actually pays a much lower tax rate than 30.5 percent. According to Scott D. Dyreng, an assistant professor of accounting at Duke University, Apple pays an actual tax rate of less than 14 percent… (Read more.)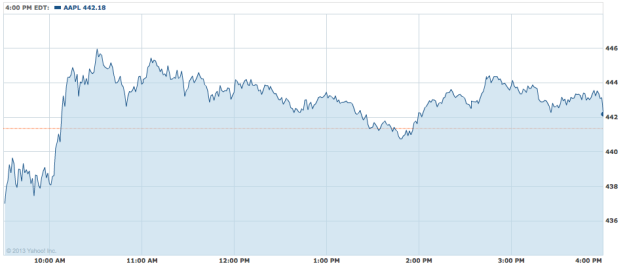 Follow Meghan on Twitter @MFoley_WSCS
Don't Miss: Apple's Newest Patent Target: Galaxy S4.
Friday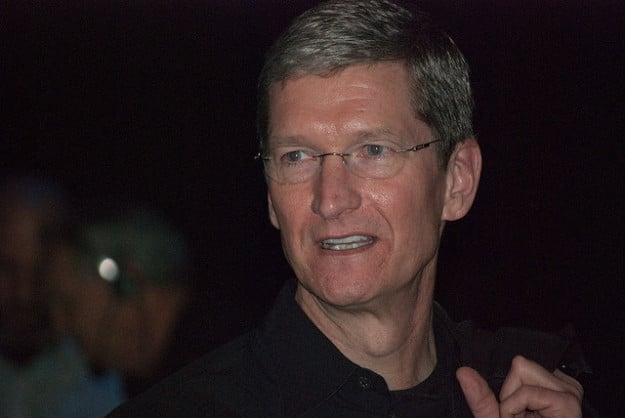 With Chief Executive Officer Tim Cook's defense of Apple's (NASDAQ:APPL) tax strategies before the Senate's Permanent Subcommittee on Investigations, a thumbs down from a federal judge in the company's e-book trial, and notorious Apple bear Doug Kass changing his opinion on the iPhone maker, shares etched out a jagged path this week. The stock ended the five-day trading period up 2.74 percent, and closed in the green on Friday as well, rising $3.01, or 0.68 percent, to $445.15. Here's a cheat sheet to today's top Apple stories:
Jon Stewart Chews On Apple Tax Hearing
Comedy icon Jon Stewart focused his satirical wit on Apple this week as he poked fun at CEO Tim Cook's appearance at a Senate hearing that was ostensibly about the company's questionable offshore tax havens. Although Cook was supposedly going to get a tough grilling from senators that were outraged over Apple's tax schemes, Stewart was quick to point out that the hearing was anything but hostile.
However, first Stewart gave a quick nod to another Apple issue that is probably of greater concern to most Apple users. In a fit of mock-righteous anger, Stewart declared "Finally — some accountability for Apple Maps!"… (Read more.)
Why is Doug Kass Changing His Tune on Apple?
Renowned Apple bear Doug Kass has recently changed his tune on Apple stock. Kass is perhaps most famous for advocating a bearish approach to Apple right before the stock plunged from its $700-plus high in September 2012. However, Kass now believes that Apple is a "long purchase," as the investment reward has begun to outweigh the risk. Via The Street, Kass states that Apple's "consensus sales and earnings expectations have been reduced dramatically and have now grown more realistic." With a consensus that more accurately reflects the actual value of the stock, Kass now believes that this is a good time to invest in Apple. He thinks the stock could go as low as $400 or as high as $525 over the next six to 12 months… (Read more.)
E-Book Trial Judge Gives Apple a Thumbs Down
Apple got a glimpse of what may lie ahead in the e-book price-fixing trial that it is currently preparing for, when the federal judge who is overseeing the trial took the unusual step of sharing her opinion on the merits of the Department of Justice's case. The Department of Justice alleges that Apple conspired with publishers to price-fix e-books and is backing these charges up with Apple's own email records… (Read more.)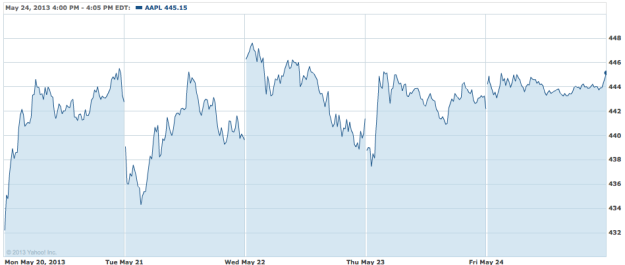 Follow Meghan on Twitter @MFoley_WSCS
Don't Miss: Android Attack Is Hitting Apple and Friends.