1976 Apple-1 Computer to Be Auctioned Next Week and 2 Heavily Traded Stocks to Follow
Apple (NASDAQ:AAPL): Current price $413.50
Next week, an 'antique' computer built by Apple way back in 1976 goes on the auction block at Christie's. The machine is an Apple 1, one of the first Apple computers ever built, and a forerunner of MacBooks, IPads and IPhones. Bids will begin at $300,000, with a pre-sale estimated value of as much as $500,000. The retired school psychologist Ted Perry, who owns the old Apple and has kept it in a cardboard box at his home outside Sacramento, commented that "This is a piece of history that made a difference in the world, it's where the computer revolution started." The device measured 11-by-14 inches, and was a green piece of plastic covered with a grid of memory chips above a labyrinth of wires, and was one of the first 25 computer elements, and sold at $666.66. About 200 were manufactured but most have since disappeared or have been discarded.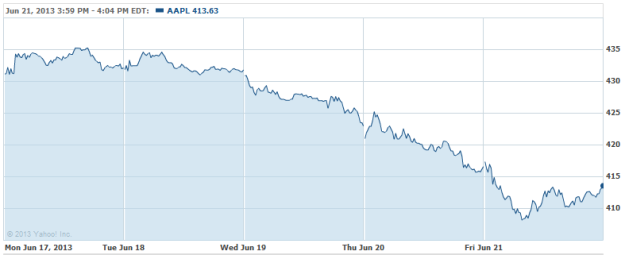 Petroleo Brasileiro – Petrobras (NYSE:PBR): Current price $13.80
Chief Executive Maria das Gracas Foster said on Friday that a recent fall in shares of the Brazilian government-led oil company Petrobras was overdone, and the impact of a weaker currency on the firm's earnings will only be known at the end of this month. Brazil's currency has depreciated over 10 percent since early May to 2.262 to the dollar. The stronger dollar will impact Petrobras' dollar-denominated debt and also the cost of importing diesel and gasoline, which it is obliged to sell at subsidized rates domestically at a loss.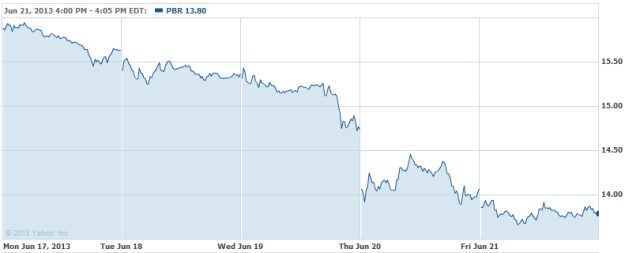 Rite Aid Corporation (NYSE:RAD): Current price $2.86
On Friday, Rite Aid reported the completion of a portion of its previously-announced debt refinancing transactions, that extends the maturity on part of Rite Aid's outstanding indebtedness and reduces interest expense. The finalized refinancing transaction was comprised of a cash tender offer for any and all of the company's $500-million aggregate principal amount of 7.5 percent Senior Secured Notes due 2017, that is being funded with the net proceeds from a new $500 million second lien term loan, along with available cash and/or borrowings  under Rite Aid's revolving credit facility.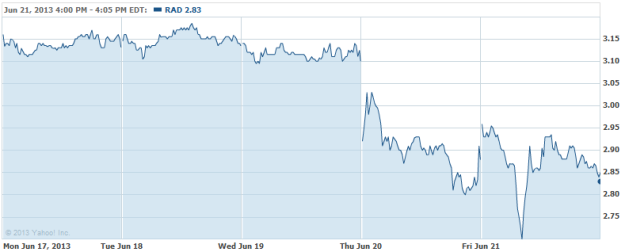 Don't Miss: 5 Reasons Apple Is Owning the E-Book Trial Now.