2013: Apple's iPad Reigns as Google's Chromebooks Take Off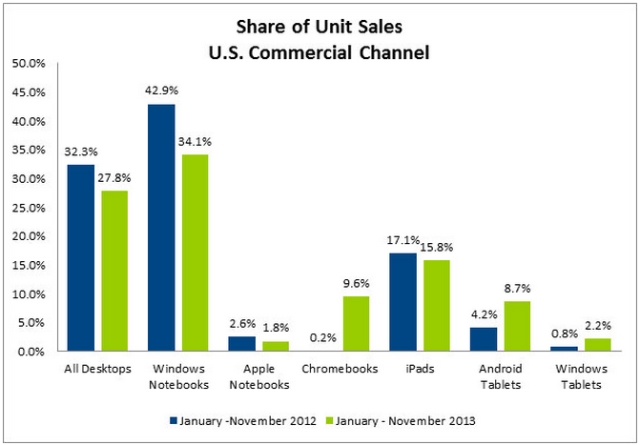 Recently released data from market research firm NPD Group showed that Apple (NASDAQ:AAPL) maintained its dominant position in the tablet market this year, while Google's (NASDAQ:GOOG) Chromebooks made significant gains in the notebook market. Overall, the NPD Group's Distributor Track and Commercial Reseller Tracking Service recorded a 25.4 percent increase in the sales of desktops, notebooks, and tablets in the U.S. through November 2013.
The U.S. tablet market saw the biggest increase in sales during 2013 with 49 percent growth over the same time period last year. Tablets also accounted for over 22 percent of all personal computing device sales. Apple's iPad accounted for 59 percent of the volume sold through commercial channels in the U.S. However, Android tablet sales grew more than 160 percent, while Microsoft's (NASDAQ:MSFT) Windows tablet sales almost tripled, albeit from a much lower baseline.
On the other hand, combined sales of Apple's notebooks and desktops slipped by 7 percent. Apple's MacBooks accounted for 2.6 percent of total computer sales in 2012. This year, MacBook's share of total sales fell to 1.8 percent. Meanwhile, commercial channel sales of notebooks running Google's Chrome OS overtook Apple for the first time in 2013.
Google-powered Chromebooks accounted for 9.6 percent of total personal computing device sales through November, a major jump over the 0.2 percent share the devices held last year. However, Windows notebooks appeared to be the biggest losers in 2013, losing over 8 percent of total personal computing device sales compared to the same time period last year.
"The market for personal computing devices in commercial markets continues to shift and change," stated NPD vice president of industry analysis Stephen Baker. "New products like Chromebooks, and reimagined items like Windows tablets, are now supplementing the revitalization that iPads started in personal computing devices. It is no accident that we are seeing the fruits of this change in the commercial markets as business and institutional buyers exploit the flexibility inherent in the new range of choices now open to them."
Apple's strong position in the tablet market made it the third-largest brand overall in total U.S. commercial channel sales. HP (NYSE:HPQ) maintained its position as the biggest brand in total computer sales, but saw its overall share decline from 36.4 percent to 30.4 percent due to its relatively small share of the expanding tablet market.
Similarly, Lenovo's market share declined slightly due to its lack of presence in the tablet market, despite its increased notebook and desktop sales. Finally, according to NPD Group's data, Samsung (SSNLF.PK) trailed Apple as the fourth-largest personal computing device brand, due in large part to the rapid growth of Chromebook and Android tablet sales. Here's how Apple traded on Friday.

Follow Nathanael on Twitter (@ArnoldEtan_WSCS)
More from Wall St. Cheat Sheet: