3 Bearish Cases for Apple
The choppy journey of Apple's (NASDAQ:AAPL) stock over the past month doesn't exactly invoke calm in its investors. Some say the worst of the storm is over, but there are those for whom this is the beginning of the end.
Investing in Apple is serious business considering its high share price. On Monday, we gave five arguments that support buying the iPhone maker's stock. Today, we offer three bearish opinions:
Disappointing Sales in Order?
Last week, Deutsche Bank's Japan team issued some cautious comments about Apple's performance, saying end-of-the-year sales had not been as strong as expected and that production of components and materials for its mobile products was exposed to adjustment risk. According to the research firm, Apple value chain movements suggested a declines in iPhone 5 sales figures, while the only product expected to continue favorably was the iPad mini.
"Although we view Japanese device and component makers as having performed in line with guidance in 4Q 2012, we see a strong likelihood of major shortfalls from guidance, except for iPad mini, in 1Q 2013, and are concerned about adverse effects on capacity utilization, sales, and profits," the bank said. "Despite major benefits from yen depreciation vs the euro and US dollar, we plan to pay attention to undershooting key volume-basis demand."
Should you buy or sell Apple's stock ahead of earnings this month? Our 20-page proprietary analysis will help you save time and make money. Click here to get your SPECIAL REPORT now.
Market Darling No More
With Apple finding itself deserted by its bulls over the past few months, predictions for the stock market's once-darling have turned darker by consensus. But even those who choose to remain bullish on the stock in the near-term keep decreasing their targets, a fact that's worrisome. And it may only be a matter of time until those targets catch up with Apple's selling price, rather than the other way around.
According to a survey of several analysts by Fortune, the average price target for Apple's stock has fallen to $740. According to the survey, 11 of the 48 analysts polled lowered their Apple targets in the final weeks of the company's first fiscal quarter of 2013. Some of the key cuts include that by Peter Misek of Jefferies, who dropped his price target from $900 to $800, and Michael Walkley of Canaccord Genuity, who trimmed it from $800 to $750. Misek said in a note to investors earlier this month that he believed the average selling prices for smartphones had peaked.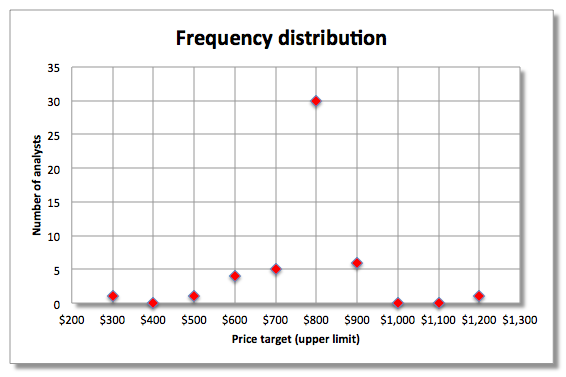 According to the analysis, 30 of the 48 analysts expect Apple to hit somewhere between $700 and $800 before the end of 2013. (Chart by Fortune)
Save time and make money with our LOWEST ADVERTISED PRICE EVER to help you achieve your financial goals in 2013. This is a LIMITED TIME OFFER, so get your Stock Picker Newsletter now!
Waiting for the Fall
Apple's status as a huge profit machine will come to an end, according to investing specialist Bruce Greenwald, making the stock a risky proposition. "The problem is that this profit machine, we know is going away," Greenwald told The Motley Fool. "It happened to Sony (NYSE:SNE) in this area, it happened to [now Google (NASDAQ:GOOG) unit] Motorola in this area, it happened to Nokia (NYSE:NOK) in this area, and we just don't know when it's going to happen."
And while there may not be an immediate danger, when the fall happens, it'll be quick, the Columbia School of Business professor added: "It's going to happen very quickly when it happens — you only have to look at what happened to Nokia."
And despite returns of approximately 25 percent, the 20 percent fade rate means the stock is fairly risky. "It's just, I think that it's a very risky choice to make, given that we know that the lifetime of companies like Apple, with products like Apple — and it may be that Apple can avoid this for a longer time because they're so superb at what they do — but the lifetimes of these kinds of companies with this kind of profitability is not long," Greenwald said.
Don't Miss: Why Does Mark Spellman Suddenly Love Apple?