3 Buzzing Social Media Stocks: New Facebook Searches, Pandora's Competition Looms, Yelp Fights Back
Facebook (NASDAQ:FB): Facebook on Monday announced two new search features that companies can use to gain access to information about the attitudes of Facebook's user base. The first will allow companies to search for public posts that contain certain key words or phrases. The second will allow companies to gain aggregated data about private posts that contain those words or phrases without giving away the exact details of the post or the poster. However, demographic data or other public information at an aggregate level would be fair game. The move is Facebook's latest ploy to tap additional sources of revenue without overstepping privacy bounds.

Pandora Media (NYSE:P): Apple's (NASDAQ:AAPL) iRadio is slated to pose a significant threat to Pandora, according to an analyst in the sector. He claims that the significant amount of overlap between iTunes and Pandora already shows that many Apple customers are in the market for a streaming service, meaning that Apple's latest project will stand to siphon off a significant amount of Pandora's customer base.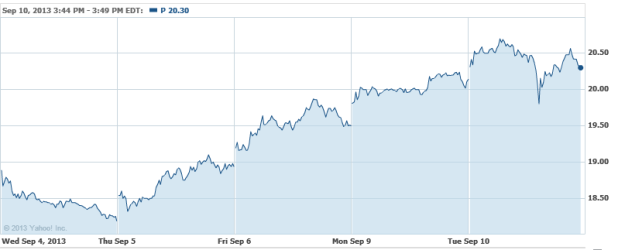 Yelp (NYSE:YELP): The latest round in a battle between Yelp and angry small business owners has led to a suit and countersuit between the review service giant and Julian McMillan, a San Diego attorney. McMillan claimed that Yelp failed to deliver on a contract to get a certain number of viewers for his firm's advertisement, and, after winning, Yelp is now suing McMillan, claiming he posted fake reviews on their site. Tension between Yelp and small business owners has existed ever since some owners accused Yelp of poorly filtering out reviews about their businesses.

Don't Miss: Facebook's Feed Just Got Tweaked to Mirror Twitter's.