3 Lessons From Steve Jobs to Mark His 59th Birthday
Today would have been legendary Apple (NASDAQ:AAPL) co-founder and CEO Steve Jobs's 59th birthday. Jobs was diagnosed with pancreatic cancer in 2003 and passed away in October 2011, shortly after resigning as chief executive of the company. Apple fans around the world are remembering Jobs on his birthday, and so is current CEO Tim Cook. "Remembering my friend Steve on his birthday," tweeted Cook. "'Stay hungry, Stay foolish'. We honor him by continuing the work he loved so much."
In 2005, Jobs gave a stirring commencement address at Stanford University. Although Jobs had recently undergone a surgery that doctors believed had cured his cancer, he was obviously still deeply affected by his near-death experience. Here are the three important life lessons that Jobs shared in that memorable speech. The entire talk can also be viewed in the video above.
1. Follow your heart and trust that the dots will connect
After confessing that he never graduated from college, Jobs recalled his own brief experience with higher learning that taught him an important life lesson. Jobs noted that he dropped out of Reed College because he "couldn't see the value in it" and he felt bad wasting his parents' hard-earned money. Jobs said his decision to drop out and his "trust that it would all work out OK" allowed him to begin dropping in on classes that truly interested him, rather than being forced to take courses required by the school.
Jobs noted that the things he learned by following his "curiosity and intuition" directly led to his eventual success at Apple. As an example, Jobs cited a calligraphy class that he was able to attend at Reed College after he dropped out. "[T]en years later, when we were designing the first Macintosh computer, it all came back to me," said Jobs. "If I had never dropped in on that single course in college, the Mac would have never had multiple typefaces or proportionally spaced fonts. And since Windows just copied the Mac, it's likely that no personal computer would have them," he said to raucous applause.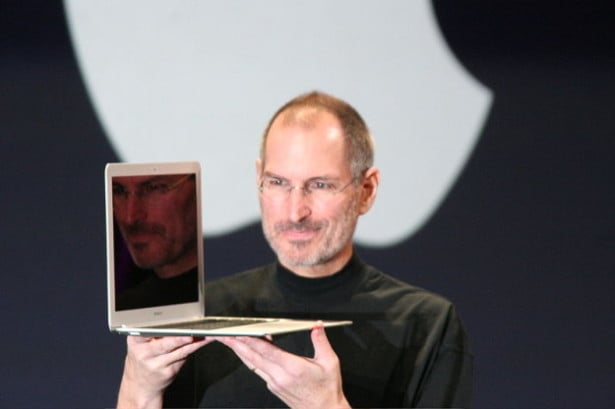 2. Don't settle — do what you love
For his second life lesson, Jobs recalled his experience of being pushed out of Apple in 1985. Although he noted that this was initially a "devastating" event, he later found that it was a liberating because he loved his work.  "I still loved what I did," said Jobs. "The turn of events at Apple had not changed that one bit." After his setback at Apple, Jobs began what he characterized as the "most creative periods of my life."
Soon after Jobs left Apple, he founded two successful companies: NeXT and Pixar. Pixar made the highly-successful computer-animated film Toy Story, while the technology that Jobs developed at NeXT eventually became the "heart of Apple's current renaissance" when Apple acquired the company in 1997. "I'm convinced that the only thing that kept me going was that I loved what I did," said Jobs. "You've got to find what you love."
3. Live each day as if it were your last
The last life lesson that Jobs shared was about his recent cancer diagnosis. Jobs noted that throughout his life he started each day by asking himself, "If today were the last day of my life, would I want to do what I am about to do today?"
Although he had long tried to live his life by this standard, Jobs noted that "death was a useful but purely intellectual concept" until he was diagnosed with pancreatic cancer and his doctors gave him three to six months to live. "Your time is limited, so don't waste it living someone else's life," he said. "Don't be trapped by dogma, which is living with the results of other people's thinking. Don't let the noise of others' opinions drown out your own inner voice. And most important, have the courage to follow your heart and intuition. They somehow already know what you truly want to become."
Jobs ended his speech with a quote from one of his favorite publications, The Whole Earth Catalog: "Stay hungry. Stay foolish."
More from Wall St. Cheat Sheet:
Follow Nathanael on Twitter @ArnoldEtan_WSCS