3 Reasons Investors Are Avoiding Apple Stock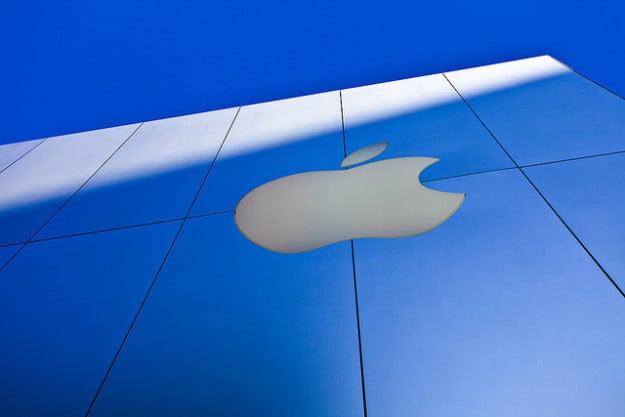 Many Apple (NASDAQ:AAPL) watchers anticipated that there would be a slight bounce in Apple stock after the new products and services announcements at the Worldwide Developers Conference this week. After all, Apple unveiled two new operating systems; a new iTunes Radio music streaming service; a more powerful and energy-efficient MacBook Air; and a radically redesigned Mac Pro that looks like it might have time-traveled from the future.
Apple's post-WWDC gain also has a historical precedence and Goldman Sachs even predicted that this year's event would instigate a June bounce. As it turns out, Apple stock ended the week down 3.31 percent from Monday's opening price of $444.70.
However, Apple's recent downturn was likely not an effect of the WWDC. Apple commentator George Kesarios at Seeking Alpha believes there were at least three other factors keeping buyers away from Apple stock this week.
1. U.S. International Trade Commission Ban
The ITC recently determined that Apple is violating a Samsung (SSNLF.PK) patent that covers data transmission methods on certain older models of iPhones and iPads. As a result, the commission has banned the sale and importation of the AT&T (NYSE:T) versions of the iPhone 3G, iPhone 3GS, and iPhone 4. It also banned the cellular versions of the original iPad and iPad 2.
Although this ban mostly affects Apple's obsolete models, it still may ave scared away investors who are concerned that a similar ruling in the future could impact some of Apple's more current products. Fortunately, the only banned product with significant sales is the iPhone 4 and it will soon be phased out when Apple launches the successor to the iPhone 5. In the meantime, Apple can still appeal the ruling to the U.S. Court of Appeals for the Federal Circuit, or the company can hope that President Obama chooses to veto the import ban during the 60-day Presidential Review period.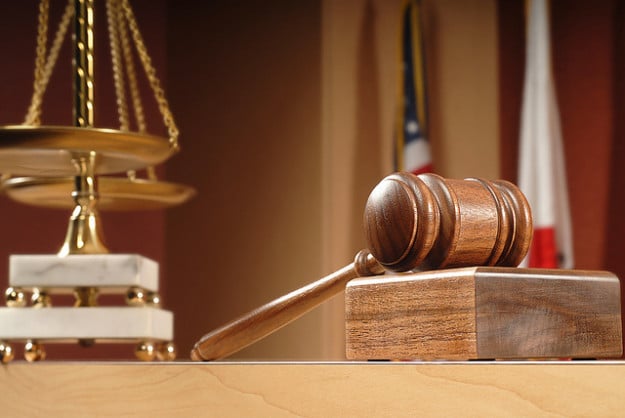 2. E-Book Trial
Although the antitrust lawsuit was originally filed by the U.S. Department of Justice way back on April 11, 2012, the actual trial didn't start until Monday, June 3. Unfortunately, this meant the WWDC had to compete with Apple's e-book price-fixing trial for headline space.
It also probably didn't add to investor confidence when the judge said she thought the government would be able to prove its conspiracy case before the trial even began. In another setback for Apple, the government revealed that it has an email written by Steve Jobs that seems to be blatantly calling for a price-fixing conspiracy.
This email seems to directly contradict Apple's contention that its dealings with various publishers were only typical negotiations. Whether or not Apple is eventually found guilty, the specter of a large settlement with the government may have also kept investors from buying Apple stock this week.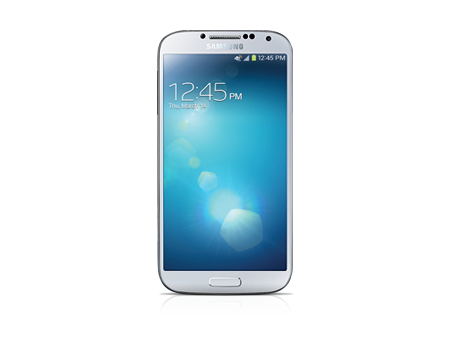 3. Samsung's Trouble is Apple's Trouble
Last week Samsung lost $12.4 billion in market capitalization, falling to $187.8 billion, after a negative J.P. Morgan report sparked a 6.2 percent drop in the Korean company's stock. Although this would seem to be a reason for Apple aficionados to celebrate, Kesarios notes that "what's bad for Samsung is also bad for Apple." Kesarios was referring to the fact that J.P. Morgan's report cited slowing sales of Samsung's flagship Galaxy S4 device.
Since Apple is focused on the high-end smartphone market, it would seem that a declining demand for the Galaxy S4 might also indicate bad news for Apple's high-end devices. Analyst Peter Misek from Jefferies notes that "the high-end smartphone market is fully saturated." In this sense, Samsung's current trouble is a portent of trouble ahead for Apple.
Here's how Apple closed out the week.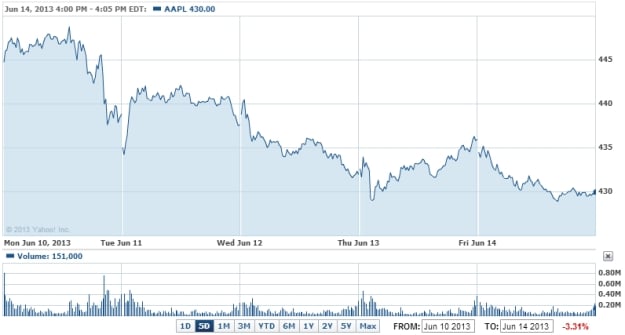 Follow Nathanael on Twitter (@ArnoldEtan_WSCS)
Don't Miss: What Trickery Did Sony Use to Get Past Apple?