3 Reasons Why Apple Desperately Needs a New Product

A common criticism leveled at Apple (NASDAQ:AAPL) is that the company has lost its innovative edge since the departure of legendary CEO Steve Jobs. During his tenure, Jobs oversaw the introduction some of Apple's most successful products, including the iPod, the iPhone, and the iPad. Meanwhile, excluding the original iPad mini launch in 2012, the products released after Jobs have essentially been refreshes of previously existing products.
Although it may not be fair to criticize current CEO Tim Cook over a lack of innovation, since he has only helmed the company for a little over two years, many investors strongly believe that Apple needs at least one new product this year in order to keep its momentum going. Here are three reasons why Apple desperately needs to release a new product in 2014.
1. Apple's iPod Is On the Way Out
It's no secret that iPod sales have drastically declined over the past several years. Although the iPod was a revolutionary product when it was originally introduced in 2001, its digital music playing function has essentially been subsumed into the iPhone. According to a recent analysis done by Asymco's Horace Dediu, the iPod continued its descent into obsolescence last quarter with -55 percent growth.
On the other hand, despite falling sales and the lack of an iPod refresh since 2012, Apple still maintains a dominant share of the overall digital music player market. According to data cited by NPD Group research analyst Benjamin Arnold via Apple Insider, Apple's iPod accounted for 72 percent of the total market for standalone music players. In this sense, the company's iPod business has almost become a low-maintenance "turnkey" operation for Apple. Without a need to invest time or money resources into this product line, Apple has a perfect opportunity to introduce a substitute revenue stream with another new product.
2. Apple's iPhone Growth Has Slowed
Apple's iPhone product line continues to be the company's bread and butter. However, even the iPhone delivered relatively low growth last quarter, according to a recent analysis done by Asymco's Horace Dediu. As seen in the table above, the iPhone delivered 6 percent sales growth last quarter.
The iPhone's sales growth decline was reflected in recently released data from market analyst company Kantar Worldpanel that showed that Apple lost smartphone market share in most countries during the three-month period ending in December. Although Apple maintained significant market share in the most important regions, the data suggested that there is less and less opportunity for growth in the premium smartphone market for Apple.
Not only would a new product line create a new revenue stream for Apple, it might also reinvigorate its iPhone sales. Many industry watchers have predicted that Apple will release an iWatch with health-monitoring features this year. According to unnamed insider sources cited by 9to5Mac, the iWatch will rely on the iPhone to run a "Healthbook" app.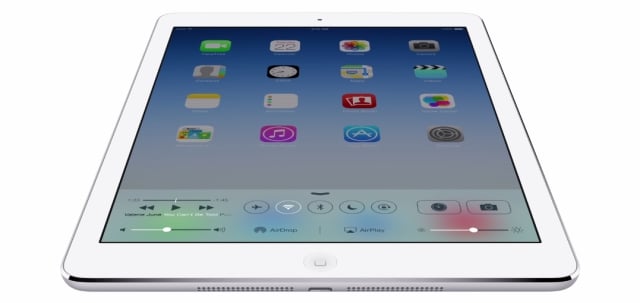 3. Apple's iPad Growth Has Slowed
According to Asymco's Horace Dediu, Apple's iPad product line also turned in a similarly low growth rate of 7 percent in the fourth quarter of 2013, despite the introductions of the iPad Air and the iPad mini with Retina Display. Meanwhile, the latest data from market research firm Strategy Analytics showed that Apple's iPad secured a 34 percent share of the global tablet market last quarter, compared to a 35.7 percent share in the year-ago quarter.
Although Apple's December quarter market share reversed a trend of two successive quarters of share loss, this short-term gain was largely due to the introduction of two new iPad models. Despite Apple's current lead in the worldwide tablet market, the company is facing increasing competition from low-cost Android tablet makers. As noted by Strategy Analytics, Chinese tablet maker Lenovo saw the biggest year-over-year growth, going from a 0.8 percent market share in the last quarter of 2012 to a 3 percent share in the fourth-quarter of 2013.
The sales growth slowdown in the iPhone and iPad product lines suggests that Apple is overdue for another momentum-building product. Per Dediu's data, the iPhone and iPad product lines saw the greatest sales growth approximately one year after their initial introduction. The good news for Apple investors is that there are several signs that point to the release of a new product line this year.
During the company's fiscal fourth-quarter earnings call, Cook noted that, "We see significant opportunities ahead of us and both current product categories and new ones." Many industry watchers have predicted that one of these new products will be an iWatch. In a recent research note seen by Apple Insider, Morgan Stanley analyst Katy Huberty estimated that an iWatch could bring the company up to $17.5 billion in first-year sales.
Follow Nathanael on Twitter (@ArnoldEtan_WSCS)
More From Wall St. Cheat Sheet: