3 Tech Titans Making Noise: Apple Demand Is Strong, Amazon Gets Taxed, Microsoft's Windows 8.1
Apple Inc. (NASDAQ:AAPL): Apple's iPhones made up about 51 percent of Verizon's (NYSE:VZ) smartphone demand for the past quarter, according to the telco's recent earnings report. That's up from roughly 43 percent last quarter and 46 percent last year. Although it shows that Apple's iPhone demand is healthy and strong (despite speculated production and inventory constraints), Walter Piecyk reminds us that "activations are not sales."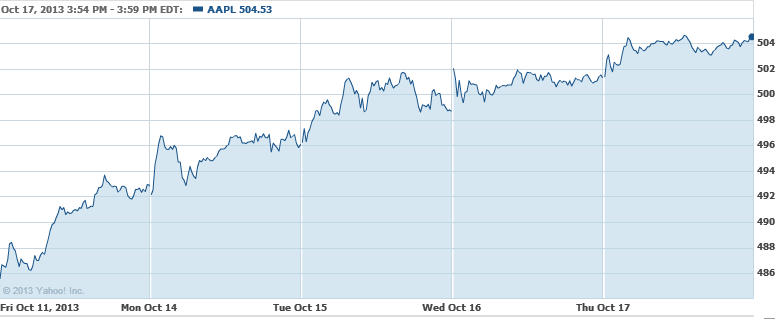 Amazon.com Inc. (NASDAQ:AMZN): Wisconsin has tacked on a sales tax to purchases made on Amazon, becoming the 14th U.S. state to do so. National plans to try and enforce a nationwide e-commerce tax have so far been fairly unsuccessful, leaving states to take the initiative on their own. Reuters reports that the new 5 percent "Amazon tax" will add about $30 million per year to state revenue, Wisconsin Department of Revenue spokeswoman Laurel Patrick said on Wednesday.

Microsoft Corp. (NASDAQ:MSFT): Users of Windows 8 can download Windows 8.1 free of charge on Thursday. The new upgrade maintains dual functionality between tablets and PCs, coming with cosmetic and functional improvements like easier access to apps, a reworked state button, and allowing booting directly to the desktop. The product goes on sale in new Microsoft products beginning Friday.

Don't Miss: Apple Wants More from Samsung Embargo.