3 Tech Titans Making Noise: Apple Supplier's Abuse Scandal, Amazon's Big Sell, Nokia's New 'Phablet'
Apple Inc. (NASDAQ:AAPL): Apple supplier Flextronics, based in Singapore, has been accused of using indentured servitude tactics to ensure that it meets the lofty goals put forth by the electronics company, violating Apple's supplier guidelines during efforts to ramp production just ahead of the launch of the iPhone 5. "We aggressively investigate any claims of bonded labor where Apple products are made," said spokesman Chris Gaither, adding that the company "is continuously auditing deeper into the supply chain" and takes "these allegations extremely seriously," AppleInsider reports.

Amazon.com Inc. (NASDAQ:AMZN): Amazon's commander and founder, Jeff Bezos, reportedly sold a large boatload of stock early this month that amounted to 1 million shares. It's a drop in the ocean for Bezos's holding in his company, but it is the largest stock sale of his in the past three years.

Nokia Corp. (NYSE:NOK): Nokia is entering the competition in the emerging "phablet" market by releasing a supersize smartphone that is set to "severely undercut the price of Samsung Electronics Co.'s leading Note 3″ when it goes on sale in the U.S. next week. Samsung currently dominates the market for the supersize phones, but Nokia is selling its new device for considerably lower prices; its Lumia 1520 will debut in advance of the holiday season sales rush, on November 15.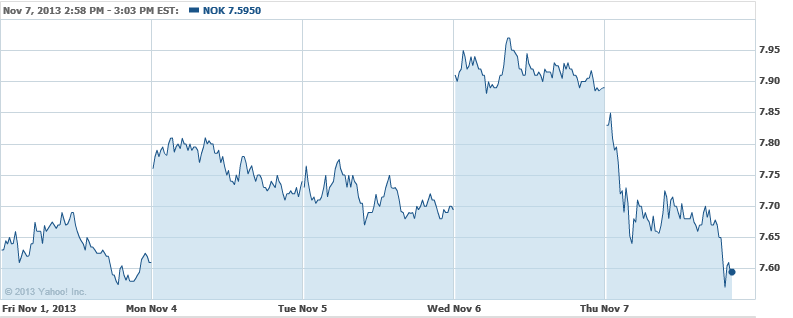 Don't Miss: Pebble Vies for Apple's Core With Pointed Smartwatch Update.