3 Tech Titans Making Noise: Apple Throws the Gauntlet, Microsoft Goes Glass, Amazon May Miss Earnings
Apple Inc. (NASDAQ:AAPL): One of the standout surprises at Apple's iPad debut event on Tuesday was the announcement that the company would be offering its new computer OS, Mavericks, for free to existing Mac users. This action fires a warning shot over the bow at Microsoft, which has historically charged for such upgrades; "the challenge for Microsoft will be convincing customers that it's reasonable to keep asking them to pay for such things in a world where Apple gives them away," Forbes says.
Microsoft Corp. (NASDAQ:MSFT): Microsoft is reportedly working on a competitor to Google's Glass, and has ordered the necessary components from Asian manufacturers, sources told The Wall Street Journal. However, one source warned that the device may never reach mass production; pricing and a potential release date are nonexistent, as well. However, the report does indicate that Microsoft is keeping a close eye on the emerging market for "wearable" tech.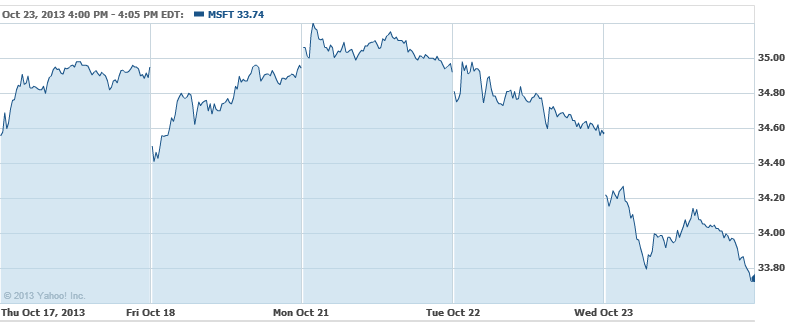 Amazon.com Inc. (NASDAQ:AMZN): Piper Jaffray believes that Amazon will report September-quarter revenue that is 1 percent below the consensus expectations and earnings per share of -25 cents versus the estimate of -9 cents. The firm is also expecting revenue guidance to be 2 percent to 4 percent below Street projections; however, it thinks that investor optimism about Amazon's position within e-commerce will remain unchanged following the results and reiterates its Overweight rating on the stock.

Don't Miss: Did Caterpillar Just Dig a Bigger Earnings Hole?