3 Tech Titans Making Noise: Apple to Send iPhone to China, Microsoft's Xbox One, Amazon's Exclusive Deal
Apple Inc. (NASDAQ:AAPL): An announcement from China Mobile (NYSE:CHL) is fueling speculation that the carrier — which boasts 700 million subscribers – might use the opportunity to announce the arrival of the iPhone, as The Wall Street Journal has previously indicated that Apple is gearing up to ship iPhones to China Mobile, as Chinese regulators have approved the iPhone for use on the carrier's 3G and 4G networks.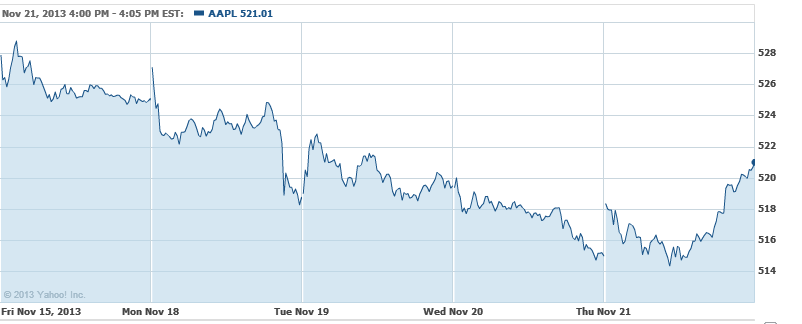 Microsoft Corp. (NASDAQ:MSFT): Early reviews for Microsoft's Xbox One have generally been positive, as Polygon says that it "feels like it's from the future"; The Verge commends the  Xbox One's launch titles and is impressed with the ability of Kinect voice commands to enhance gameplay. However, the next-generation Kinect "isn't a fully realized product yet," according to The Verge, and that the Xbox One's design "lacks the profile and space-saving considerations of the PlayStation 4 — or even the original Xbox 360."
Amazon.com  Inc.(NASDAQ:AMZN): Amazon announced that it sealed an exclusive deal with A24 to land the content rights for the latter's movies for Amazon Prime just after they become available on DVD and Blu-ray. Recent flicks such as Spring Breakers and The Bling Ring are included under the terms.

Don't Miss: Will Apple's Devices Soon Get Bigger?